EDM & Zombies: Introducing Don't Stop The Music Festival
For all of you thrill seekers and scare tactic fans, the festival circuit just got a lot more interesting. We're always excited to see production teams taking things to a new level, and that's precisely what MOVE Entertainment Group has done with Don't Stop the Music.
The festival is scheduled to take place October 25th and 26th at the Hollywood Sports Park in Bellflower, CA. The first of its kind, DSTMF will feature three traditional stages, along with multiple scare zones, an on-site two-level VIP nightclub, and terrifying mazes complete with real-life zombie hordes.
Okay, so they're not real zombies, but being chased through a haunted sports park by wild-eyed, zombie-esque actors sure beats the typical fist-pumping-only festival experience.
The festival has already released phase one of its artist roster, which includes some of the most talented names in house, urban and techno. The headliner has yet to be announced, but we're just excited to hear sets from Anthony Attalla, Fur Coat, Designer Drugs, Autoerotique, Mike Hawkins, Blake Jarrell, Sydney Blu, Scotty Boy, and KimKat. In addition to the dance music acts, T-Pain, Sean Kingston, Coolio, Tyga, and Waka Flocka will be playing at the festival.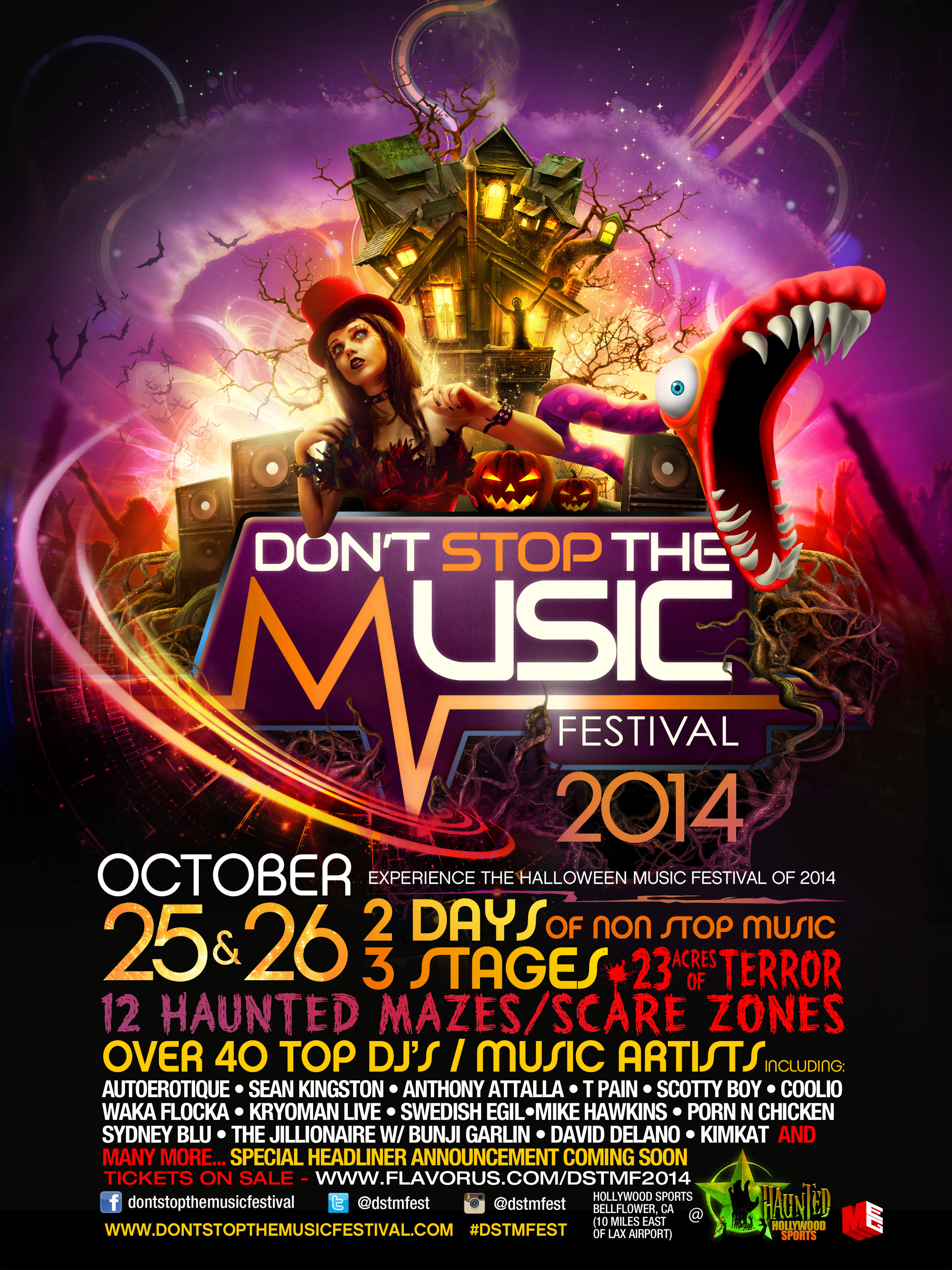 General admission and VIP packages are on sale now via the festival's website. You can purchase your ticket here: http://dontstopthemusicfestival.com/buy-passes-2/
Written by Amanda Mesa
Follow Don't Stop The Music Festival:
https://www.facebook.com/dontstopthemusicfestival
https://twitter.com/DSTMFest
http://dontstopthemusicfestival.com/

---