25 Of EDM's Best DJs Over 40
It's no secret that the mainstream media loves to portray EDM as a phenomenon of the millenial generation. Between the musical movement's meteoric rise in popularity over the past several years and the emergence of barely-legal icons like Martin Garrix and Danny Avila, after all, the connection drawn by passive observers is not altogether tenuous. Nonetheless, newcomers to EDM might be surprised to learn how many of the genre's esteemed tastemakers belong not only to Generation X, but the baby boomers who preceded them as well. The 20+ DJ/producers below started their careers when EDM was still called "dance music" (or sooner, in a few cases) and still remain highly influential to this day.
As they say, with age comes experience
01: Ferry Corsten
Age: 41
Trance DJ/producer Ferry Corsten has come a long way since washing cars in Rotterdam, Netherlands in order to fund his first release at age 16. In addition to significant stage time on the global festival circuit, he also puts out a widely successful podcast, Corsten's Countdown, every week.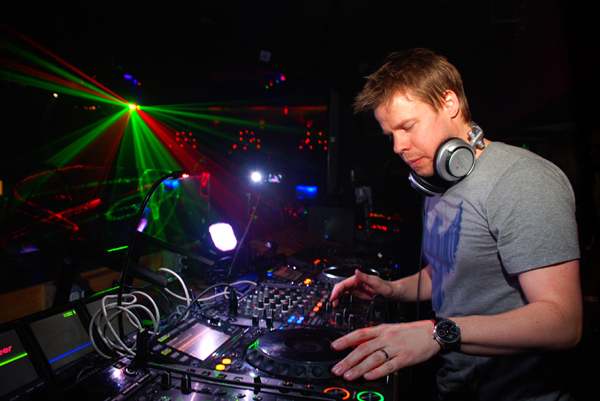 02: ATB
Age: 42
Born André Tanneberger in Saxony, Germany in 1973, ATB's breakout single took the form of 1999's "9PM" (Till I Come) - seven years after he first tried his hand at music production on an Amiga personal computer. Since then, he's appeared on the DJ Mag top 10 several times and ranked #1 on The DJ List in 2011.
03: Claus Terhoeven (Nic Chagall) and Stefan Bossems (DJ Bossi) of Cosmic Gate
Age: 42 and 48
The German trance duo known as Cosmic Gate initially came together as a result of a collaborative studio session, and since 1999 they undoubtedly stood as heavyweights of the scene. Although the duo has taken a softer side to their productions in recent years, their gritty beginnings still harbor an undying vivacity that continues to influence much of today's budding trance acts.

04: Dieselboy
Age: 42
When Florida-based Damien Higgins distributed his first mix tape, The Future Sound of Hardcore, on the LISTSERV electronic mailing prototype in 1994, he probably had no idea that he would become famous for producing and spinning drum and bass (a genre more or less birthed from early '90s hardcore). Dieselboy now runs his own record label, Human Imprint, and co-founded its sublabel, Subhuman.

05: Paul Van Dyk
Age: 43
Nobody in the EDM community questions Paul Van Dyk's accolades. The East-German DJ/producer won a grammy for best dance/electronic artist in 2003 when the award category itself had first been conceived, and went on to earn the DJ Mag #1 DJ title in both 2005 and 2006, which very few artists can boast. It comes as no surprise, therefore, that Van Dyk's legacy began as one of the first purveyor's of trance with his remix of Humate's "Love Stimulation."

06: Aphex Twin
Age: 43
When a 19-year-old Richard David James approached Renaat Vondepapaliere of R&S Records in 1991, he was so poor that he had to record all of his music on a cassette player. In the years to follow, however, Aphex Twin tracks like "Cliffs," "Avril 14" and "Windowlicker" would influence a pool of artists diverse enough to include Daft Punk, Radiohead and Kanye West.

07: Tommie Sunshine
Age: 44
A Chicago house mainstay and from-time-to-time rave culture spokesman, Tommie Sunshine A.K.A. Thomas Lorello grew famous in recent years for remixing pop artists like Jimmy Eat World, Mindless Self Indulgence and Katy Perry. His tenure in the dance music
scene, on the other hand, spans roughly two decades, affording him speaking roles in panels at annual Las Vegas conference EDMBiz as well as the documentary Under the Electric Sky.

08: Kaskade
Age: 44
It's hard to say which Kaskade factoid is more surprising: That his pinchable cheeks are 43 years old, or that he made career playing progressive house (and also contributing to the greater EDM ethos) at raves after being raised Mormon. Kaskade (born Ryan Raddon) grew up in Chicago and learned to play house music in his dorm room in 1989, but kept his aspirations a secret from his colleagues in The Church of Latter Day Saints - even putting them on hold indefinitely to participate in a two-year mission to Japan. He just visited the country again last month - this time for a headlining set at Ultra Japan - and after two decades still speaks the language fairly well.


09: Richie Hawtin
Age: 44
Second-wave Detroit techno legend Richie Hawtin A.K.A. Plastikman made his mark on dance music during the 90s, but his electronic music influences predate the advent of house itself. His father, a robotics engineer, was a fan of early electronic music and exposed him to pioneers like Tangerine Dream in his childhood. Today, he teaches in seminars at universities around the world and hosts events under the brand ENTER., at Space Ibiza, among other world-class venues.

10: Sasha
Age: 45
Once upon a time, the name Sasha was synonymous with progressive house (or what the term defined during the '90s, in any event). The early Ministry of Sound signee and Mixmag-dubbed "SON OF GOD" gained worldwide fame playing alongside John Digweed from 1993 to 2002. The duo reunited for a handful of gigs from 2006-2008, and Sasha still plays around the world to this day.

11: Tony McGuinness of Above & Beyond
Age: 46
As crucial to the contemporary trance fan's playlist as Above & Beyond have become over the oast decade, it might come as a surprise to some of them (unless they've been reading this list so far) that the final piece to their creative puzzle, Warner Music Group Marketing Director and Manager Tony McGuinness, is now 45 years old. While cofounders Jono Grant and Paavo Siljamäki had already founded their Anjunabeats label before McGuinness was involved, his influence helped them become one of the most successful dance music acts in the UK.

12: Tiësto
Age: 46
DJ Mag's #1 DJ for three consecutive years, Dutch progressive house (former trance) DJ Tiësto (born Tijs Verwest) boasts career achievements so numerous that his age comes as little surprise. Despite what long-time fans might think of his recent change in musical direction, 20 years somehow doesn't seem like enough time to found two successful labels and tour the world dozens of times while wracking up 14 different stage names.

13: Lee Burridge
Age: 46
In the late '90s and shortly after the turn of the millennium, Lee Burridge made a name for himself as a part of Tyrant Soundsystem alongside Craig Richards and the aforementioned Sasha, and was also featured in Global Underground's Nubreed series. Earlier in his career, though, the DJ/producer gigged predominantly in Hong Kong, often with no more than a raw sound system, strobe light and smoke machine.

14: David Guetta
Age: 47
Love him, hate him, or just plain feel like he makes awkward faces performing, you can't diminish French DJ/producer David Guetta's role in bringing EDM to the mainstream. What much of the modern dance music fanbase fails to recognize, though, is that Guetta made a career of fusing hip-hop with house music as early as 1990 when he collaborated with French rapper Sydney Duteil on "Nation Rap."

15: John Digweed
Age: 48
Counterpart to the aforementioned Sasha in arguably the '90s' most noteworthy progressive house duo, John Digweed began DJing in Hastings at a nightclub called Renaissance, where the two artists began their collaborations. As with Sasha, he remains active even after the duo split and landed on DJ Mag's top ten DJs ten years in a row (1998-2008)

16: Goldie
Age: 49
Founder of the Metalheadz record label and pioneer of the time stretching techniques that revolutionized the jungle and drum and bass genres, british DJ/producer Goldie's ubiquitous influence on dance music has afforded him the opportunity to explore a variety of creative avenues in recent years. He landed acting roles in the films The World is Not Enough and Snatch (in 1999 and and 2000, respectively) and sells custom gold teeth in New York City and Miami.

17: Moby
Age: 49
Moby may have been the poster child of ambient chillout in the late '90s and early 2000s, but his breaks and techno credentials extend much further back. Recent works like last year's full-length studio album Innocents have made up for falling short in sales by receiving higher critical acclaim.

18: Paul Oakenfold
Age: 51
Paul Oakenfold's career reached its highest point when trance was still dark and contemplative, and he shows no signs of bending to the changing tides of the industry. Nonetheless, his career started in the '80s when he brought the Balearic house played by artists like DJ Alfredo home to the UK after a vacation in Ibiza, largely contributing to what historians call the Second Summer of Love.


19: Ken Jordan of The Crystal Method
Age: 51
After two decades of releasing the innovative brand of breaks for which The Crystal Method became famous, the group finally released a self-titled album early this year - one which explored the multi-faceted environment of modern EDM with commendable sincerity and relevance. Considering that one half of the duo, Ken Jordan, used to be the radio program director for the University of Las Vegas as far back as the '80s, the group's consistently forward-thinking approach to their craft comes as no surprise.
20: Fatboy Slim
Age: 51
No conversation about the big beat movement is complete without a mention of Fatboy Slim (born Quentin Leo Cook). The English DJ/producer has won ten MTV Video Music Awards as well as two Brit Awards for his work in electronic music, but his breakthrough occurred when he played bass in 1980s indie rock band The Housemartins.
21: Carl Cox
Age: 52
English house and techno legend Carl Cox's charisma permeates more than just his music. A true original, Cox's commentary on dance music continues to earn him new fans to this day - although those from his days gigging at clubs like Eclipse, Edge and Heaven in the '80s likely form the backbone of his supporter base.
22: Pete Tong
Age: 54
A BBC1 Radio DJ largely responsible for exposing the UK to Chicago house in 1986, Pete Tong's name became further ingrained in dance culture when Paul Oakenfold remarked that acid house had "all gone Pete Tong" in a 1987 interview that appeared in the fanzine Boys Own. It's All Gone Pete Tong eventually became the title for a seminal dance music film classic about a superstar DJ going deaf, in which Tong himself played a cameo.
23: Afrika Bambaataa
Age: 58
Another example of the many artists whose work caused hip-hop and dance music to cross paths, DJ/producer and activist Afrika Bambaataa played a major role in both genres' early development. While having influenced artists like Leftfield who would, in turn, shape the soundscapes that took hold in the '90s, he also was given a three-year appointment as a visiting scholar of Cornell University in 2012.
24: Florian Schneider and Ralph Hütter of Kraftwerk
Ages: 68 and 68
While the origin of the term "house music" can easily be traced back to the Chicago mixes of Frankie Knuckles in 1982, electronic music itself boasts a longer, infinitely more obscure history. German electronic band Kraftwerk, formed in 1970, were among the first to effectively use synthesizers such as the Minimoog in live performances as well as studio albums. While the band has seen a revolving door of members their its 44-year history, they still manage to tour the globe - the most recent dates of which take the form of elaborate 3D concerts.
25: Giorgio Moroder
Age: 75
Widely recognized as the pioneer responsible for synth disco, Italian record producer, DJ and film score composer Giorgio Moroder may well be the oldest living contributor to dance music. Having produced music for late 70s disco icons Donna Summers and Bonnie Tyler, he also started Oasis Records, which eventually became a subdivision of Casablanca Records. He still plays festivals like Moogfest in North Carolina and recenty contributed to the track "Giorgio by Moroder" on Daft Punk's 2013 album Random Access Memories.
---