Why Gaia's Ultra Performance Was Exactly What Trance Needed
Gaia is the personification of Earth in Greek mythology, one of the first beings of existence and mother of the universe. Listeners of electronic music might be more familiar with Gaia as Armin van Buuren's alter ego, where he has often collaborated with Rank 1's Benno De Goeij in creating truly atmospheric trance music. At Ultra Miami 2014, the two performed together in his A State Of Trance Arena and separately from Armin's main stage solo performance. When it was first announced, plenty of speculation surfaced as to why Armin would perform under this guise or how it would be different. As Armin and Benno took over the stage and Ultra's live stream, it quickly became apparent that they would be marching to the beat of a different drummer compared to the rest of the festival's performances.
Their set starts with an ominous sounding introduction and mysterious visuals, as the two take the stage uniformed in hooded robes. The crowd is armed with cameras and cell phones held high, ready to record what they thought would probably be an extravagant entrance, but the Gaia duo waste no time with theatrics. Instead, a light melody is heard before the kick drum is introduced and a pulsing bassline rhythm takes control. This theme carries throughout their set, as the two very rarely move their hands away from their set ups, posing briefly in the buildups of a few tracks.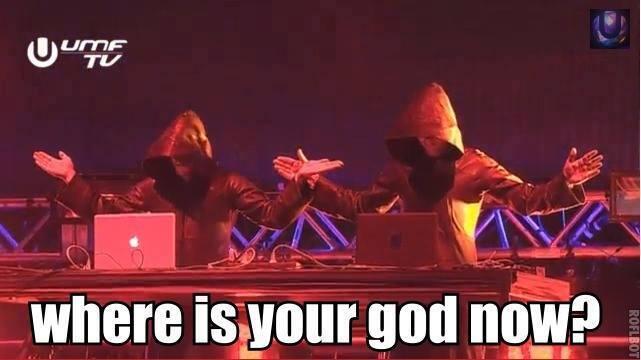 (credit: https://twitter.com/Nndo_aguilar/status/450469966140014592)
This "no-BS" approach to the performance is a defiant stance against what many fans of electronic music have come to expect from festival sets, with many performers having ridiculous gimmicks to keep the crowd entertained. Tracks are played in full length instead of quickly mixing in and out, subtle visuals set the mood, and the two DJs make the music their focus by stepping out of the spotlight. Their statement was clearly heard by the crowd, even though it seemed to take some time for those in attendance to warm up to their approach. Halfway through their set, less people are recording with their cell phones or holding up hand gestures towards the stage. Instead of jumping up and down at the climaxes of tracks, people are dancing from start to finish as the maestros of Gaia guide them with a masterful set.

The Gaia performance reminded me of a recording I saw some time ago. It was a recording of Tiesto performing in a smaller nightclub to those that made it to the end of the night. The lights were already on in the venue, but people in the crowd were still dancing. They were not particularly paying attention to what Tiesto was doing and vice versa. Although in their own worlds, the two were interdependent and seemed to make for the ultimate experience. Somehow, electronic music has moved from that dynamic to one dependent on overwhelming auditory-visual stimulation and theatrics that have come to be the standard of the scene. I believe Gaia's Ultra 2014 performance was both an effort for Armin to reach his die-hard trance fans as well as share with those who might be newer to dance music a vision less dependent on instant gratification and focused on truly appreciating what brought it all together in the first place: the music.
Article written by Santos Torres
Follow Armin van Buuren:
https://twitter.com/arminvanbuuren
https://facebook.com/arminvanbuuren

Follow Rank 1:
https://twitter.com/rank1official‎
https://facebook.com/rank1official‎

_______________________________________________________________________________