Point Blank Presents: Breaking Into EDM [Ep. 005 - Said The Sky]
EDM.com has once again teamed up with the award-winning Point Blank Music School to present Breaking Into EDM: where your favorite artists and industry-insiders share words of wisdom, tips of the trade, and personal stories of making it and breaking it.
In today's installment, we hear from the talented up-and-comer Said The Sky. Routinely defying genres and pushing boundaries, it's easy to see why this breakout producer has garnered attention from the likes of Seven Lions, Porter Robinson, and an impressive roster of other industry greats.
Fresh off the release of his most recent single "Nostalgia (Ft. Missio)", Said The Sky sat down with us to talk influences, inspiration, and the best advice he's ever received as a producer and human being.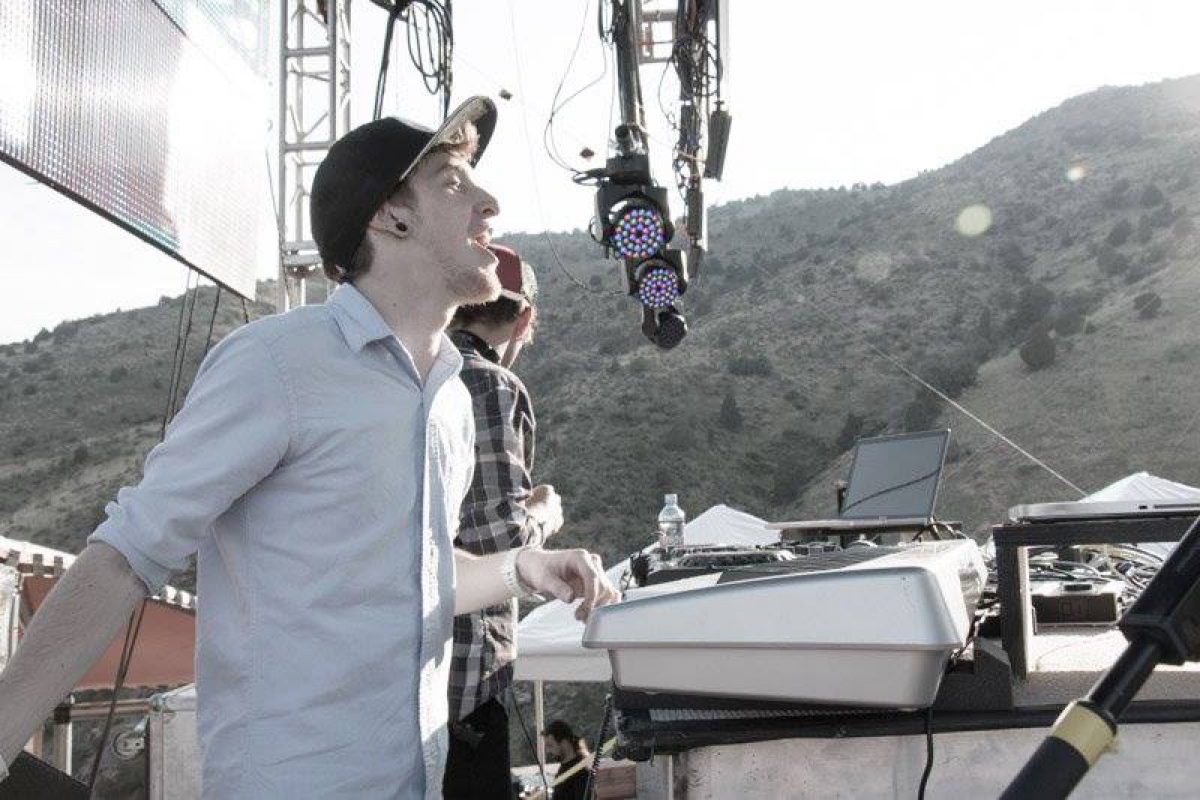 EDM.com & Point Blank - Melodic dub pioneer Seven Lions recently named you as one of his favorite rising acts, how did it feel to get a shoutout from one of the genre's leading artists?
"That had to have been one of the most surreal moments of my life. It honestly took me a couple of days before it completely hit me that one of my biggest inspirations was listening to and believed in my music."
EDM & PB - Prior to launching the Said The Sky project, you attended the prestigious Berklee College Of Music, how has that training helped your production? How important do you think technical training is for a producer?
"While I was at Berklee, I was taking a lot of beginner/intermediate courses. Music theory, ear training, lessons, etcetera. I never actually made it into their Production program. I learned a lot, but would have gotten more out of it if I'd gone after I'd learned more of the beginning material on my own, and been able to test through those classes. From my experience, I got the most out of the people I met there. Some of the classes were amazing, with teachers who felt invested in your passion and career, while others felt like they were simply babysitting your reading each week. As far as learning concepts and practices go, I would say you can get just as much, if not more, by finding the books they use in their courses and reading them on your own. That with some youtube, of course."

EDM & PB - At what point will you consider that you've 'made it' as an artist?
"The day that I am fully sustaining my life off of music is the day I will consider myself as having made it as an artist. Of course I'll always have steps and levels I'll want to reach past that, but that specifically has always been the goal for me."
EDM & PB - So until then, you're balancing your music with your 'normal' job. What tips would you give aspiring producers on balancing their music careers with work, social lives and other responsibilities?
"The most important thing when juggling music with work or school is to have a clear separation, and an honest understanding of where you are and what you have to do. For me, music will always come first, and I have to be honest with my employer about that. When they ask where my priority is, I always tell them music because it's true. That doesn't mean I slack off while I'm there, and never do my work. That means that I'm not the person they can come to for after hour work, I'm going to be taking days off here and there for shows, and weekends are dedicated to my music. I'm fortunate to have a position at a company that is fully supportive of my dreams, and is willing to work around that. It's definitely out there, and is crucial to being able to do both and excelling in music and at work. As far as a social life goes, that's something I think any artist is going to have to give up, and is generally pretty willing to. Of course I go out with friends every once in a while, and take nights fully away from music to clear my head and decompress, but most of the time I'd rather by making music anyway. If your art is your passion, you'll have no issue sacrificing a social life for that."
EDM & PB - As many producers can attest to, it's not uncommon to find yourself stuck in a creative rut. Where do you usually find inspiration? What inspired your latest track 'Nostalgia'?
"I generally find a lot of my inspiration from other music out there, as well as just how I'm feeling and thinking most of the time. For 'Nostalgia', I was in a pretty weird and honestly nostalgic mind spot. Sometimes I just hit points in my life and my mind likes to go way back to moments in the past, and I kind of can't get out of it for weeks. Around that time, I also heard the Coldplay song 'Midnight'. I thought it was absolutely beautiful, and I wanted to try and recreate a bit of what I felt in that song and turn it into something of my own. That is all extremely elusive though, and doesn't really speak to the actual lyrical concept. I wanted to loop in the vocalist Matthew Brue (Missio) for this, so he could speak more from a lyrical standpoint, and how he came up with the concept for the lyrics: 'It's rare that I sit down to conceptualize an idea of what I want to write about so the ability to collaborate brings a real beauty into the process. Hearing Trevor describe his inspiration behind the title of the track before any vocals or melodies were created helped me visualize a concept for the lyrics. Anytime I hear the word Nostalgia, old 1930s romance photographs come to mind. My goal was to invite the listener in to envision their own idea of Nostalgia by describing time's effect on a relationship throughout the years.'"
EDM & PB - What tips would you give a producer who's suffering from writer's block?
"Creative ruts are always tricky, because you never know when to expect them, and there is never a clear solution for getting through them. For me I've learned that sometimes when that happens, the best thing is to take time fully away from music. Don't even think about it. Take a couple of days to not worry about where you're at creatively, and go do other things. Go out with friends, binge watch Netflix shows... anything you'd like. I don't do that all the time, because I do think that everybody can learn how to work through those ruts. But at first if you can't get anywhere and its really frustrating you, taking a break is the best thing for me."
EDM & PB - What artists have been the most influential on your music and sound?
"Honestly there have been so many artists who've shaped my sound into what it is today, and all for different reasons. Growing up, Owl City was a huge influence. All of his music just has something about it that leaves no room for sadness or anything dark. Feel-good music. Being in marching band and choir, I would always be hearing very emotional and fairly complex music. One year we played an arrangement of 'Sleep' by Eric Whitacre, and that totally changed my perspective of music. Very dense chords, and some of the most emotionally taxing music I've ever heard. Then later on I started getting into artists like Gemini, who was the first melodic dubstep producer I ever heard. I fell in love immediately. That led me to finding artists like Seven Lions, who introduces some of the most intricate production techniques into these beautiful and overwhelming compositions. Then artists like Koan Sound, who played a massive role in inspiring the more relaxed and chilled vibes of a lot of my music. I could really go on forever with this."

EDM & PB - What tips would you give an aspiring producer/DJ on breaking into the scene?
"I would say just stay focused! If you truly love what you're doing, keep at it, and do all you can to get where you want to be. Try to find others around that share the same passion, and learn from as many people as you can. Also, wait until you're truly 100% confident in your material to start releasing. Once you get to that point, start reaching out to as many blogs as you can, and get your music out there and into people's ears. If it's genuine, it will find an audience."
EDM & PB - What is the best piece of career advice you've ever received?
"Honestly there are two bits of advice that I've received that I think have helped me the most in getting me where I am today. The first is a bit abstract, and didn't really come from any individual specifically. Growing up, I was raised a Christian, and there was a verse in the bible that has kind of always stuck with me: "But seek first his kingdom and his righteousness, and all these things will be given to you as well." I think that this is something that can, and should be applied to your entire life. To me, it means that if you truly stay focused on your passion and dream, everything else will follow. For me, I love writing music, and creating. Making money from it to support myself, traveling the world playing shows, working with other amazing artists, etc... are all other things I would love to do as well, but at the core, writing music is what I need to focus on.
The second bit of advice would simply be: "Stay Focused." Ha Hau (Triad Dragons) has told me this a few times before, and it's one of the most important things anybody could ever hear. It's so easy to want to branch out into other sounds and styles, but if you really want to develop yourself as a brand, you need to have something consistent and recognizable to call your own."
EDM & PB - And the worst piece of advice?
"Honestly I think I'm lucky to have gotten to this point without any terrible advice yet! I also think that you can find some amount of validity in just about any bit of advice. No, that doesn't mean that you should listen to everything everyone says. But if someone is sincerely giving you advice, there is probably a reason they're giving it to you. Take it with a grain of salt, and apply what you believe to be helpful."
---
Said The Sky's latest track "Nostalgia (Ft. Missio)" is available now for free download! Stream above and snag your free copy here!
For more inside tips and expert advice on everything music industry, check out Point Blank Music School, with courses in London, Los Angeles and online. The award-winning electronic music school boasts former students including Claude VonStroke, Nicole Moudaber, AlunaGeorge, Plastician, and many more. Catch this week's production 'Quick Tip' below and head to their site to sample a course for free.