Arjun Vagale: The Most Accomplished DJ You've Never Heard Of
No one was trying to do what we were doing, and no one was showing us how we should do it.
Many aspiring artists today, particularly musicians, take the internet for granted. Social media platforms such as Facebook, Twitter, Youtube, and SoundCloud provide musicians with an open stage to showcase their work to others, but this increase in accessibility has also developed a critical influence on the creative process.
Although these platforms have evolved the scene in many positive ways, it has also demonstrated that with a little luck and good timing, any artist could be a few clicks away from receiving that "golden ticket" for their career, be it a record deal, national tour, or something else. With musicians becoming increasingly hopeful of catching this expedited "road to success", the slower, DIY attitude of perfecting one's craft is quickly becoming a thing of the past.
New Delhi's Arjun Vagale is all about the DIY approach, and his career as a techno producer, DJ, label owner, booking/management agency founder, and music academy creator stands testament to this now "unfavorable" method for success. Growing up during India's rock and metal explosion in the early 90s, Arjun Vagale is a product of the internet-free environment, and first developed his taste in the electronic music scene the old-fashioned way:

"I was first introduced to electronic music when my friend's dad brought us some CD's by Apollo 440 and The Chemical Brothers from an international business trip. Having been in a metal band at the time, I was totally blown away by the range of electronic sounds, drum machines, and effects that these artists were using in their music. There wasn't anything like that available at the local record stores or nightclubs, so it forced me to do my own research to learn more about it."
Although trance had already established its own niche in Goa at the time, it wasn't until the late 90's that the underground scene in India really began to develop in other genres in other cities. The rapid invasion of pop, hip-hop, and commercial hits from the UK and US continued to supply nightclubs with music on the weekends, but the weeknight events soon became home to residencies focused on more diverse genres such as drum & bass, dubstep, techno, house and more. With the increased freedom to find and share new music, Arjun saw an opportunity to turn his passion for electronic music from a hobby into a career:
"When we first started performing, we were practically playing anything we could get our hands on - we'd bring our computers and keyboards to the club and just hoped the night went well! Then we started getting offered residencies at the clubs. I became the resident at one nightclub for 7 days a week, every week for an entire year, so I ended up paying my dues in a really serious way early on."
After establishing himself as a producer and DJ for a number of years, Arjun began to expand his musical repertoire by launching the group Jalebee Cartel, a four-piece live electronic band that ended up releasing a number of chart-topping hits and touring the festival circuit for over 120 days in one year.
From there, with his established place in the scene and a hardened understanding of the production and DJ process, Arjun decided it was time to give back to the community in a big way:
"I was never inclined to teach what I had learned by myself or with Jalebee Cartel, but I quickly started receiving a lot of requests from people to educate them on music production and DJing. Kids would start coming into the studio every day and say 'Can you teach me this?' or 'Show me how to do that!' so I felt it was a good time to open a school and teach them."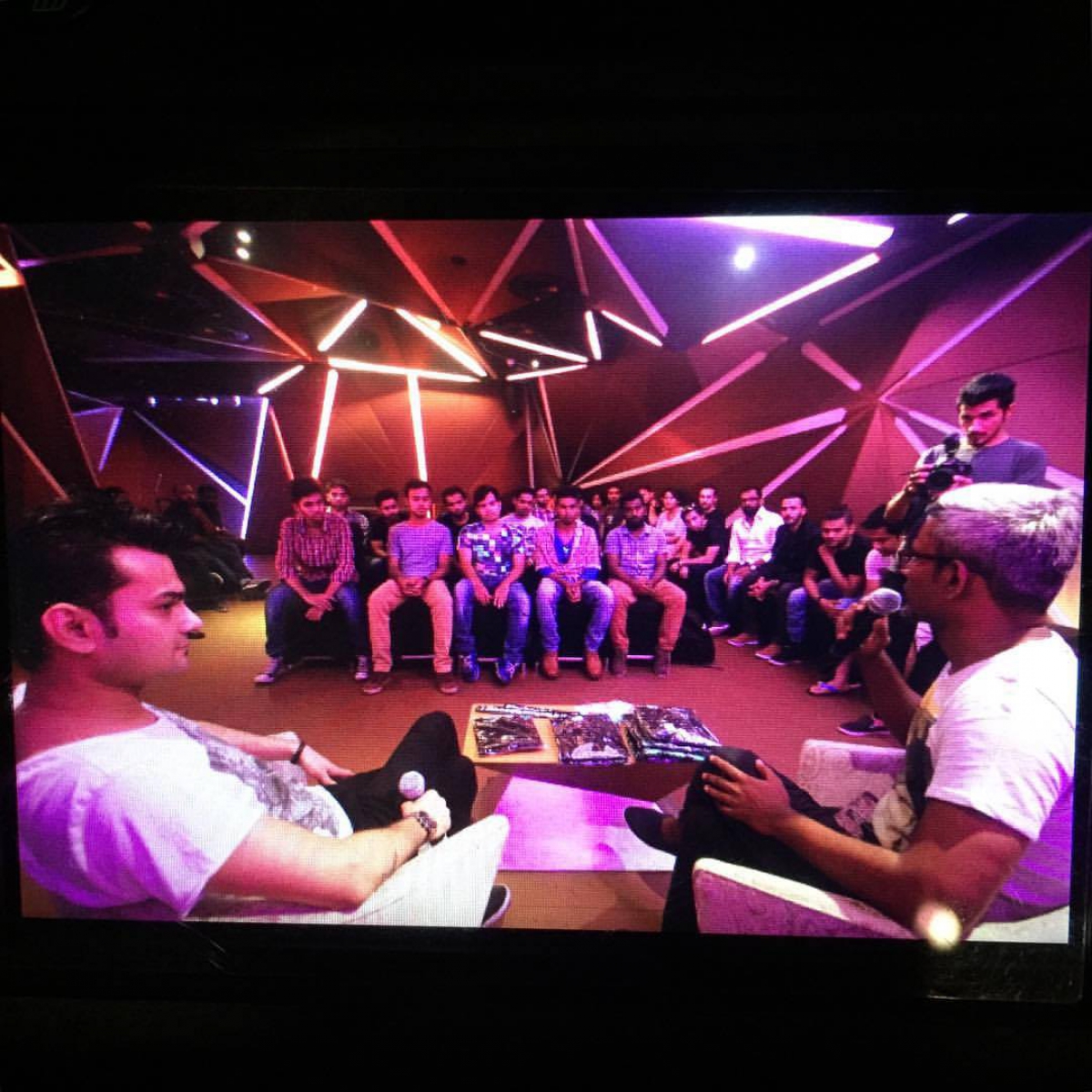 This lead Arjun and his brother to launch the ILM (I Love Music) Academy in Bangalore, and begin offering courses on music production and DJing. Although Bangalore was a smaller city, the school quickly became a success, and they soon decided to move the academy to New Delhi. With a new location, broadened faculty, and fully-furnished studios and classrooms, the school quickly caught the attention of an even bigger audience, and today it now enlists 400 students in its multi-course program.
Opening a school in addition to managing two personal careers is more than enough work to handle for one person, but yet again, this still wasn't enough for Arjun. With the resources and reputation acquired from his careers and the new school, Arjun was able to not only launch a global record label, Maktub Music, to give him another platform to promote and share music, but he also became the co-owner of UnMute Agency, a booking and management company that currently works with over 25 clients.
His work with UnMute Agency has gone a long way in establishing a voice for India's local scene, and he continuously works with major events and festivals such as Enchanted Valley Carnival to put a spotlight on talented native acts.
"I've been playing at EVC ever since it started, and the festival has grown exponentially with regard to its artists and productions. I've worked with the festival on its direction as well, and EVC's team has allowed my work with UnMute to really push and showcase all of the talent that we have sitting in our backyard. I'm really happy we're able to do that, as many of the local acts are on par with the international artists we bring in."

Everything that Arjun Vagale has accomplished thus far is proof that success is not given to those who wait - it is achieved by those who work tirelessly to better themselves and help those around them. His upcoming performance at Enchanted Valley Carnival will be a porthole into his admirable DIY attitude towards his music and influence on the scene, and with 2016 right around the corner, there's no telling how far Arjun will go to perfect his craft.
Follow Arjun Vagale:
facebook.com/ArjunVagaleOfficial
twitter.com/ArjunVagale
soundcloud.com/arjun-jalebee