The First Ever Crowdfunded Tour - A Shrewd & Brilliant Business Plan
Apple exec Jimmy Iovine has expressed serious concern over the future of music as freemium models become the norm and touring takes priority over music creation as the primary source of income. In the meantime, EDM duo The Chainsmokers who broke out with their 2014 single "#Selfie" is proving to have the type of millennial-minded team that can take control of their own success with a touring strategy that is slyly aggressive and in multiple ways… pretty fucking brilliant.
The duo has just launched the industry's first major fan-sourced tour. The first six cities to pre-sell 800 tickets will "win" an official stop on their #TiltTour. Targeting college towns, the tour has been launched like a contest for campuses who are encouraged to compete for their spot on the schedule.
The tour is being powered by the free app Tilt, which is already a popular tool for students to use for exchanging and collecting money for group tailgates, pregames, t-shirt orders, etc. Any accredited undergraduate institution is eligible, and students can enter their campus into the race after at least 20 requests are received to create a tilt.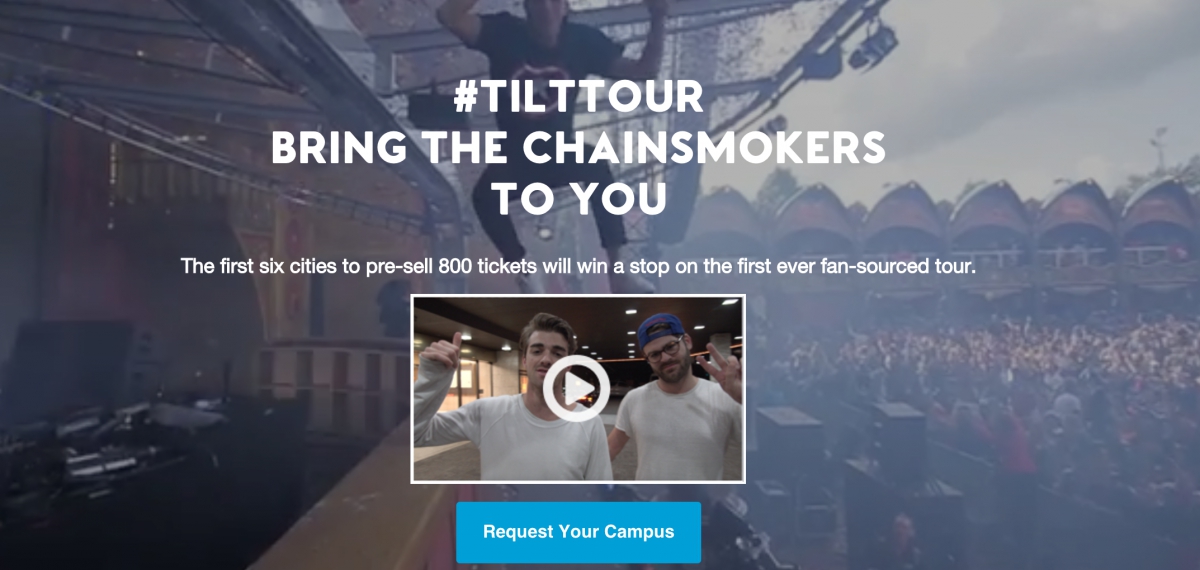 Once their college is entered into tilt, students can buy tickets using a card online but they will not be charged unless their school is one of the first to rack up 800 ticket "pledges". Students can use the invite feature on tilt to help their school win with the added incentive that if they become one of the top 5 referrers for a winning school, they will be upgraded to VIP.
I'm sure you are already realizing now why this is so flipping smart. It takes the pressure of promoting and selling tickets off of the artist's management and booking team and instead gets the fans to do the work for them by pitting college campuses against each other and using their natural affinity for a little rivalry to their advantage.
The Chainsmokers can then play less stops to more people, as the competition ensures every single audience will be no smaller than 800 people. What does this mean? The tour is already guaranteed to succeed and rake in a healthy profit. And at the same time, they are turning their target demographic into active ambassadors.