Point Blank Presents: Breaking Into EDM [Ep. 009 - Getter]
EDM.com has once again teamed up with the award-winning Point Blank Music School to present Breaking Into EDM: When your favorite artists and industry-insiders share words of wisdom, tips of the trade, and personal stories of making it and breaking it.
This week's special guest is OWSLA's favorite funny guy: Getter. With a Borgore collaboration under his belt and a track with Skrillex in the works, the LA-based producer has recently exploded out of the underground (and that's putting it lightly). Fresh off a weekend of Halloween shows and an MTV takeover, Getter sat down with us to chat genres, working with Skrillex, and what it actually means to make it big.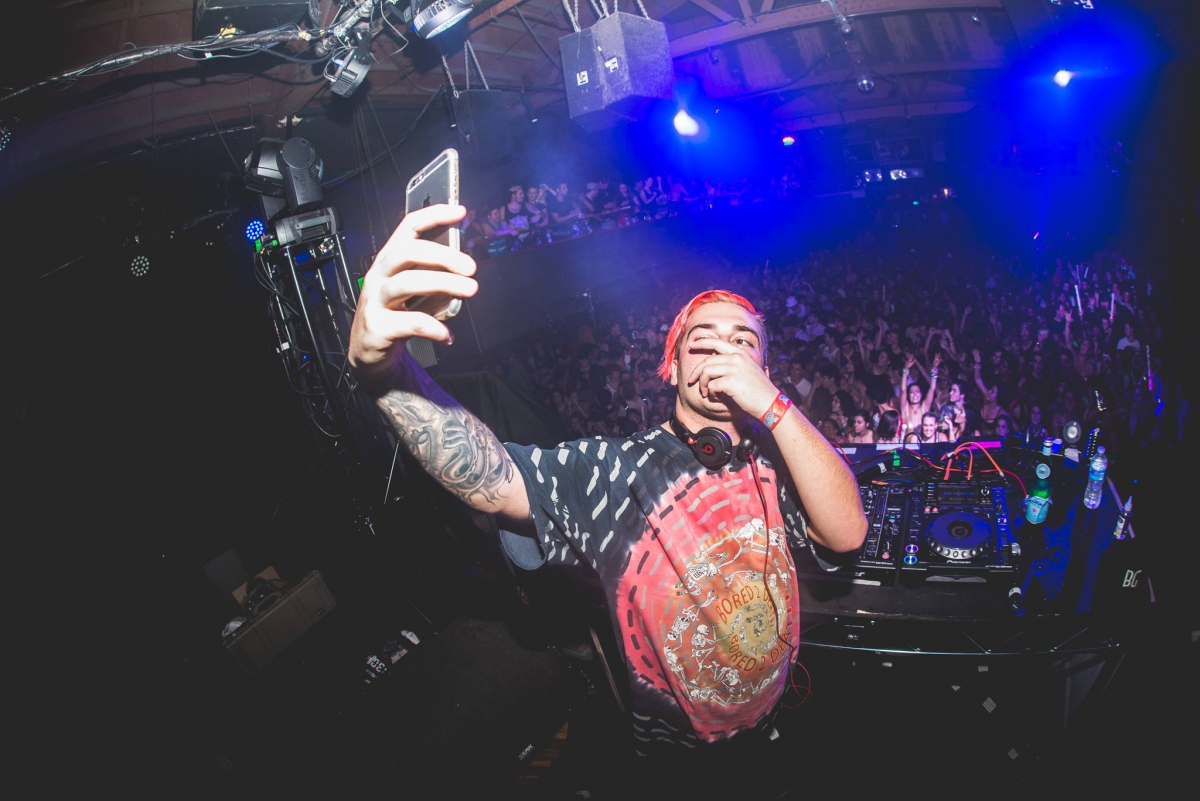 Point Blank & EDM.com: So what's your musical background? How did you get involved in electronic music?
"I used to play in a bunch of failed metal bands growing up. Just a group of homies messing around. My friend showed me some Caspa and Rusko and I was instantly obsessed. Eventually me and my friends from Santa Cruz started producing together, and now I'm here!"
PB & EDM: Originally from the heavier dubstep world, you've recently been experimenting with other styles, your Planet Neutral material for example. What inspired the change? How have fans reacted to the different sound?
"Yeah, I started doing a lot of different stuff when I was getting bored. I think that if you aren't liking what you're doing, it's time for a change. And that goes with everything. But yeah, I experimented a bit and I loved it. I was super self-conscious at first because hardcore dubstep fans are ruthless with hate when it comes to change. But I got super confident with my music and just did it. It worked out so well though, and now people really love it. It's great."
PB & EDM: What advice would you give an artist who feels pigeon-holed into a certain genre?
"My best advice is to just do what you want and fuck everything else. I was stuck for so long in one spot and was unhappy but you've just gotta keep moving forward with everything. Also having people that really believe in you can really help you with your vision. Everyone else is irrelevant."
EDM & PB: Recently you've been teasing a collaboration with Skrillex - what can we expect from that? Old school Getter/Skrillex-vibes? Or a brand new sound?
"The Skrillex collab is kind of a mix of all of our styles. He has a lot of cool growls from back in the day and also brand new sounds. Same with me. It's got a really cool bouncy vibe to it that I love. We really wanted to focus on the patterns throughout the song instead of the crazy sounds. Look out for it at a live show *winks"
EDM & PB: So, what's it like working with Skrillex anyway?
"It's really dope working with Skrillex. We're on the same wavelength with how we want stuff to sound, so communication is always on point. It's just really cool to work with someone that is so down with whatever we want to make."
EDM & PB: At what point will you consider that you've 'made it' as an artist?
"I have a goal I want to achieve. The goal is really to have my own platform for everything: music, clothing, comedy, entertainment, tours, just everything I can do. So once I get to that point, I think I'll have 'made it.'"
EDM & PB: As many producers can attest to, it's not uncommon to find yourself stuck in a creative rut. How do you combat writer's block?
"I found out about this crazy phenomenon that works 100% of the time with writer's block: put imaginary pressure on yourself. A deadline, something like that. It forces out your ideas. I've been doing that and now I'm never stuck. Besides that, I just have sound design days and sometimes a new synth will sculpt a song on its own."
EDM & PB: What tips would you give an aspiring producer/DJ on breaking into the scene?
"My biggest advice for people trying to get noticed is to be different. Make different music, have a crazy new brand. Basically stuff blows up because no one has heard or seen it before. If you can achieve that, everything else will fall into place!"
EDM & PB: What's the best piece of career advice that you've ever received?
"The best advice I've received is 'do what you want and fuck the rest.' This pertains to what I said earlier, if you surround yourself with negative people or bad vibes/situations, it's a lot harder to do what you want. Put your personality into your work. Be yourself. Do exactly what YOU want and you can do ANYTHING."
EDM & PB: And the worst?
"The worst advice is fake it 'til you make it. Ha!"

---
For more inside tips and expert advice on everything music industry, check out
Point Blank Music School
, with courses in
London
,
Los Angeles
and
online
. The award-winning electronic music school boasts former students including Claude VonStroke, Nicole Moudaber, AlunaGeorge, Plastician, and many more. Catch this week's production 'Quick Tip' below and head to their site to
sample a course for free
.