Hoverboards are Fire!! (Literally, They Keep Bursting into Flames)
With all the videos we've seen of Skrillex tooling around on a hoverboard, there are sure to be EDM fans hoping to get one this holiday season. But they might reconsider after reading this.
There have been at least 11 reports of hoverboards from various manufacturers spontaneously bursting into flames - including at least one incident where it caused a family's home to burn to the ground. Though the exact cause (or causes) of the fires are not yet known, it's a safe assumption that it has something to do with the batteries used in the units. Though most people are unaware, the various types of lithium-ion batteries that are used in all kinds of electronics that we use every day (cell phones, laptops, etc.) can be quite dangerous is used or manufactured improperly. Back in the mid 2000s, there was a rash of reports of cell phones and laptops exploding and/or catching fire. The US Consumer Safety Product Commission, along with similar agencies in other countries addressed this by establishing standards with electronics and battery manufacturers to prevent these sort of incidents.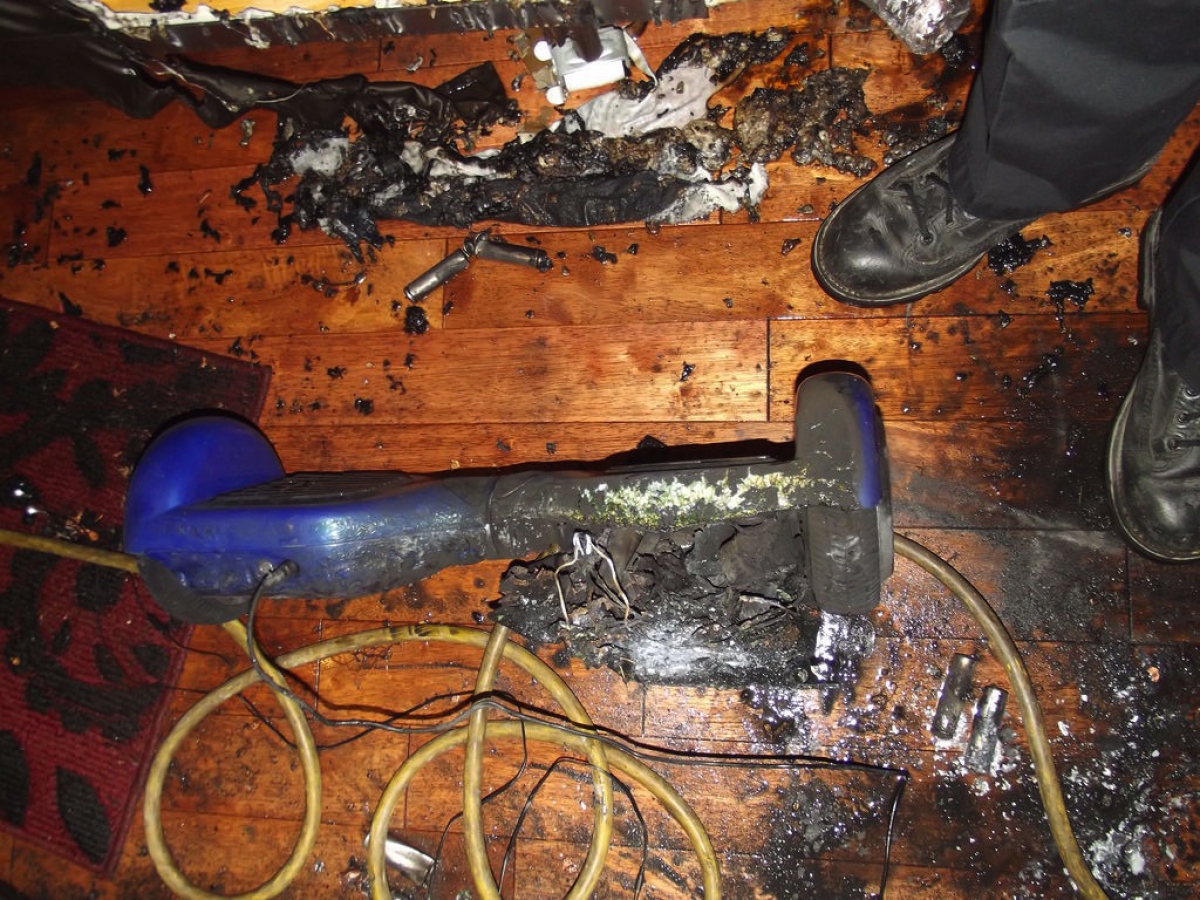 [Image: Montgomery County Fire Rescue]
Hoverboards, being such a new product that doesn't fit into any established device category, don't have a similar standards yet. And it's likely that they are using batteries from less reputable battery manufacturers, or putting inappropriate strain on the batteries. The CSPC is currently hard at work investigating the safety of hoverboards, and will likely establish a set of regulations and testing requirements similar to those in place for cell phones and laptops. A number of airlines, and the US Postal Service Air Mail have banned the devices, citing (obvious) serious concerns about fires or explosions in flight. And many large retailers have stopped selling them.
If you already have a hoverboard, be very careful with how you use it, and never leave it charging unattended or overnight. Though, there has been at least one report of a hoverboard bursting into flames while it was just sitting there, not being used, not charging. So maybe see about getting a refund? And if you don't have one, it would probably be a good idea to hold off on buying one for a bit.
For a more in depth look at the potential causes behind hoverboard fires, check out this great article on CNET:
http://www.cnet.com/news/why-are-hoverboards-exploding-and-catching-fire/
Last weekend, SNL did a hilarious, barely exaggerated parody video addressing the dangers of hoverboards: