The 2016 Grammy Nominees for Dance Music Are...
The nominations for the 58th GRAMMY Awards have arrived. This year's top nominees are Kendrick Lamar, Taylor Swift and The Weeknd. The 2016 Record of the Year nominees are "Can't Feel My Face" by The Weeknd, "Blank Space" by Taylor Swift, "Thinking Out Loud" By Ed Sheeran, "Uptown Funk" by Mark Ronson featuring Bruno Mars and "Really Love" by D'Angelo and the Vanguard.
Now on to the categories we're really concerned with... the dance music nominees. Above & Beyond, The Chemical Brothers, Flying Lotus with Kendrick Lamar, Galantis, and Skrillex and Diplo with Justin Bieber are competing for Best Dance Recording. Skrillex and Diplo are also in the running for Best Dance Album along with Jamie xx, The Chemical Brothers, Disclosure and Caribou. Finally, the nominees for the Best Remixed Recording, Non-Classical are RAC, Kaskade, Dave Audé, CFCF and Fatum.
The winners will be announced at the 2016 GRAMMY Awards, which will broadcast live on February 15, 2016 at 8/7c on CBS. See below for some fun facts on the history of dance music at the Grammys.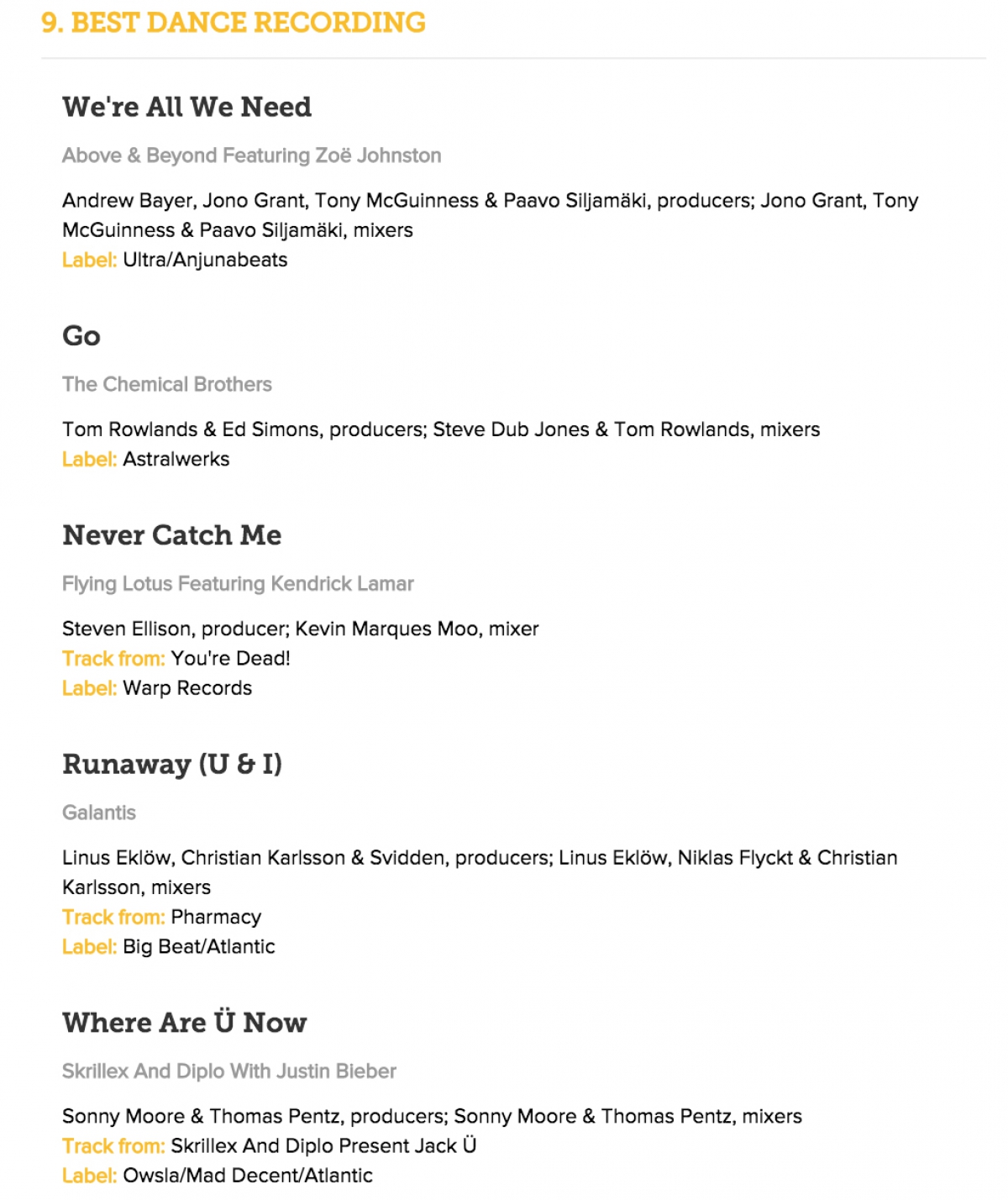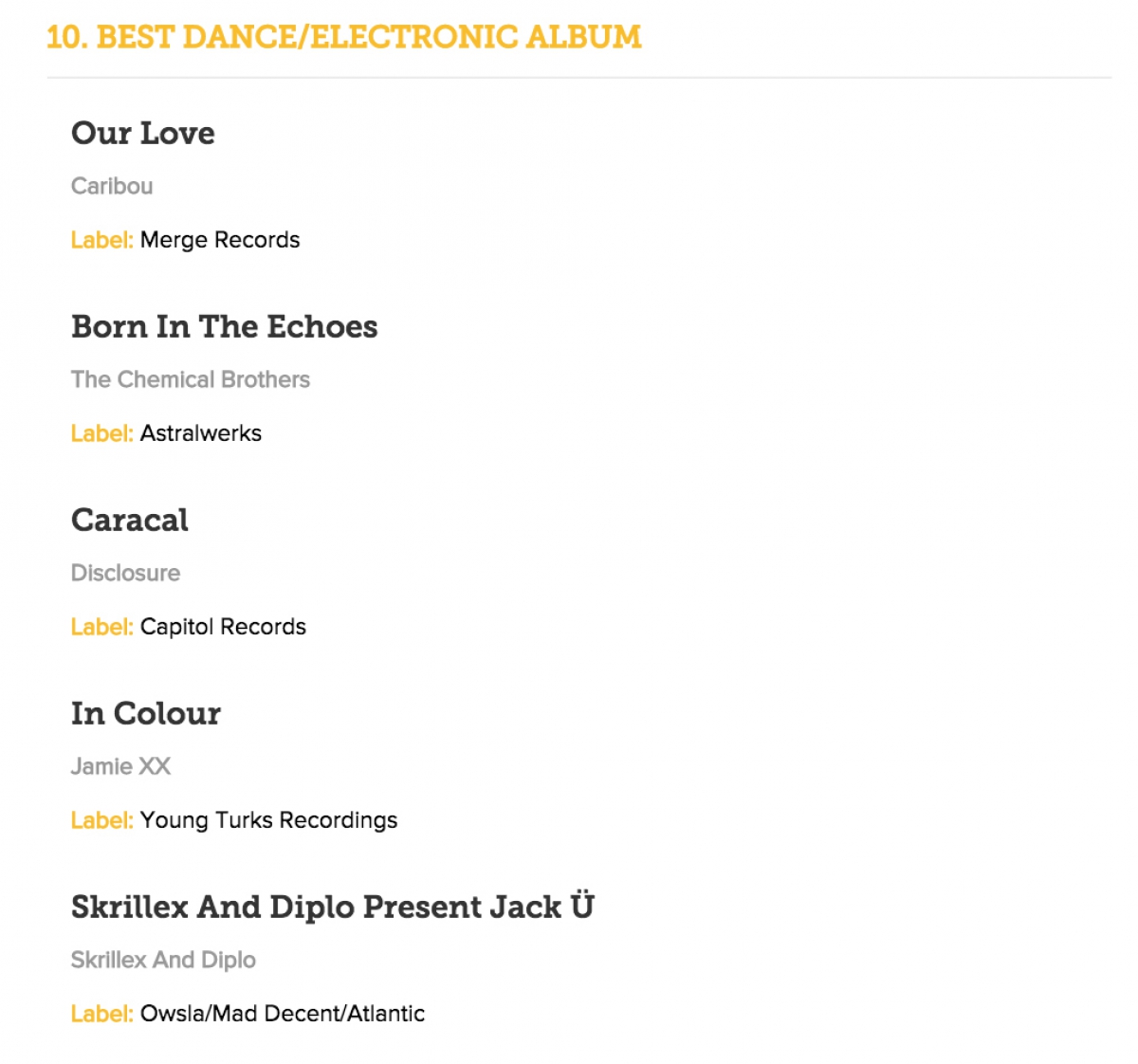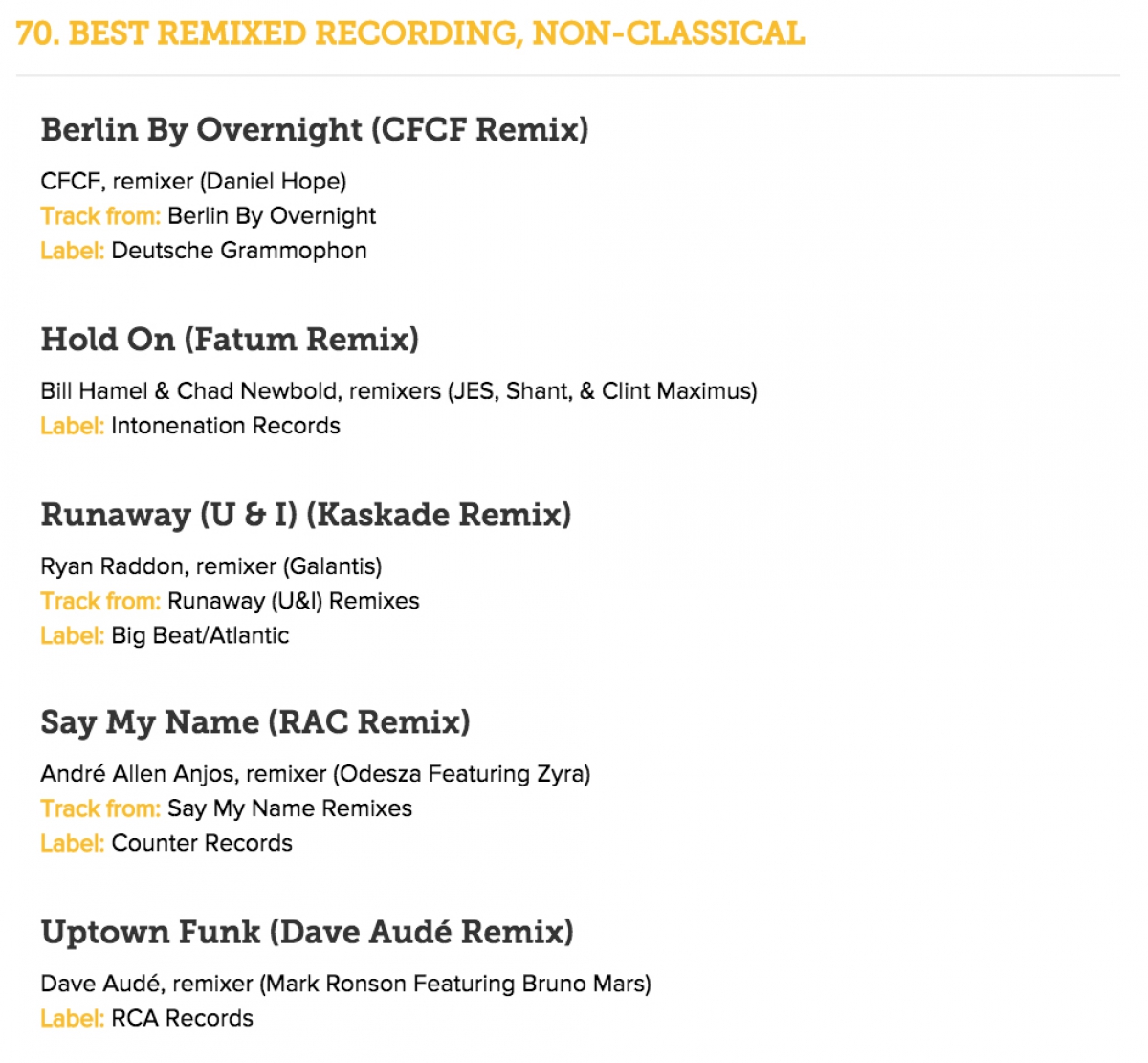 Some fun facts about the history of dance music at the Grammys...
- The Grammy for Best Dance Recording was first awarded to Donna Summer and Giorgio Moroder in 1998
- Dirty Vegas and Chemical Brothers were the first non-pop artists after Moroder to receive Best Dance Recording in 2003 and 2006, respectively
- The Grammy for Best Electronic/Dance Album was first awarded in 2005 to Basement Jaxx
- The Chemical Brothers have won a total of 4 Grammys
- Skrillex has won a total of 6 Grammys
- Daft Punk has received 12 nominations and 6 wins
- Deadmau5 has received 6 nominations and 0 wins
Remember Skrillex's first Grammy in 2012? Check out his acceptance speech below...