Gary Richards Discusses Holy Ship! With Billboard
On top of HARD Summer and HARD Day of the Dead, HARD Events CEO Gary Richards has had a busy schedule over the last year, as the electronic dance music mogul just set sail on the February 2015 edition of his acclaimed Holy Ship! dance music cruise series.
Richards, who operates under the DJ alias Destructo, is predominantly known for his distinct g-house sounds, deeming him one of the genre's elite; the LA-based producer released his 2014 West Coast EP, which included his deep, g-house anthem "Dare You 2 Move" featuring Problem. In between the two Holy Ship! sailings, Richards also carried out his 15-stop Ship2Ship tour with support from Anna Lunoe, Motez, and T. Williams.
With two epic lineups including Skrillex, Pretty Lights, Flume, DJ Snake, A-Trak, Claude Vonstroke, and many more, Holy Ship's arsenal leaves no genre behind. Captain D took a moment to sit down with Billboard to discuss the Shipfam dedication, origins of Holy Ship!, and expansion of the overall HARD brand.
As far as diversity goes, Richards nailed the January and February lineups as they span genres from trap to deep house to techno. In its fourth year, Holy Ship! has expanded from a one time cruise to now installing a third voyage due to high demand. Richards notes that the lineup continuously evolves as it's all about the music once aboard the MSC Divina:
"I feel like there's been so many styles of music on this boat. And usually on the past boats it ends up like a big trap party. I'm not mad at trap, it's fun, but I feel we've got a lot of different angles to music and the crowd knows what to do after four years. No one's throwing furniture over the balcony, everyone's enjoying the music and looking out for each other -- we haven't had any major issues really. At first I was like, 'I hope what we booked is going to mesh,' but I think they have and it's given us a good diverse sound of all kinds of music from all over the place."
Richards also discussed the modest beginnings of Holy Ship!, dating its origins back to 1997. Thanks to the Trans-Atlantic Movement, modern day ravers can immerse themselves into a multi-sensory experience in the middle of the Bahamas while getting down to a thumping bassline and shuffling into the early morning:
"In 1997, I went on a cruise called the Trans-Atlantic Move and it went from Miami to some island down here. It was like 400 German techno freaks and I don't know how I got on it. It was this little tiny boat but it was one of the best times in my life, and I've always thought I'd like to have an opportunity to emulate something like that. I got HARD started and then I met my partners Bowery and Cloud 9 and they said they did this cruise, and I said I'd always had the idea to do a cruise since I went on one."
For those of you who have yet to embark on a dance music cruise, know that your cruise fam is for life. The Shipfam is no force to be reckoned with, and Richards recognizes that the friendships made over the span of four days while listening to groovy music will last a lifetime. Dance music cruises are able to support an unparalleled community, ultimately providing a next-level experience:
"The Shipfam thing brewed up just naturally. I tried to emulate what we're all about in the '90s by bringing great music to great venues, but the Shipfam is like what this spawned. And it's like a million times better than anything I could have dreamed for. Whenever I see people they're most excited about the relationships they made through this event. I never thought that would happen, it surprised me, but it's the most rewarding. If you like the same kind of music, you're going to be on the same page with people."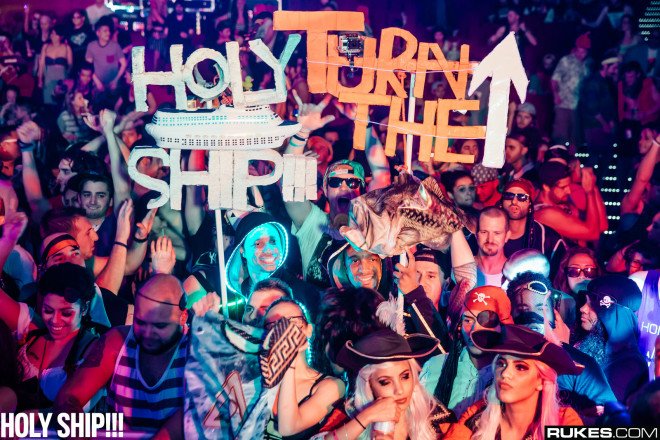 Holy Ship! is just one of Richards' many hats that he wears. HARD Events has expanded into one of the top event companies in the nation, notably maintaining a strong presence in the Los Angeles nightlife scene. As we head into the 2015 festival season, the EDM industry can only expect bigger and better things from Richards and HARD Events:
"There's so many places in the world we can develop more electronic-wise. It's just identifying which ones are the right ones. We're working on a tour for the early summer called the Go HARD tour and we'll probably do six-eight markets that we've never really done on a big scale and start building there. I need to increase the staff a bit and get some more people involved who can help further the agenda."
You can read the full interview from Billboard here.
[H/T: Billboard]
Cover photo via Miami New Times
Follow Gary Richards:
djdestructo.com
facebook.com/destructohard
twitter.com/destructohard
soundcloud.com/destructohard
Follow Holy Ship!:
holyship.com
facebook.com/holyship
twitter.com/holy_ship
youtube.com/holyship