Digital Music Sales Decline In The Age Of Streaming
According to 2013-2014 data provided by The Atlantic, digital track sales are decreasing while streaming is rising. Ever since the mp3 player, music consumption has evolved into an entirely different market. Now, people listen to their music through streaming platforms such as iTunes, SoundCloud, Spotify, Pandora, iHeartRadio, and music blogs. The streaming trend has increased at an economically astounding rate of 54% between 2013 and 2014.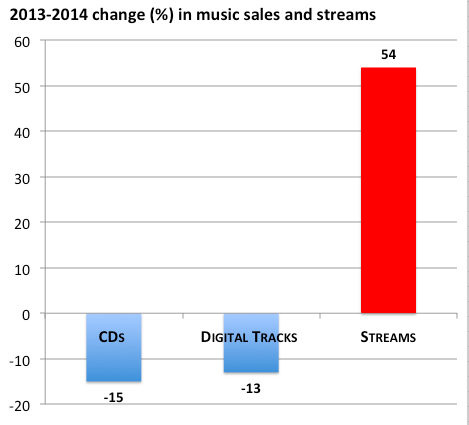 Unfortunately, similar to the decline of CD sales, digital track sales are expected to experience a demise. Between 2013 and 2014, CD and digital track sales were down over 10%. According to Nielson's 2014 annual review of the music industry, total new album sales also declined by 14%, while sales of new songs online followed with a 10% decrease. In the current industry, the top 1% of bands and solo artists earn around 80% of all revenue from recorded music.
As we've reported in the past, vinyl records are in the process of making a comeback. Although over 9 million vinyl LP's were sold in 2014, respectively a 51% increase annually, we must also remember that vinyl sales only account for 3.5% of total album sales. Meanwhile, the CD market sits at about fifteen times that size.
[H/T: The Atlantic]
Cover photo via Tribal Seeds
Follow EDM.com:
facebook.com/TheEdmNetwork
facebook.com/EDMcom
soundcloud.com/edm
twitter.com/theedmnetwork
instagram.com/edm