Festival Fashion Pro Tips 002 | Ultra Music Festival Edition
The dance music community encapsulates various elements of the performing arts as more EDM festivals completely morph into full-scale subcultures of their own. In particular, fashion inside festivals grounds contributes to the unparalleled electronic music festival atmosphere, and as the 2015 festival season quickly approaches, EDM.com is proud to present the second episode of our Festival Fashion Pro Tips series. Staff writer Emily Hall will be curating a weekly catalog of festival fashions geared towards the avid dance music festival attendee. Each week, Emily will put a spotlight on three various fashion trends that are fundamentally designed to enhance your experience.
Check out this week's handpicked selections in our special Ultra Music Festival edition of Festival Fashion Pro Tips:
1) Protective Eyewear & Diffraction Glasses
Ultra Music Festival takes place in downtown Miami inside Bayfront Park, so it goes without saying that dancing for three days in the sun can really take a toll on UMF attendees. Proper eye protection is vital for such events, although the typical Ray Ban selection can get fairly risky, as theft is extremely common at music festivals. To avoid any expensive losses, try steering towards a less costly route provided by DIFF Eyewear. They are one of the few lifestyle brands in the market that aims to provide quality eye protection for an affordable price – AKA a perfect fit for the avid festival-goer. For a low budget price of $40, you can get your hands on high-quality sunglasses that provide UV400 protection while making you look super fashionable at the same time. The polarized lenses are even scratch resistant and come in five stylish shades. If that wasn't enough of a reason to choose DIFF, the affordable high-quality brand promises to donate a pair of glasses to rural Africa with every purchase.
Alternatively, diffraction glasses are a must have once the Sun goes down. Ultra Music Festival is widely known for its elaborate stages, mind-blowing visuals, and light shows. The only thing that could produce a more stimulating experience is popping on a pair of diffraction glasses to break up every shard of light possible so you are literally seeing rainbows all around you. When it comes to getting yourself a pair of these bad boys, you could take the simple path and pick up a pair at a booth at practically any music festival. On the other hand, you could go all out and create a custom-made pair specifically designed to your personal taste.
2) Bathing Suits & One Pieces
Due to the festival's location inside Bayfront Park, many Ultra attendees commonly resort to wearing bathing suits in order to keep cool in the scorching heat. Throwing on a simple halter bathing top with a pair of high-wasted shorts is the generic ensemble you might run into during the festival, and it is always the go-to look if you're throwing together a last-minute outfit. The waterproof aspect is more convenient than you could possibly fathom if you've yet to attend UMF, as the pavement and open layout of the festival is just asking for maximal perspiration. Even men can benefit from the bathing suit option seeing as many opt for the casual Speedo look at festivals.
Alongside bathing suits, one-pieces are truly the most effortless and optimal selection when attending any outdoor festival. I mean come on, it takes nearly 10 seconds to get yourself completely dressed and ready to seize the day. The convenience of wearing a single article of clothing is uncanny, thanks in part to other pre-festival stress the average attendee may encounter. Fashion inside the festival grounds isn't a game, especially in Miami where everyone is dressing to impress. Selecting a one-piece gives you an achievable edgy look and provides a secure sense of protection throughout all of your festival adventures.
**Disclaimer: One-pieces and rompers are not ideal for bathroom breaks.**
3) Anything Vibrant & Loud
Miami Music Week, which is comprised of Winter Music Conference and Ultra Music Festival, is one of the biggest weeks in both electronic dance music and the city of Miami. South Beach residents regularly exert bold fashion statements, and this expressive attitude is clearly reflective on the attendees of UMF. Adhering to the vibrant and loud lifestyle of Miami, Ultra attendees wear some of the craziest and most creative styles a music festival has ever seen.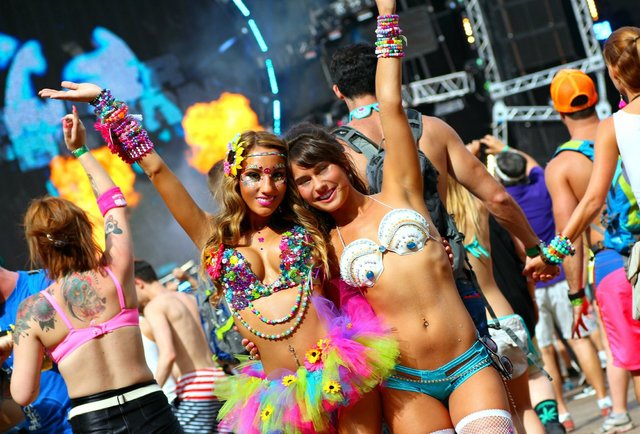 **Note: Ultra Music Festival 2015 has banned all Kandi masks.**
Cover photo via Miami New Times
Photos included taken from Cosmopolitan and Miami New Times
Follow EDM.com:
facebook.com/TheEdmNetwork
facebook.com/EDMcom
soundcloud.com/edm
twitter.com/theedmnetwork
plus.google.com/+EDM
instagram.com/edm