EDM.com's Guide To Miami Music Week Pt. 2
In a few days time, one of the biggest events in the EDM will start once again: Miami Music Week. Running on March 24-29, 2015, MMW spans the city of Miami with an impressive roster of club parties, pool parties, lounge parties, mini-festivals and more. This year, we've decided to break the parties down across three categories: headliner parties, underground parties and bass parties.
For each list, a dedicated team at EDM.com has worked to give our readers insight into what we believe represent the best parties for this year. The following list ranges from an OWSLA party to the SMOG vs. Firepower showcase to a pool party with Borgore.
Tuesday, March 24th
Official Circus Party at Grand Central
Dubstep and bass will take over Grand Central on Tuesday, March 24th starting at 10pm. Flux Pavilion, Doctor P, Cookie Monsta, Dirtyphonics, NGHTMRE and more will take the stage and kick off the beginning of Miami Music Week with an immense amount of bass. The event is hosted by both Circus Records and Embrace, with general admission tickets remaining for $20 + fees.
Wednesday, March 25th
The World of Drum and Bass WMC 2015 at The Bank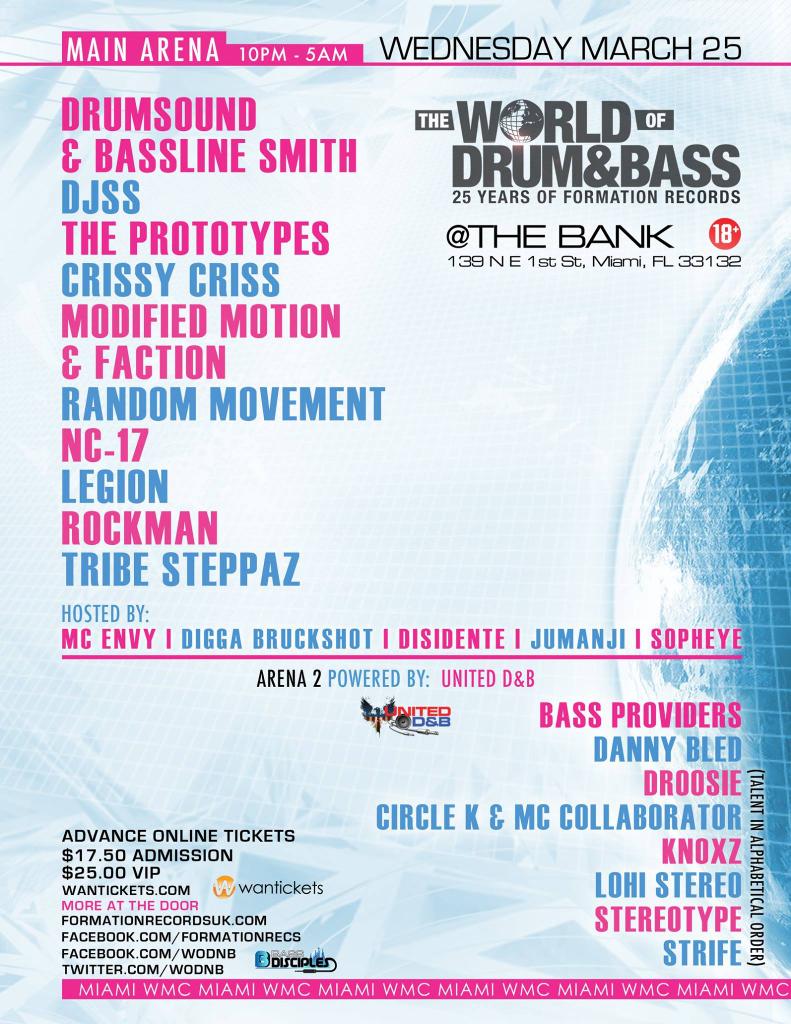 In celebration of 25 years of Formation Records, this sold out event will provide an event specifically geared towards the typical drum and bass enthusiastic. On Wednesday, March 25, drum and bass artists such as DRUMSOUND&BASSLINE SMITH, DJSS, THE PROTOTYPES, CRISSY CRISS, and many more. Two arenas will overthrow The Bank Lounge, representing some of the finest in drum and bass around. Online pre-sale is currently sold out, however tickets will be available at the door for anyone still interested in attending!
HELENA Presents The Revolution at Set
Another Miami Music Week party on the evening of Wednesday, March 25th, is The Opium Group's HELENA Presents The Revolution at SET Miami. This event with be hosting the likes of Daddy's Groove, FTampa, Helena herself, Lucky Date, Nom de Strip, and many more. The Revolution will also be featuring a b2b set from Australian talents Will Sparks and Joel Fletcher. Tickets are posted for $40 + fees, although various forms of VIP accommodation are available to the big spenders of MMW.
Elevate Presents Blazed at Vue
This 18 + event on Wednesday, March 25th will feature dance music talents ranging from Caked Up to Stööki Sound to Kayzo and for Vue in Miami. From 10pm to 5am, Vue will be stacked with hard-hitting beats that will surely give you a heavy night of bass and addictive trap sounds. Early bird tickets are sold out but general admission tier 2 are available for $15 + fees.
Thursday, March 26th
The Kitchen Pool Party Miami 2015 at Shelborne Wyndham Grand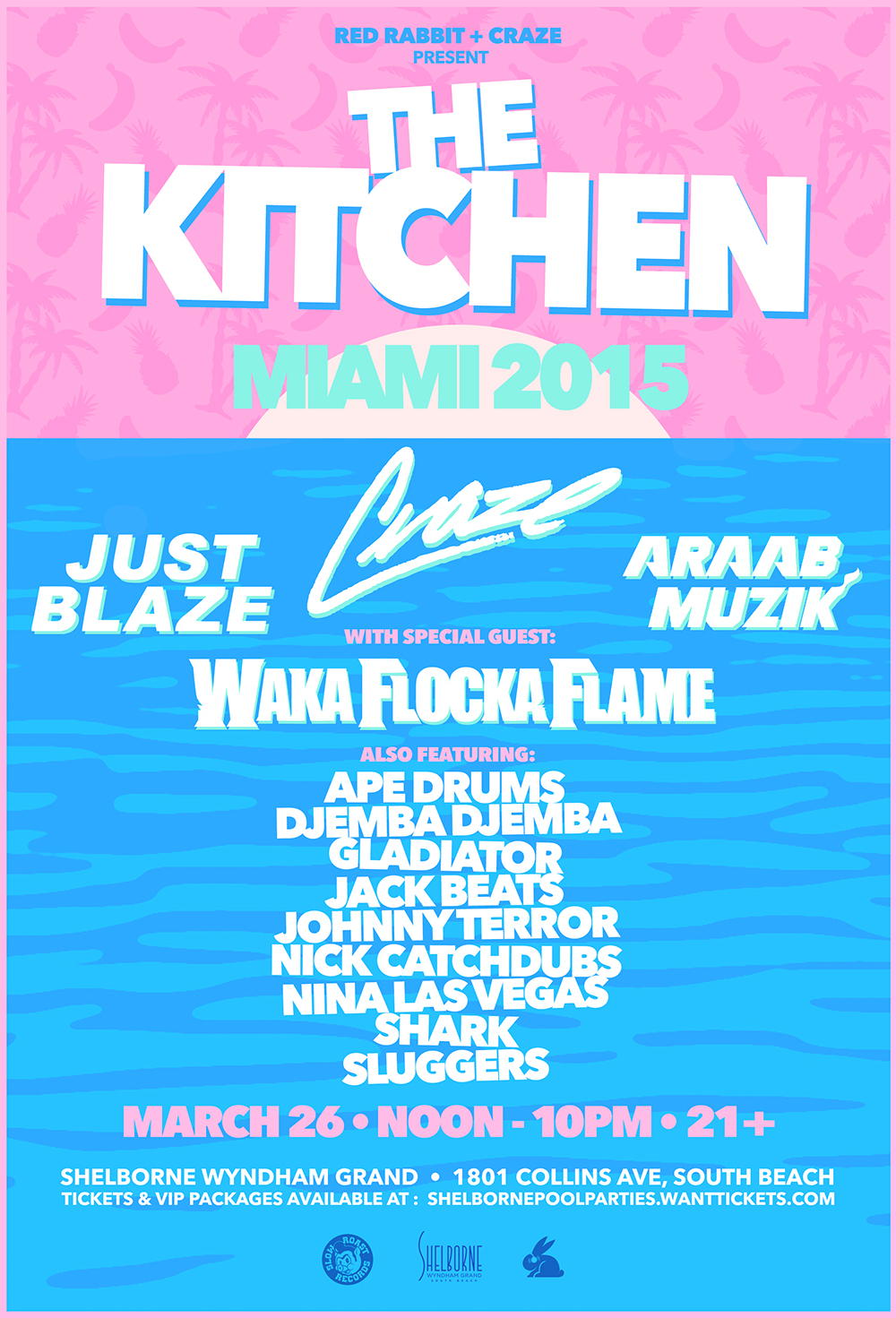 Get ready to immerse yourself into some heavy beats at Shelborne Wyndham Grand on Thursday, March 26th at The Kitchen Pool Party. This day party spanning from 12pm to 10pm, supplying hard-hitting trap beats from industry heavy names Just Blaze, DJ Craze, and Araab Muzik. Special guests include Waka Flocka Flame, Ape Drums, Djemba Djemba, Nina Las Vegas, Jack Beats, and many more. Red Rabbit Presents will install a stacked lineup giving Miami Music Week attendees a chance to rage in the Sun before the three-day UMF Mania. Luckily, ladies can gain access to the event for $15 while general admission tickets at posted for $30 including fees.
OWSLA Pool Party at Clevelander
As Ultra Music Festival has announced a stage primarily for OWSLA representatives, notably an undetermined special guest at the time slot of Skrillex who will be annihilating the main stage, EDM.com had to acknowledge this massive OWSLA party on Thursday, March 26th, from 11am to 8pm. This lineup is actually fairly overwhelming, as the artists included on the lineup will surely throw down fire sets. The first listing on the lineup boasts a fancy AC Slater going b2b with Jack Beats, alongside a Getter b2b Trollphace. The rest of the lineup only gets better with LA-dominated dance talents Carmada, Mija, Snails, Milo & Otis, and many more at The Clevelander Hotel. Free admission is obtainable if you sign u and download the Beatgasm app, although the event is 21+.
Rump Shaker at Grand Central
HARD continues its MMW festivities with Rump Shaker, a 7-hour event filled to the brim with bass performers of all shapes and sizes. Headlined by the bass-tastic duos Knife Party and Zeds Dead, weight of the event can be felt all the way through its supporting acts such as Salva, JAUZ, Crookers, Hunter Siegel, and a handful of others. This is certainly an event not to miss, as ticket prices are currently slated at $35 with a totally of $50 if purchased day of.
SMOG vs. Firepower at Mekka
If you're looking for a place to bang your head before the madness of UMF, then this bass and dubstep event might be to your liking. Mekka Nightclub will be hosting an action-packed lineup consisting of both SMOG and Firepower, boasting names such as the Firepower leader himself Datsik and Smog founder 12th Planet. Herobust, Getter, Trollphace, Andy C, Delta Heavy, Gladpvck, Ghastly, and so much more will allow the less fortunate under-aged attendees a place to get their dubstep and bass music in. Tickets are currently on sale for $30 + fees for an insane lineup and stages curated by Smog, Firepower, Ram Records, All Trap Music, and Twonk.
You can purchase tickets for the event here.
EDM.com is giving away 2 pairs of tickets to the SMOG vs. Firepower event - enter below:
Will Sparks Presents Let's Bounce! Miami at Mokai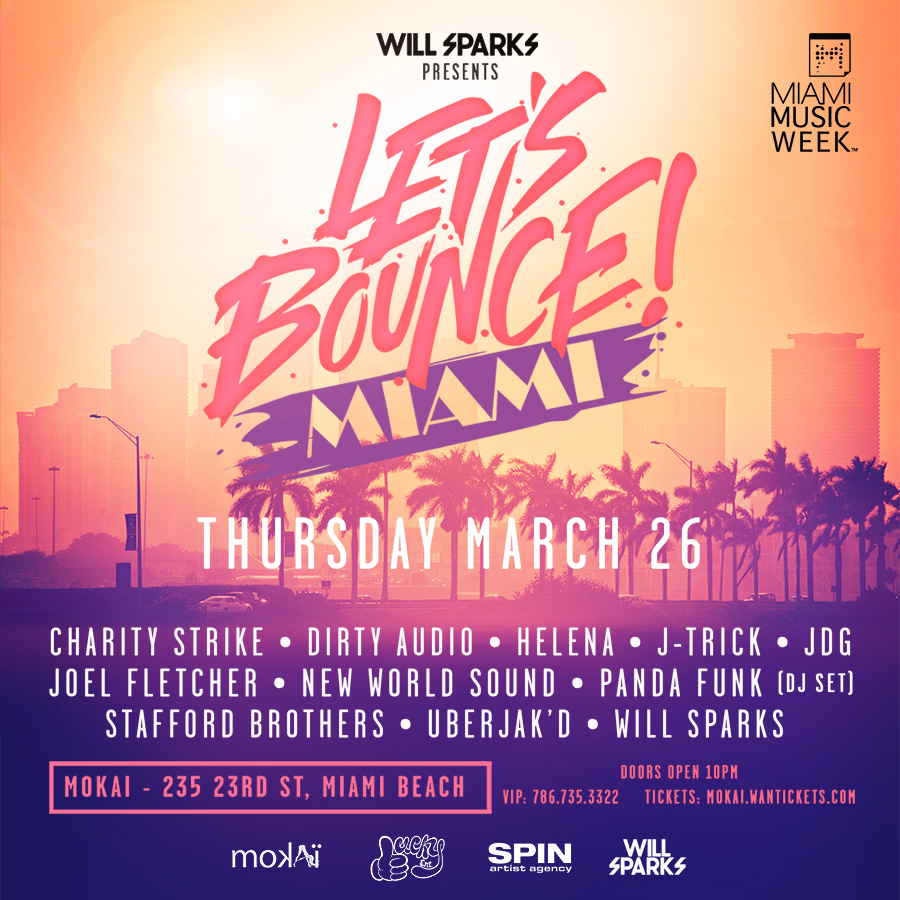 This event is filled to the brim with talented Australian producers at Mokai Lounge on Thursday, March 26th. Presented by The Opium Group, Let's Bounce! Miami 2015 will showcase the wonderful acts of Australian management company Lucky Entertainment including their affiliate Will Sparks, Joel Fletcher, Stafford Brothers, Helena, and a DJ from Panda Funk. Tickets are available for $30 for general admission.
Dim Mak Beach Party + Up All Night + CUFF Combo at Nikki Beach
This 21+ event will feature a massive Dim Mak roster at the infamous Nikki Beach from 12pm to 5am on Thursday, March 26th. Dim Mak representatives including 3 Are Legend, Benny Benassi, Crookers, SBCR DJ set, Deorro, Borgore, Crookers, Shift K3Y, Amine Edge & Dance, A-Trak, and numerous special guests will be arriving throughout the 15 hour long blowout. While most tickets for this insane beach party are sold out, aspiring attendees can still pick up a Beach Party + Up All Night + CUFF Combo pack for $75 + fees.
STACKED at Steam
On Thursday, March 26th, Steam Miami will be hosting their STACKED event alongside Circle Talent Agency & NGHTBRND. Get your dubstep, drum and bass, and trap on with the finest of the genre with Andy C, CRNKN, Twonk Team, Funtcase, Dotcom and so many more. All early bird tickets are sold out although phase 1 and 2 are still available to pick up for $25-40 + fees, if this seems like your type of event.
Friday, March 27th
Fool Gold Presents FOOL'S GOLD MIAMI at Grand Central
FOOL'S GOLD Miami marks one of the most affordable yet entertaining parties of the week with tickets posted for a mere $10. On Friday, March 27th, Fool's Gold Records founder Alain Macklovitch, also known as A-Trak, is calling in some of the greatest in the game to make this experience one a standout from the rest. Martin Solveig, Tommy Trash, Anna Lunoe, gLAdiator, and various special guests will tag along with DJ sets until the early morning. Tickets for the 21+ event are still available for a limited time.
Junction Miami at The Bank
On Friday, March 27th, Junction Miami is hosting an 18+ event for those who are trying to rage long after the first day of Ultra Music Festival ends. Elevate Presents and Hashtag Jukelife are presenting a lineup filled to the brim with emerging artists in the industry such as SNBRN, Ghastly, Dr. Fresch, Slander, Bobby Puma, Meaux Green, and a handful of other up-and-coming producers. For only $15 + fees, you can celebrate your survival of the first day of Ultra Music Festival with some of the freshest and original beats out there at The Bank Lounge.
No Sugar Added Festival (Friday & Saturday) at Nikki Beach
Presented by Diskolab, Nikki Beach will be the home of the 5th annual, two-day extravaganza known as No Sugar Added. The festival is boasting one of the biggest lineups for Miami Music Week, installing three various stages that will host electronic artists all of genres. On Friday, March 27th, NSA has employed big name headliners including Adventure Club, The Chainsmokers, Arty, Deorro, and special guest NERVO. Saturday's headliner roster consists of Bingo Players, Cazzette, special guest Chuckie, Dzeko & Torres, and a surprise performance that is currently being deemed Good Times Ahead. This 21+ event is running a high risk of selling out with single days tickets available starting at $40 + fees.
Sunday, March 30th
THE BUYGORE POOL PARTY at The National
On Sunday, March 29th, The National will be hosting a closing day party to Winter Music Conference courtesy of Borgore's record label Buygore. From 12pm to 11pm, you can get a distinct taste of the Buygore label sounds with performances from Jauz, Boots & Pants, Kayzo, Ghastly, and more to be announced. Another special DJ set from Panda Funk, a group comprised of Deorro, Dirty Audio, and Whyel will top off the pool party. If these names haven't impressed you thus far, it would be in your best interest to note that Rain Man, former member of Krewella, will also be playing at the pool party. Tickets allowing access only before 2pm start at $30 + fees, or you could opt for the $45 ticket option which grants you all day access to the event.