5 Pro Athletes Who Tried Their Hand At DJing
As EDM continues to build traction around the world, there's no denying that DJing has become one of the most "hip" trends of the 2010's. Everyone from actors to businessmen to adults to pre-teens have taken a stab at creating a name for themselves in the dance scene, and it is neither here nor there whether they are actually contributing to the scene or damaging this growing stereotype.
It goes without saying that athletes are incredibly talented individuals, but how do their skills on the field translate to their skills on the decks? We've collected a list of athletes that have pursued a career in dance music in one way or another, and it's up to you to decide if it was really worth their time.
Shaquille O'Neal aka Shaq Diesel
Shaquille O'Neal is no stranger to the spotlight - he is one of the most recognizeable basketball players today, and he has diversified his image as an actor, rapper, sports analyst, and now, DJ. The 7'1" star made his DJing debut in June of 2014 at Chateau in Vegas, and has since performed at a number of other events, including during the live coverage of All-Star weekend. Take a glimpse at his set at Chateau below:
Cedric Benson aka DJ World Peace
Back in 2012, when Packers running back Cedric Benson was placed on IR for a foot injury, it was assumed that the star player would be using his time off to relax and recover. This was certainly not the case, as the Texas native decided to moonlight as a DJ in his time off. His demographic? Strip clubs. Now it is understood that everyone needs to start somewhere, but we're not quite sure that a Formula One Raceday celebration at a gentlemen's club qualifies as "career building." Check out his website here and pic of the running back in action below: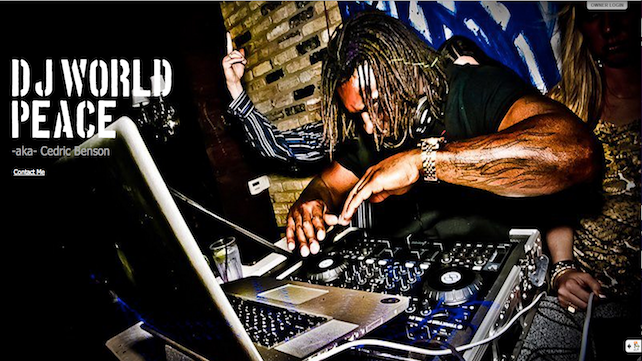 Pat Nevin
Veteran soccer fans will know Pat Nevin as a forward for Clyde, Chelsea, Everton, Tranmere Rovers, Kilmarnock, and Motherwell as a forward, however few will reognize the establish soccer phenom as an accomplished DJ. Despite spending 20 years on the pitch, Pat Nevin has been creating a name for himself as a DJ for even longer, performing his signature indie pop style at venues across the UK. Now in his early 50s, the husband and father of two is still known to make a DJ apperance at nightclubs here and there, most notable at the Moustache Bar in London this past February. Check out the flier below:
Metta World Peace
Metta World Peace is one of the most extravagent basketball players in history. Similar to his fellow baller-turned-dj Shaq, Metta World Peace has also attempted to make strides in a music career, most notably as a rapper and artist manager. His hip-hop album My World released in 2006 was, surprisingly enough, not received well by fans and music listeners, so it's no wonder that the eccentric celebrity figure took his hand to DJing eight years later. He debuted his new career path with a guest appearance at the Las Vegas nightclub Chateau, where he performed alongside DJ KOKO. Considering the troubled response of his earlier music endeavours, we're going to assume that his DJ career hasn't quite built enough momentum since. Check out his flier below:
Jan Gunnar Solli aka DJ Solli
Another soccer player-turned-DJ is Jan Gunnar Solli, who found his place in the spotlight initially as a defensive midfielder for Norwegian club team Brann as well as with the Red Bulls based in New York. In addition to establishing himself as a season soccer player, Jan is well-respected in dance music culture as DJ Solli, and his career thus far has brought him to opening for the likes of Calvin Harris and David Guetta. He has performed at renowned venues such as Lavo in New York, Oslo Spektrum in Norway, as well as top-tier nightclubs such as Tryst and XS in Las Vegas. Check out

Honorable Mention: Usain Bolt
After breaking records and receiving gold medals for the 100 and 200 meter dashes at the 2012 Olympics in Beijing, the Jamaican sprinter made a surprise guest appearance at a celebratory event at Brick Lane nightclub in London as a dj. Performing alongside DJ Manny Norte, attendants heard the fastest man on the planet hit the decks and MC the entire party, quoted as saying "I am happy and I did what I did and I came here to be a legend. I am now, so I am very happy with myself." Take a look at the legend on the 1s and 2s below: