Crews & Collectives: Terrorhythm Records
"It's like the glue between all the genres people enjoy for me. And occasionally we'll discover something that truly sets the wheels in motion for a whole new beast"
In the first of our Label Spotlight series, we caught up with Terrorhythm Recordings boss Plastician to talk about the ethos behind the label, the music they put out, and the life of a label owner, aka sending merch out as far as Japan and Libya whilst your 8-month-old shakes tic-tacs at you to the sound of new demos.
Read as Plastician holds court and show's EDM.com what sets Terrorhythm apart from other "future" labels.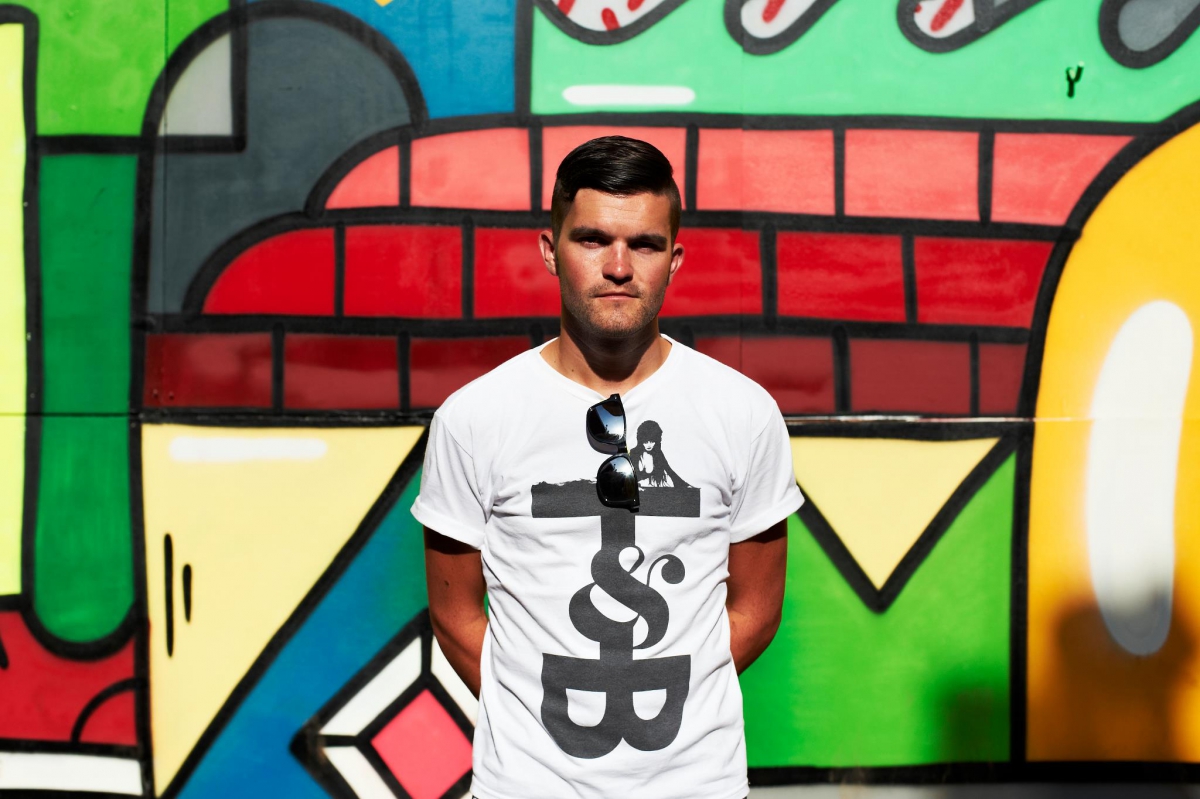 What's the atmosphere like in your studio/office?
Pretty hectic and chill depending on which area of the "office" I'm in! I actually run the entire label on my own from home and if I need to work in a more controlled environment, I have a soundproof studio in the garage which has no natural light in it. I can escape there to listen to music and plough through emails when things really get on top.
My wife helps out with the accounting side. On the periphery though, I have Sean Knowles working on the art side of things for me, and we are beginning to work with other artists too. We have an 8-month-old son who is in constant need of attention, so right now I'm surrounded by bags of merchandise ready to mail out, I have my SoundCloud inbox open, and I'm listening to demos in my left ear. In my right ear, I can hear my son banging a box of tic-tacs on the coffee table whilst my wife keeps him entertained! It's not your average image of how a record label may be run but this is my reality and I wouldn't have it any other way!
How does Terrorhythm operate?
As we have a small, close team, I like to keep costs down as much as possible, and with over 15 years experience and contacts all over the world press-wise, it's really better that I contact people myself rather than pay out to be underwhelmed by results I could have bettered for no money and a few hours of graft.
I have toyed with other strategies with releases such as hiring PR folk to work campaigns but to be honest, with the money that comes back from sales constantly getting lower (even with our reach expanding all the time - blame streaming for that!) I prefer to put the work in myself.
What should we look out for in 2015 from Terrorhythm?
The latest release is from Anton F and, called the Indigo E.P. We have releases in the works from an Italian guy called Mace, which is pretty fun and colourful for the summer. Besides that, there are two or three where I'm in the process of tying up new tracks to round off the release. I'll often hear one thing I like, tie that up and then have the producer keep sending me new stuff until I hear 3 or 4 that work well together to drop an E.P.
Where are the majority of your fans? Who is showing Terrorhythm the most love?
USA, UK, Canada, France and the Netherlands are the top 5 according to SoundCloud. I'd say most of the people purchasing our merch and music are in the UK, closely contended by the USA. We send stuff as far out as Japan, Korea, Philippines, Thailand though and recently sent some merch to Libya.
It's crazy where people are hearing it - but that's the internet for you! Doing shows I'd say the best reaction to the sound came from our Amsterdam party, people just really get it there.
If you had the chance to bring on board any artist, who would it be and why?
As an old school label head, I'd never be interested in signing an act heavily attached to another independent. I know how hard it is these days to build your "squad" and keep them around you, especially with people becoming more and more likely to just give their music away. I'm always on the lookout for artists who are talented, original and keen to build a good working relationship with Terrorhythm.
How did Terrorhythm start out?
It started out as an outlet for early Plastician releases (then known as Plasticman). Back then we only sold vinyl as it was pre-mp3 era. Our first release was early in 2003 from Mark One (MRK1) and Plasticman (Plastician). We sold 1000 white labels. The next two releases were from Plasticman and by the time we got to 004, I wanted to branch out and start releasing other people whose music I enjoyed - so I put out Macabre Unit's Lift Off E.P. in 2004. This is still one of the best releases we've put out in my opinion. It still sounds so future and it's probably about 12 years since they produced it now. Our 5th release was one of our most famous, as it was Joker's debut 12" - Gully Brook Lane. He's gone on to do really great things since.
Around the same time we released Plastician - Beg To Differ which contained Japan and Intensive Snare featuring Skepta. It still to this day outsells every release on the label annually and is looked at as a seminal album for UK bass music now, dropping at an exciting time for both Grime and Dubstep. We've continued on from there releasing debuts from artists like Louis Futon, AWE, Om Unit and countless others down the years, but stopped pressing vinyl exclusively after the Om Unit release to concentrate on digital.
Has the vision changed since then?
I think now it's more about representing the music that excites me. Stuff I feel is not really represented elsewhere and fits in the gaps between all the other stuff people are more focused on. It's not about representing a specific genre, more like a representation of the interesting areas in between genres. I think this was always an aim producing as Plastician, but it's mirrored now with releases from other producers as well.
Has there ever been a solid gold cock up at the label, which you wish you could undo?
I think we learn from mistakes, but it's important to make them to grow. I learnt the hard way how long it can take to get an album out, and set a release date way before I realised how long people would take to do art, to get barcodes registered, to align with the MCPS, to get the distributors informed so they can start pre-sales with the physical sales points. It was a big process I totally underestimated. I've never set a release date since until I had absolutely everything finished to the point that if I wanted to, I could release it the next day.
If someone was going to listen to one track to get a feel for the Terrorhythm vibe, what would it be?
It's hard to pick one, but I'd say Macabre Unit's "Lift Off," Om Unit's "The Corridor," and Joker's "Gully Brook Lane" are great examples because they are all so old now, yet still sound mind blowing. It proves for me that we really are a future proof label and we know what we're doing. It's all well and good calling what you're releasing these days as "future music" but I don't think you can call anything 'future' unless it stands the test of time, and those three tracks were like nothing else out in the entire world when we put them out. They all stand the test of time. Looking back now, in Macabre Unit and Joker's case, they are both 10 years old and still sound great. Om Unit too, sounds similar to a lot of stuff I hear on SoundCloud today, but I signed that back in 2009 if I remember rightly.
What sort of artists does Terrorhythm attract?
We get all sorts from Hip Hop beat makers, to Grime instrumentalists and MC's. We get a lot of what people would refer to as "Future Beats" (I hate that term). We also get sent really wild electronica, and have even received noise demos in the past. I love the fact that people making noise think we might be into putting that out - it shows that our listener base knows we have a broad taste and an adventurous outlook to releasing music.
This is not your average household dance music. How would you define your sound? Any artists you want to highlight?
It's like the glue between all the genres people enjoy for me. And occasionally we'll discover something that truly sets the wheels in motion for a whole new beast. Every artist we release plays their part in keeping the evolutionary wheels of electronic music in motion. I'd just say keep listening and hopefully we can keep delivering diverse and versatile music that can be enjoyed in different settings, be it for the club or for the background of your daily grind.
It was cool to rifle through the Terrorhythm back catalogue as we put this feature together, to see how diverse a range of music the label has been responsible for. It's impressive to think that so many awesome beats have come through one man's garage and front room, which has pretty much turned into a junction for converging styles of UK electronic music, and with their dedicated team putting in the hours, I've no doubt there will be many more to come.
Big up Plastician for giving us the low down on life at the label, and to Terrorhythm for consistently delivering the goods musically. Check them out on the links below for more tunes.
Follow Terrorhythm Recordings:

facebook.com/terrorhythm
twitter.com/terrorhythm
soundcloud.com/terrorhythm