7 Guinness World Records Broken By The EDM Community
Guinness World Records is dedicated to highlighting the achievements of all living creatures, both natural and extreme. From the world's largest cow to the longest distance cycled underwater, there is little achievement that GWR won't cover.
There have been multiple occasions in which members of the EDM community have broken GWR-verified world records, and we've collected 7 different pioneers who demonstrated these talented feats below:
1. Largest Pillow Fight (2013) - Dada Life
In October of 2013, Dada Life brought the "Dada Life Compound" to the Aragon Ballroom for a unique experience for all. The duo ordered thousands of pillows to the event and passed one out to each member before their set. That night, the duo hosted the largest pillow fight ever with 3,813 fans taking part in the battle. Although the record has since been broken, you can see the absolute chaos that took place in their recap video below:
2. Most Top Ten Hits From One Album (2014) - Calvin Harris
Calvin Harris is no stranger to the "Top Ten" charts of any region, so it might not come as a huge surprise that he was able to break a GWR of this standard. After the release of his album 18 Months, Harris was able to deliver an unprecedented nine Top 10 hits onto the UK Singles chart, a record previously held only by the pop legend Michael Jackson.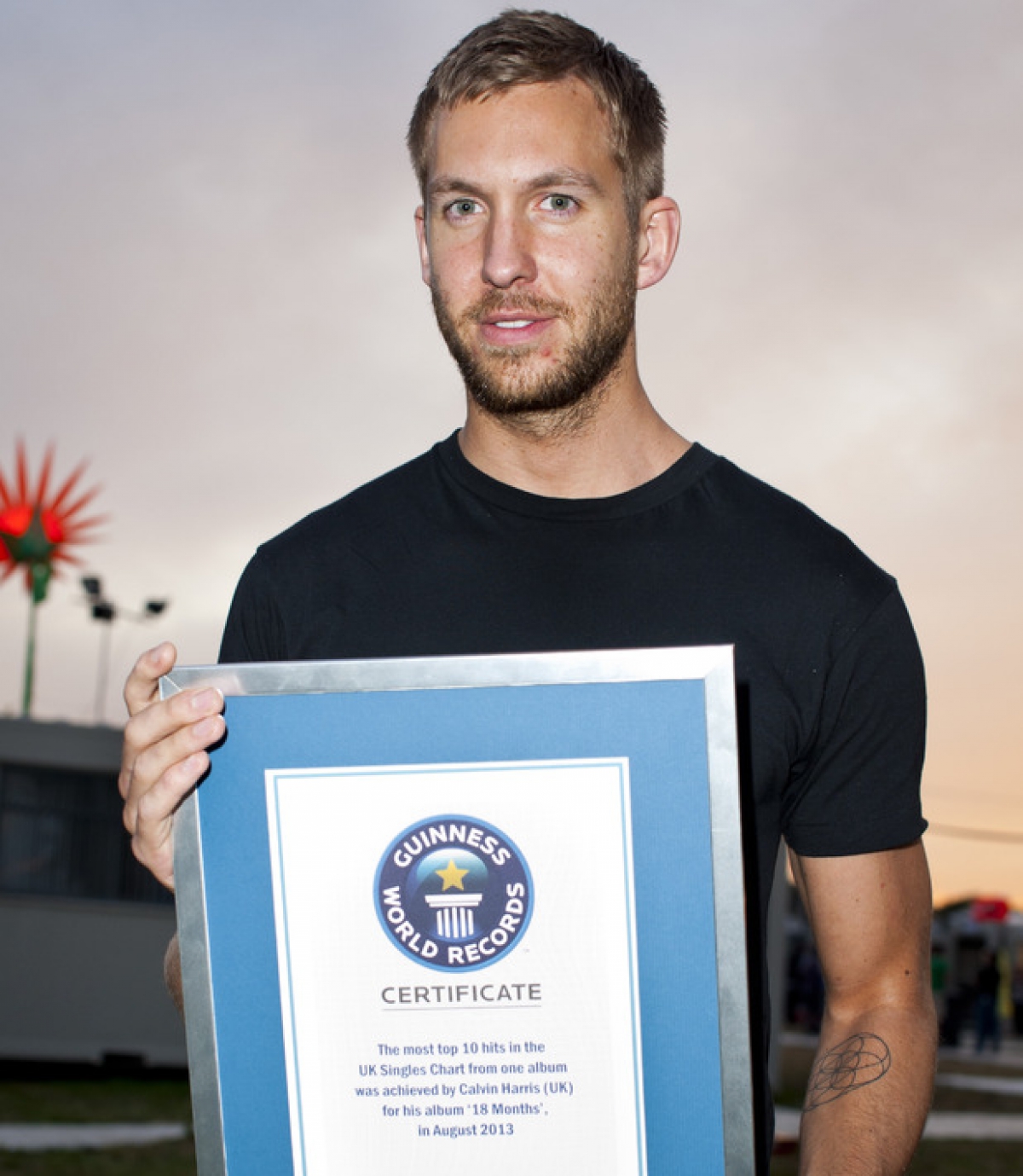 3. Longest Cheer & Most Glowsticks Lit Simultaneously (2013) - Steve Aoki
Steve Aoki broke two unique GWR challenges while at his 2013 performance with Kid CuDi at the Shrine Auditorium in LA - the longest cheer by a crowd and the most glowsticks lit simultaneously. The cheer record, previously held by Ozzy Osborne, was broken with a cheer lasting over 2 minutes.
4. Longest Marathon Club DJing (2015) - Norberto Loco
If you thought that DJing for 24 hours was a feat, please meet DJ Norberto Loco. The Irish DJ took on the challenge for the longest marathon club DJ routine, and he claimed the award with a set lasting over 200 hours long. It's not quite specific how he managed to eat, sleep or even stand in the time between, but it was verified by GWR earlier this year, making him the world's longest performing DJ ever.
5. Most High Fives In One Hour (2015) - Squish
The 7-year-old festival-goer known as Squish made headlines this year with a record-breaking high five marathon while at the 2015 Bonnaroo Music Festival. In exactly one hour, the motivated record-breaker was able to receive 2,392 high fives from other attendees at the festival, crowning him as the newest GWR holder in that category.
6. Most Vocal Edits In One Song (2015) - BT
BT is no stranger to record-breaking achievements, as his 2003 single "Simply Being Loved" broke the record at the time for "most vocal edits in one song." In 2015, while in the process of creating his newest live-album Electronic Opus, BT was able to re-break the same record with an orchestral re-imagining of the same single. With the original track boasting upwards of 6,000 vocal edits, BT's latest rendition brought forward over 10,000.
7. Most People Twerking Simultaneously (2013) - Big Freedia
Big Freedia, also known as the "Queen of Bounce," set to break the world record for "most people twerking simultaneously" in 2013 at her performance in New Orleans. With 406 people twerking for over 2 minutes straight, the record is yet to be broken.