Goldfish Discuss The Crazy Road To Northern Nights Music Festival
South African Instrumental dance duo Goldfish are embarking on a 4 month tour of Europe and the US after 7 years of residency at Ibiza's Pacha, and one of their biggest stops to date is undoubtedly Northern Nights Music Festival from July 17-19. Members Dominic Peter and David Poole are producing a sound which is unapologetically shaking up the dance music scene, and they are set on making an even bigger impact in 2015.

I caught up with Dom to talk touring, taking the p*ss out of superstar DJs, how they spend their time in Ibiza, and why Brazilian crowds party the hardest. Goldfish are pioneering a form of dance music which the scene and the fans are crying out for, and more importantly, they're overall proper lads as well. Take a read through our exclusive interview below: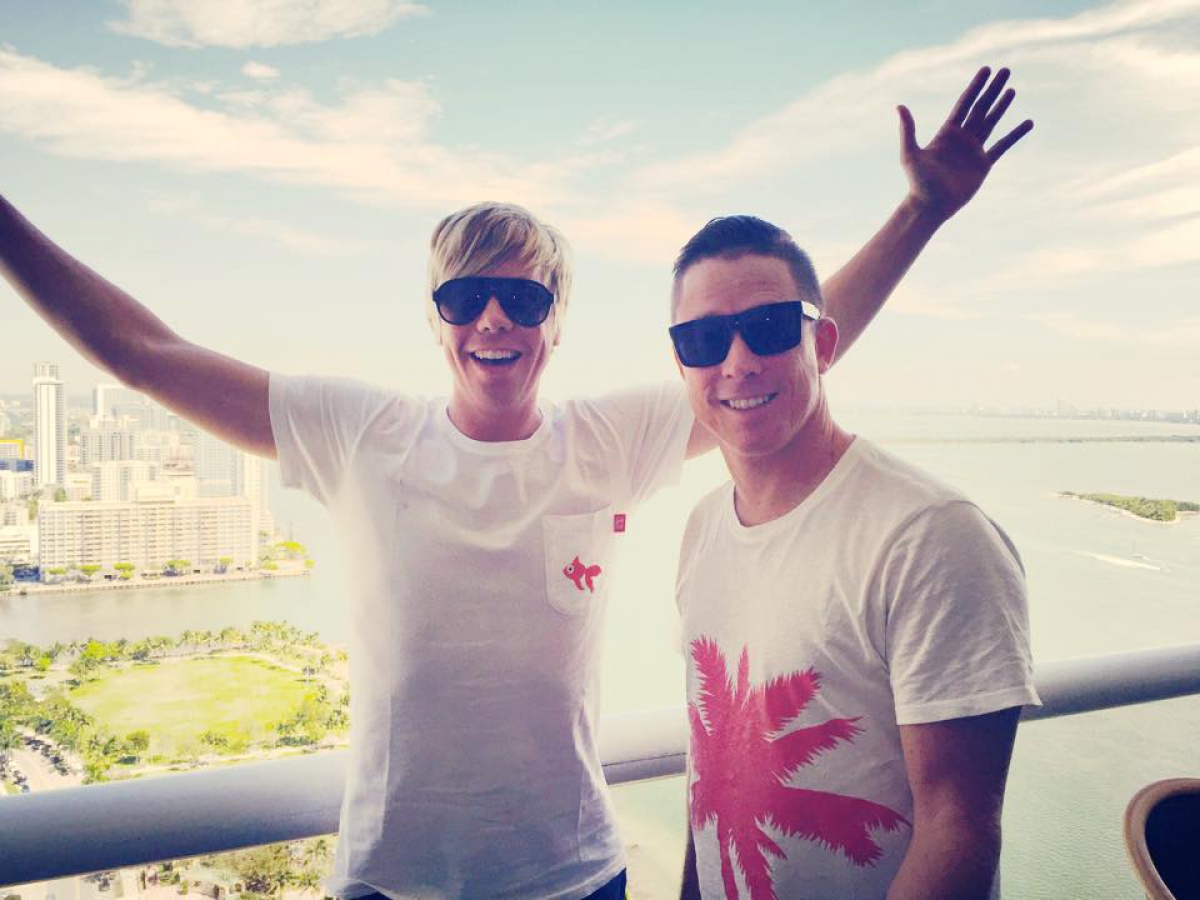 Dom, you must have seen some serious parties this year! What's the highlight of 2015 so far?
Well, we've done 5 continents so far, and there's been highlights in each; crazy parties in Brazil, the States, last month in London with Robin Schultz, a sell out show in Amsterdam with Example... a good mix of stuff, ya know?
Are you signed to a label? Who are you with?

At the moment we're not with anyone, which is an amazing thing because obviously we have deals in place with numerous labels; Sony and of course EMI, which became Universal, but with our music we are really happy not to be tied to one label. It gives us the freedom to do what we want to do as opposed to what they want us to do.

Dance music is a thing you can't control, and I think the major labels are realising with the battles they are having with SoundCloud over this bootleg and that remix and this edit, you just have to realize you can't control this stuff. It's gonna happen whether you're involved or not.
No plans and conversation with any labels to take things to a more formal level then?

Well we were with EMI before they were bought out, and you know, there is so much flux in the majors at the moment, it's like who's gonna be next? Is Warner gonna be there in a year's time? You never know. You've just signed a deal with someone and the shit hit's the fan; so it's not to say that we never would do it, but we're really enjoying not having to answer to anyone right now.
What do you guys have planned over the next few months?

We're mainly doing the US until October and then a bit of Ibiza. It's been crazy, our next two gigs are Wakarusa and Arkansas, then we go to Dallas, then over to Malta, then Ultra Music Festival in Croatia, then Northern Nights Music Festival and so forth.
We've done 8 years of residencies in Ibiza, which was amazing, you know we opened for Pete Tong there, strangely enough with David Guetta too. You know we opened for David Guetta for two years and never met him once! But he's a great guy, we actually met him once, hanging out in Pasha in the VIP and he was a really sweet guy, it's a shame because he gets a lot of flack.
How do guys go about putting your tracks together. There's loads of instrumentals in your tracks. Which instruments do you actually play?
Okay well the stuff we play live is the easiest because those are the ones people see us play most. Dave plays saxophone and flute, I play electric keyboard, electric double bass, what else? The odd smattering of vocals here and there... Dave plays a bit of guitar, I play a bit of guitar, bit of drums, Dave plays clarinet.
So in a standard gig are you guys swapping instruments every track?
Yeah, I mean for us we were coming into this thing from the other side, we were jazz musicians in Cape Town and we came up listening to some of the old classics like Saint Germain and Kruder & Dorfmeister.
We started hearing that stuff which was all sampling old school, jazzy records and we were like 'holy sh*t, this is what we are studying' but what we're into and what our mates are into. So we just made a track and gave it to our buddy who was a DJ to play at a house party. He came back the next day and said everyone at the house party had gone mental, and asked if we had any more of that. So we go 'okay' and that's kind of how it started for us. We went from playing hotel lobbies to rocking clubs.
Do you remember the first gig where you both thought, 'this isn't a hobby anymore, this is what we're gonna do'?
I think it was pretty much the first gig. People were just into it in a way that it had never been with anything either of us had done before. You know like, we were musicians. We'd been session musicians, we'd been in bands, Dave had been in a rock band. But then we did this and thought 'holy sh*t, we've touched a nerve here'. And now here we are!
Have you and Dave ever worked separately on any solo projects?
Nah we've always been together, it's kind of been Goldfish against the world. The thing is, where we're from originally, in Cape Town, it's so isolated from the rest of the world and the rest of the scene, you kind of want someone in your corner. You know, being a DJ is pretty lonely. Also I suppose it's our throwback from being in bands, I think we wanted that electricity of what two people can do together rather than going up there and trying to be creative on your own.
Did you guys know each other from uni then?
Yeah we were both studying degrees at the University of Cape Town and we did our first gig, then we went to Ibiza, because we'd heard that was a good place to go, which it obviously was! So we went there with no gigs, met this German guy who had seen us play in Cape Town, and he said 'If you are ever in Ibiza, you can stay at my resort.' It turned out to be one of these German spring break resorts, where everyone goes after they've finished school and gets wasted. We got to stay there for free on the condition that we played at their launch gig.
Somehow that same week we managed to open for Pete Tong at Café Mambo too. The organizer was like, 'You've got 20 minutes, do something'. The manager of Pacha just also happened to be there and was like 'What are you doing later?' So we were like 'Let's check our diaries,' and whadda ya know, there was nothing! We ended up playing at Pacha that night, and funnily enough it was with Ben Westbeach aka Breach? It was also his first gig there, so we did it together, and he actually ended up freestyling on one of our tracks - it was really cool man!
How have you seen Ibiza change over the last 7 years?
The clubs have definitely changed, Ibiza's been a home away from home for us for the last 7 years. Playing at Pacha, we used to play at a really cool beach club called the Blue Marlin. It's definitely got more VIP, a bit more "Vegas" with clubs like Ushuaiaa, but in some ways it's cool because the daytime parties are becoming even more prevalent again like it was in the past.
Are you guys planning any collaborations at the moment?

We've got a couple of collabs coming up, one July 6th called "Storm" on Spinnin Records with a French guy called Dimmi who we first played with in France. Then we've got another with Bakermat, a Dutch DJ with a similar sound to us, but I'm not sure exactly when that's out because there's been some label hoop jumping we've had to get through, but it should be before October.
Are there any artists that you guys have really been influenced by or would like to work with?

It depends, past or present? In the beginning it was stuff like St.Germain's album Tourist - that was one of those albums which at the time was just incredible for what it was. He basically invented the genre "Jazzy House."
These days, Bakermat, Faul and Wad Ad, Trent Moller, and Luciano are really influential. If you go to a Luciano gig, you'll lose your mind! It's a range of different stuff , not just one type - he'll even play some of the old jazz and rock bands like Radiohead. I mean, otherwise it's like only eating peanut butter sandwiches; if you only listen to one type of music, you're going to start sounding like everyone else.
I gotta ask, what's the nightlife scene like in Cape Town? I've never been.
First of all, Cape Town is one of the coolest cities in the world, straight up! It's kind of a mix of Sydney, San Francisco, and Barcelona, but with an African twist. There's such a melting pot of stuff, a massive deep house scene in Cape Town, you should definitely check out a South African guy called Black Coffee, he's really good and plays Boiler Room type sets. There's a guy called Ryan Murgatroyd, his tracks have been really big. I've been in Ibiza and heard one of his tracks and it's always cool to hear a fellow South African's tracks bursting out into the scene.
Festival wise, we've got some great Psy-Trance, and you wouldn't imagine it but between us, Israel, and Brazil, we kind of hold it down for Psy Trance worldwide. It's not 100% my thing but it's an amazing genre, and for the guys who do it, it's almost like the drum and bass guys - they're super into it and they don't care if no one else is into it. It's super technical, the parties are amazing in these beautiful, sprawling win and apple farms. It's unlike anything else I've seen in the world. But also it's cool because South Africa is still quite a wild country, not too regulated, it's a young country you know? You can party there like you might not be able to now in Europe or the States.
Where do you think the crowds are the most crazy for your gigs?
Definitely in Brazil! I think it's just built into their blood to dance. They're a very uninhibited society with none of the guilt issues that other countries have. We're constantly looking over our shoulder or apologizing for what we do. Where as in Brazil they're enjoying themselves, like 'the sun is shining, we're having fun!' I think Brazil being an emerging market, and even though you got your problems like South Africa, you just have to forget your problems to a certain extent and for that reason they party that little bit extra. Playing gigs there, it's like you're spoilt.
Anything else that you want to share with our EDM Network fans?
What drives us is that we are really passionate about dance music and the human feeling behind dance music. From what it used to have, maybe it kind of feels like dance music has gone a bit sterile, whether it's because of the Beatport top 100 or whichever charts, and dance music has felt like more of a fashion accessory sometimes than what's actually "good." Either something is good or it isn't good, and I think it's bred a whole scene of artists and DJ that just follow the trend rather than creating their own sound or their own vibe.
What we're trying to do, especially with the live performances, is bring that "live" element back to the music. You know when you went and watched a band; the drummer is going mental, he's looking at the guitarist and no one knows what's gonna happen next. I kind of feel like that's being lost in dance music. It's pre-mixed, pre-planned and people are more worried about their SoundCloud or their Facebook likes or how many followers they have on Instagram as opposed to making a good song. Even buying their SoundCloud likes, hence the "One Million Views" video. I think what we are trying to do is make music for people who are looking for something more than a quick fix, something that you can listen to in ten years time rather than for the next 6 weeks.
Goldfish will be performing at Northern NIghts Music Festival taking place from July 17-19, and tickets to the festival are available here.

Photos by: Djivan Schapira (B.a.D. Photography)

Follow Goldfish:
goldfishlive.com
facebook.com/GOLDFISHLIVE
twitter.com/goldfishlive
soundcloud.com/goldfishlive