Why Bassnectar's New Album, 'Into The Sun,' Makes Him More Enigmatic Than Ever
Into The Sun is primarily characterized by collaborative efforts and nostalgic makeovers that are tied together by familiar Nectar drumming and elephantic lead synthesizers but lacks the hellacious stupefacation that blinds our auditory understanding in overwhelming nuance. The album reads like a "greatest hits" of Bassnectar's 15-year career and doesn't challenge the listener's precedented expectation of his Frankenstein genre bending. A clear indication of this is his devolvement from his pioneering hybrid trap sound heard in the fan favorite "The 808 Track" to a more rudimentary trap lean on "Speakerbox" and "Sideways" (anyone else hear the pluck melody from "Basshead" on "Sideways?").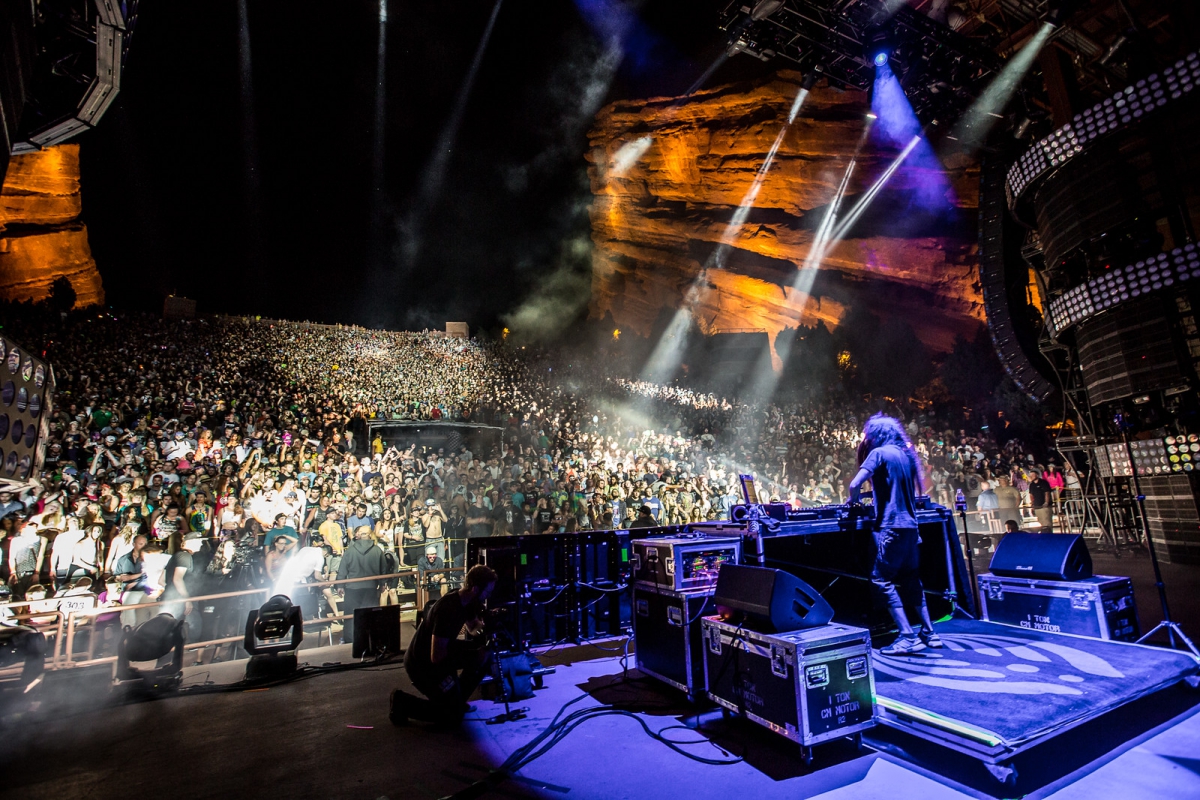 As a follow up to 2014's Noise vs. Beauty, Into The Sun reaches further into the emotive beauty component of his melodic catalog and fills the basin with progressing basslines and angelic leads. Long-time, ready-to-rage fans will be scratching their heads looking for the onslaught of wobble and weight that comes from piling on bass samples like a seven layer dip, however, tracks like "The Mystery Spot," "Generate," and "Science Fiction" do lay on the noise element pretty heavy. While previous releases allowed the "face-melting" tracks to take a front seat and the lush, more ardent numbers sit back and supplement the flow of the album, Into The Sun is more of a slow, transcendental journey sprinkled with paroxysms of "bass in your face."
An important thing to consider when riding Into The Sun is 5 tracks are new collaborations, 5 are 2015 reworks, 4 are remixes, and only 2 are 100% originals. By the numbers, one would assume Bassnectar is slacking, but in an interview with Rolling Stone last October he revealed his process for selecting collaborators, and the declaration acts as a precursor to the structure of the new album:
"I'm obsessed with getting music to sound cleaner, thicker, heavier and 'as perfect as possible,'" Bassnectar continues. "I could hear a lot of ways that [Craz's] ideas could be more explosive and complete and asked if he wanted to team up on that song."
The above statement is the most progressive element found on Into The Sun. Bassnectar is now taking the time to reach out to SoundCloud's sea of potential and showing them the potential in their own works, hence five collaborations with relatively unknown producers. In this respect, the album is Bassnectar casting himself "into the sun" so his solar-flared pupils can blast out into the universe. This could simply be the time in Bassnectar's career that he wants to give back to the producer community, so with this in mind, make sure to go the extra mile by digging into the other artists featured on the album:
LEViTATE - Seattle
G Jones - Santa Cruz
Louis Futon - Philidelphia
Gnar Gnar - Los Angeles
Luzcid - New York