Sony Fights Dirty In The Epic Battle For Streaming Music, SoundCloud Bunkers Down [Editorial]
In response to the recent controversy surrounding the future of SoundCloud and other online music platforms, we'd like to shed a bit of light on the rampant insanity being peddled through the blogosphere with as much misinformation as when Congress declared that pizza is a vegetable.
Music streaming faces a perilous impasse where backroom negotiations between streaming platforms and major record labels will forever change how fans discover music. At the very crux of this conflict is SoundCloud, a platform that forever changed the music discovery process due to its organic, grassroots beginnings, and it's early emphasis on putting artists of all sizes on an even playing field. As a result of this early leniency and period of 'free reign', SoundCloud now faces a firing squad of criticism as it looks to take the logical next step in the course of its development.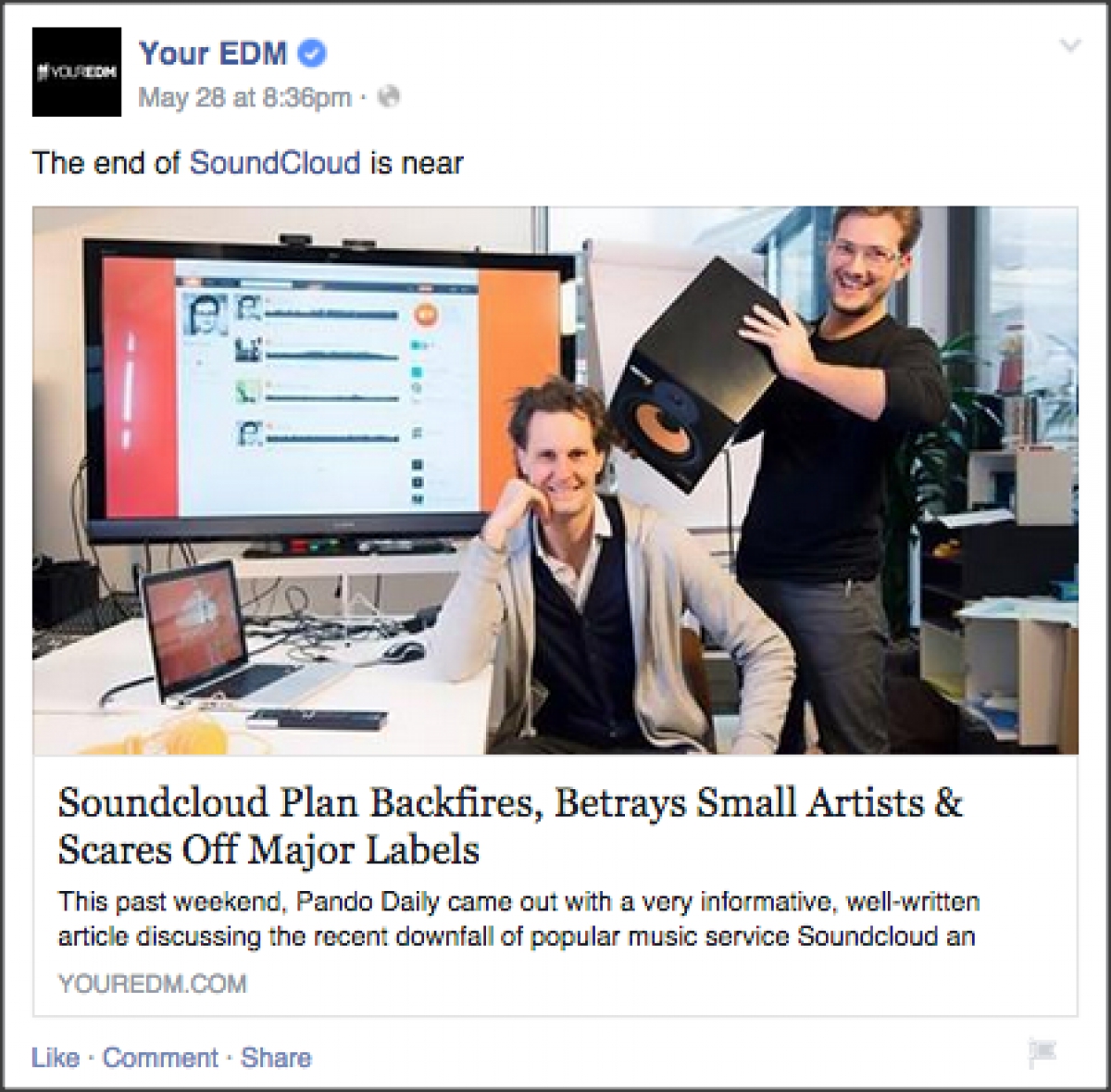 Many publications including Your EDM, Tone Deaf, and PandoDaily will have you believe that Soundcloud is on the brink of obsolescence due to failed contract negotiations with Sony, who have begun pulling their catalogue from the platform), coupled with a sense of betrayal amongst the artist community, who are having their bootleg remixes removed as a result of copyright violations. However, this argument is, in fact, a gross misrepresentation of the quagmire currently facing the platform. Let's take a look at the facts.
SoundCloud's business model is simple and parallels that of today's most successful tech companies: create an attractive and easy-to-use product, and then achieve scale based upon accessibility and mass appeal. It is inevitable that any model that attains critical mass must eventually be monetized (some wait longer than other, Twitter for example ), but without scale, there is no audience, and no audience means no one listens to your music. SoundCloud reached this scale by providing a platform that was free for the listener, offered unlimited bandwidth, and required minimal technical understanding in order to utilize the service.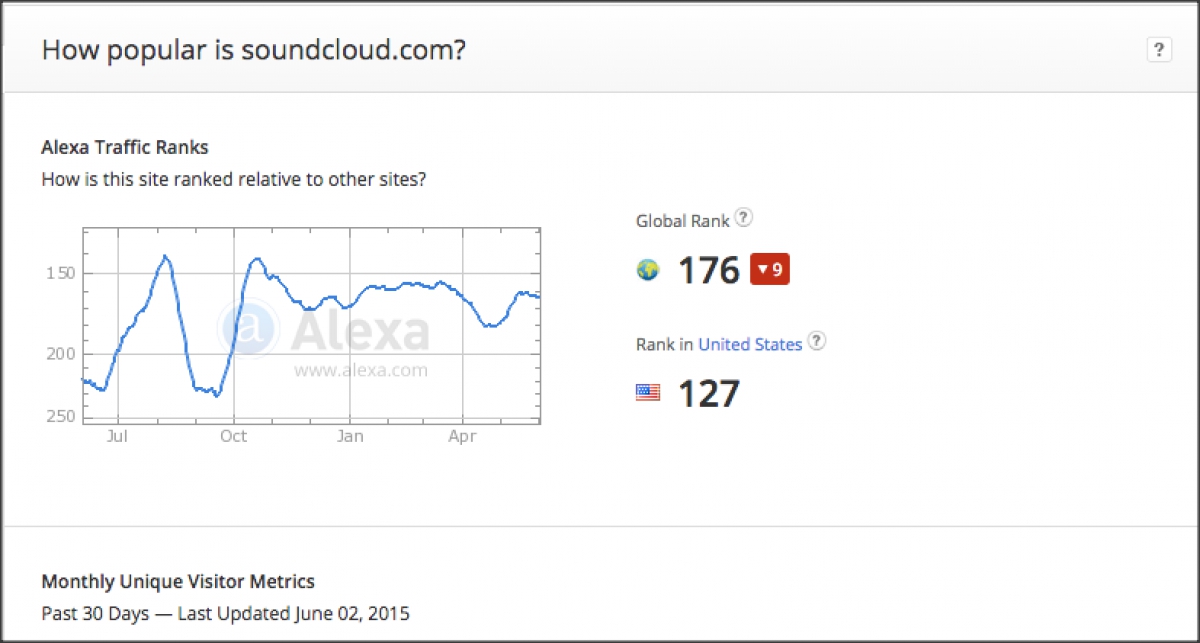 As of mid-2014, SoundCloud reported that over 350 million users encountered their audio player every month, a following greater than the population of the United States. SoundCloud came so far as to replace Facebook for many artists, serving as an online resume for their career and helping to drive bookings, sales, and overall brand development. At this point, it's safe to say that SoundCloud had successfully built its audience. Despite (or perhaps because of) this rampant growth, in 2013, SoundCloud reported a $29M loss on revenues of $14M. Not surprisingly, achieving that type of scale costs money, a lot of money.
To pay for sustaining growth and maintaining the scale that has made SoundCloud a thriving music platform, it had to be monetized with one of the few methods available to music streaming platforms: subscriptions and ads. Either method of monetizing audio content means obtaining license agreements from rights holders. At this point, the primary objective for SoundCloud becomes getting licensing deals in place for as much of their music as possible, the end goal being to monetize at sufficient scale that the platform becomes sustainable. The only way to achieve this goal is to target the rights holders with the greatest percentage of the market share, i.e. the major labels.

A Few Artists Signed To Sony: Adele A$AP Mob Beyonce Britney Spears Calvin Harris Cherub Daft Punk Dillon Francis Hozier Justin Timberlake Krewella Kygo Madeon MGMT One Direction Outkast Passion Pit Peking Duk T.I. ZHU
What's humorous here is that despite common belief, since early on, Sony, Warner & Universal have always had a significant market share on SoundCloud. This is not because their official content was hosted on the platform, but because every independent artist and their mother release bootleg remixes of 'the hits'; how many Ellie Goulding, Adele, Katy Perry, and Rihanna remixes do you remember seeing in the early days of SoundCloud?
From the inception of electronic music, sampling and remixing popular tracks has been the DJ's bread and butter, for both the accessibility of their live sets, as well as the marketing of their production chops; it's also a great SEO-tapping tool used to drive massive traffic to an otherwise unheard of artist (Kygo garnered attention from said remixes going viral on SoundCloud before ever signing with Sony Music).
The consequence of these unauthorized remixes is that even if the major labels had no official presence on the platform, they'd already have a significant market share based solely off the 'innocent and betrayed independent artists' creating unauthorized bootlegs of their catalogues. Sony is well aware of this, and is using their position as leverage to claim a direct advance against the use of their content - an advance that may never make it into the hands of the artists themselves.

"A lot of the time, money that is paid outside of the direct usage doesn't end up getting shared." - Rich Bengloff, president of the American Association of Independent Music (The Verge, 2015)
As a direct result of their controlling market share over SoundCloud's streaming library, major labels hold all of the power in the negotiation process, something we saw quite clearly when Sony held their artists' profiles for ransom in order to extort SoundCloud for exorbitant fees.
SoundCloud stood up to Sony, and as the messenger, they are still getting burned from both ends by the ill-informed artists who blame SoundCloud for their takedown plights, by ignorant blogs who understand nothing about music law, and by corporate monopolies hungry for backroom deals. As long as labels maintain the audience's separative ignorance, they won't ever be held responsible for their business ethics.
While Sony claims to have pulled its content from Soundcloud for "a lack of monetization options," what this really means is a lack of zeros in the proposal. To put this in perspective, a leaked contract revealed that SoundCloud would advance the National Music Publishers' Association $350,000 for the use of the group's independent content. When Sony reached a deal with Spotify, it was agreed that $42.5 million would be paid in advances over three years with no guarantee that any of it would be going to artists.
SoundCloud now finds themselves in a classic catch-22. Either they give in to Sony's strong-arm tactics and sign away a vast majority of all future monetization opportunities, especially those that could go to independent labels and artists, or they suffer the consequences of major rights holders such as Sony running rampant with copyright infringement strikes. Regardless, Sony is the only variable in this equation that has the power to do what's 'right', but what motivation could they possibly have for allowing their artists to use what has proved to be an incredibly valuable promotional service such as SoundCloud?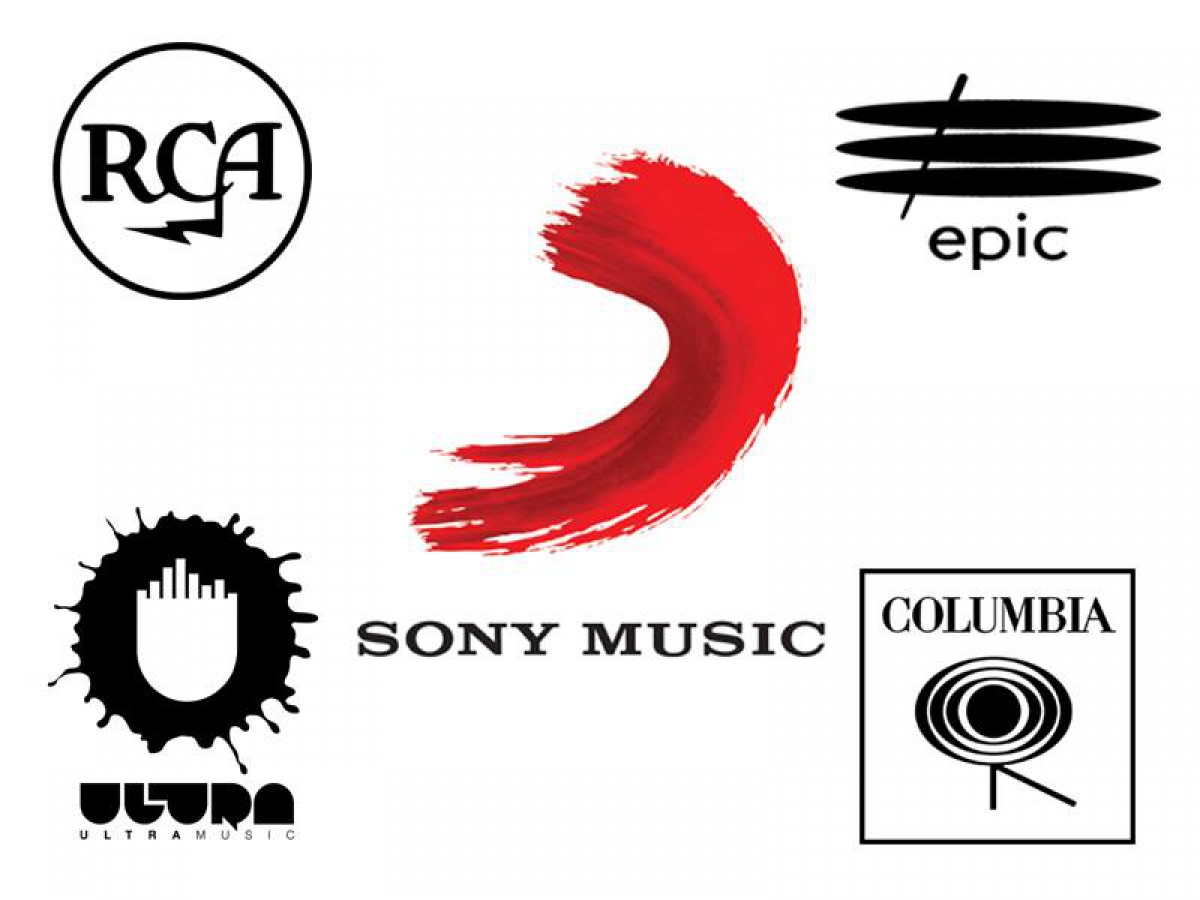 This is a prime opportunity for the discussion of Sony's bullying to join the top tier of shady corporations like Monsanto, Pfizer, and British Petroleum; corporations who time and time again sweep their dishonorable reputations under the rug in order to maximize profits. Just as Monsanto holds farmers hostage by patenting GMOs and pigeonholing the use of its possibly cancerous pesticide, Sony is holding their artists' SoundCloud profiles hostage, many of whom now use their profile as their landing page in order to generate interest for bookings and other career opportunities. The ultimate takeaway from this debacle is that if artists and fans are interested in change, they should continue using platforms that support a grassroots movement in the music industry…and for all you 'betrayed' independent artists out there; god forbid, STOP REMIXING SONY CONTENT!
Follow EDM.com:
facebook.com/TheEdmNetwork
facebook.com/EDMcom
soundcloud.com/edm
twitter.com/theedmnetwork

plus.google.com/+EDM