What's New at Spring Awakening 2015
As more and more festivals seem to crop up daily, many believe the bubble is ready to burst at any moment. This summer has already proven that the space is too crowded for some fests to continue.
Such is not the case for Spring Awakening Music Festival, Chicago's early summer festival taking place at the legendary Soldier Field next weekend. For only being in its fourth year, SAMF has garnered a lot of attention and grown greatly in a short period of time.
This year, more has changed than ever before. Here's why we think 2015 will be the best one yet:

1 - Spring Awakening is now 18+
Of those who have gone in past years, one of the most common complaints was the age of the crowd. It's no question that the younger generation is a huge part of the EDM movement, but this doesn't necessarily mean they should be attending music festivals. There are certainly opinions on both sides of this argument, but the fact is that an older age limit generally leads to a more mature crowd.
2 - Jack Ü Midwest debut
If you've been holding your breath for Skrillex and Diplo to announce a Chicago stop for their supergroup, it's finally time to exhale. Shortly after headliners were announced and there was a blank spot, rumors started swirling that Jack Ü would be added to the lineup. The rumor held up, and in just a week, Midwest fans will have a chance to see the show they've been asking for.
3 - Deeper musical diversity
SAMF's ability to pull in high profile artists has never been questioned - it's been booking the biggest fish in the pond since its inaugural year. But it's not all about the big names. Each year a wider variety of artists are added to the lineup, and this one's no different. All kinds of electronic music will be represented, from progressive to electro, trance to dubstep, trap and funk. There's truly something here for everyone.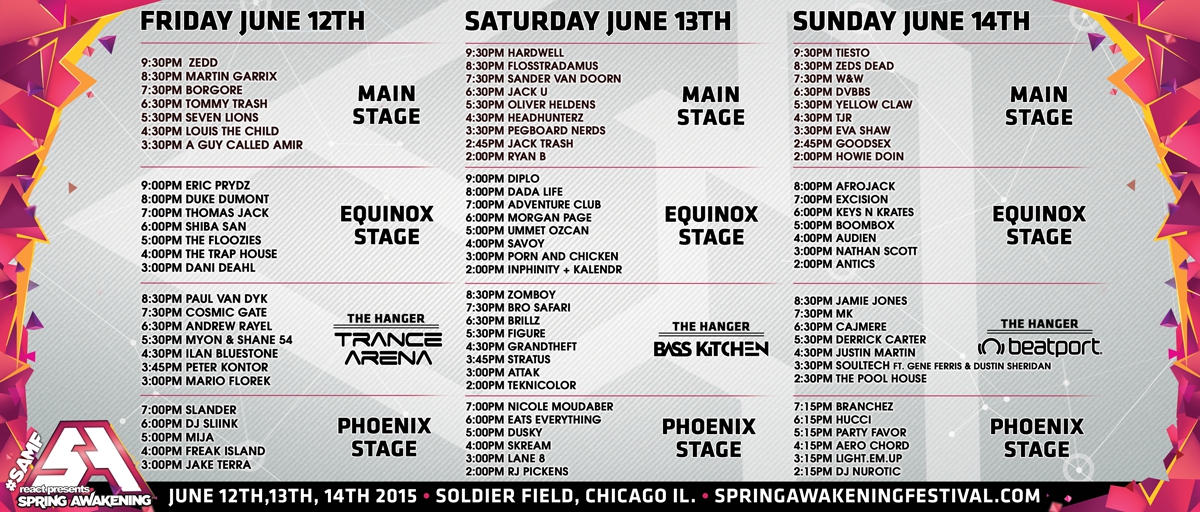 4 - Wristbands
While this change isn't revolutionary, it does lend itself to some advantages. Instead of scanning in a ticket each day, you will have a wristband that is registered to you. You are entered for a chance to win some SAMF swag upon registering, as well. Word has it that the wristband will have some interactive features at the festival when connected to a social media account.
5 - Larger lineup
The growth of its lineup is a great indicator of SAMF's success these past 3 years. In a short time, this festival's daily lineups rival an entire weekend at its inception. Some attendees are worried about conflicts in the schedule, but that's a good thing! It means that SAMF is bringing so much good talent that it's hard to catch it all.