10 Reasons Electric Forest Will Open Your Eyes To A Whole New World
You know the phrase, good things come to those who wait? Well, this saying rings true for attendees of Electric Forest, many of whom traveled hella' miles and waited in mad lines to enter the festival grounds on Thursday, June 25th. Their efforts and due diligence were all repaid by electrifying sets, unbelievable scenery, and enough glitter to drive a grown man mad. Needless to say, the four-day festival, now in its fifth year, is nothing short of spectacular.
Seven large stages (Ranch Arena, Tripolee, Sherwood Court, The Forest Stage, Jubilee, The Hanger, and The Observatory) line the remarkably beautiful venue grounds and mysterious Sherwood Forest. With so many captivating attractions at Electric Forest, one can only become bored if they are, themselves, boring.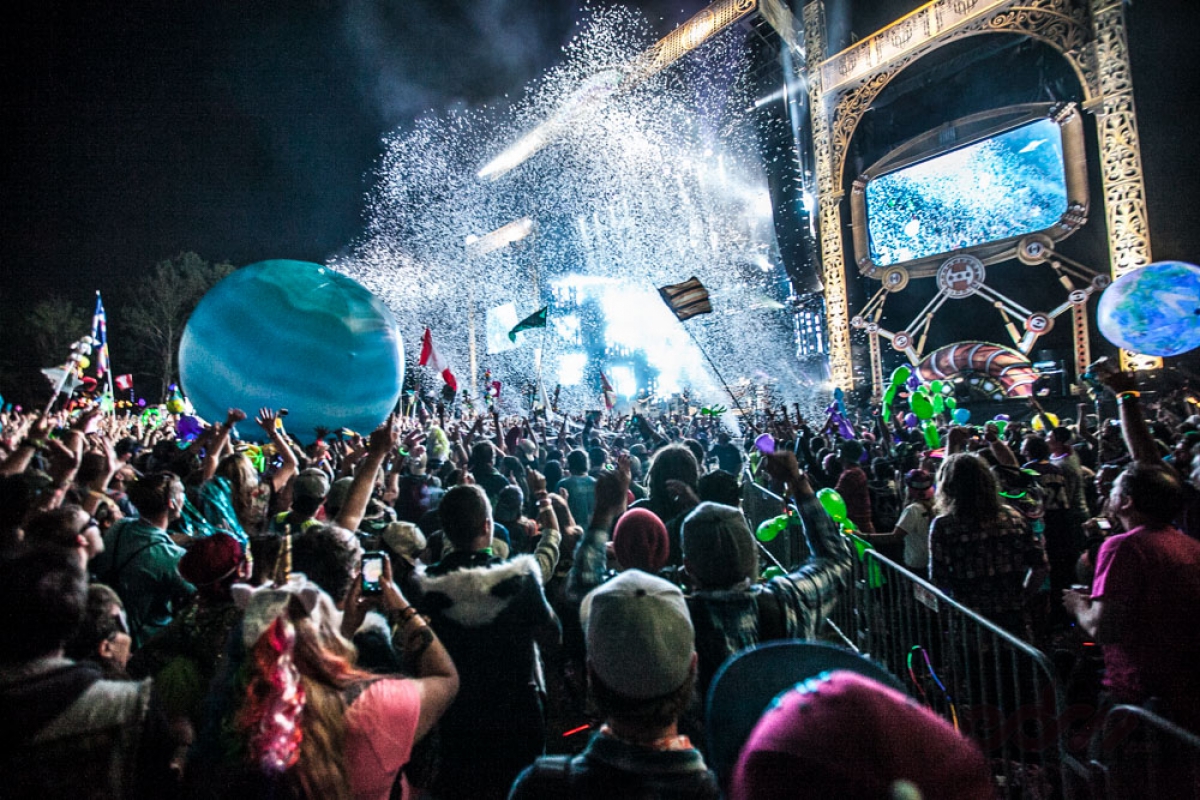 When I say that there was truly something for everyone at this festival, I'm telling the damn truth. Every night brought new genres to the table, every trip into the forest resulted in new discoveries, and the vibes, OH THE VIBES, were at all-time highs. New friendships spawned with every passing moment. New laughs escaped into a sky already littered with popular characters like Stan Marsh, Dick Butt, Morty and Bubbles.
Amidst yells of "Carl" (which eventually morphed into Carla, Carol and Kyle) a crowd of 40,000 strong came together to experience something visceral and borderline religious. It was a place to be real, a place to unwind, and most importantly, a place to feel loved. Feel the love all over again with our favorite moments from Rothbury, MI:
1. Musical preferences were respected equally.
As a girl who proudly sported a "dubstep" hat all weekend, Friday was my day to shine. Acts like Vaski, Snails (also HELL YEAH Snails, you crushed that set), Datsik, Skrillex and Flux Pavilion made for the bass-t of times.
Saturday reminded us that Electric Forest was curated with all genres in mind. Acts like electric violinist Lindsey Stirling brought massive crowds to the Jubilee tent for a set that erred on the side of what I will dub "Classical Badassery". Her interpretation of the Zelda theme was nothing less than spellbinding and set the tone for the wide variety of acts available to music lovers that night.
String Cheese Incident's confetti-filled, four-hour foray made way for Bassnectar's lush, melodic journey that encompassed feelings ranging from "spiritual healing" to "straight up ratchet".
Techno sets like those from John Digweed, Carl Cox and Claude Von Stroke brought a different vibe to festival grounds.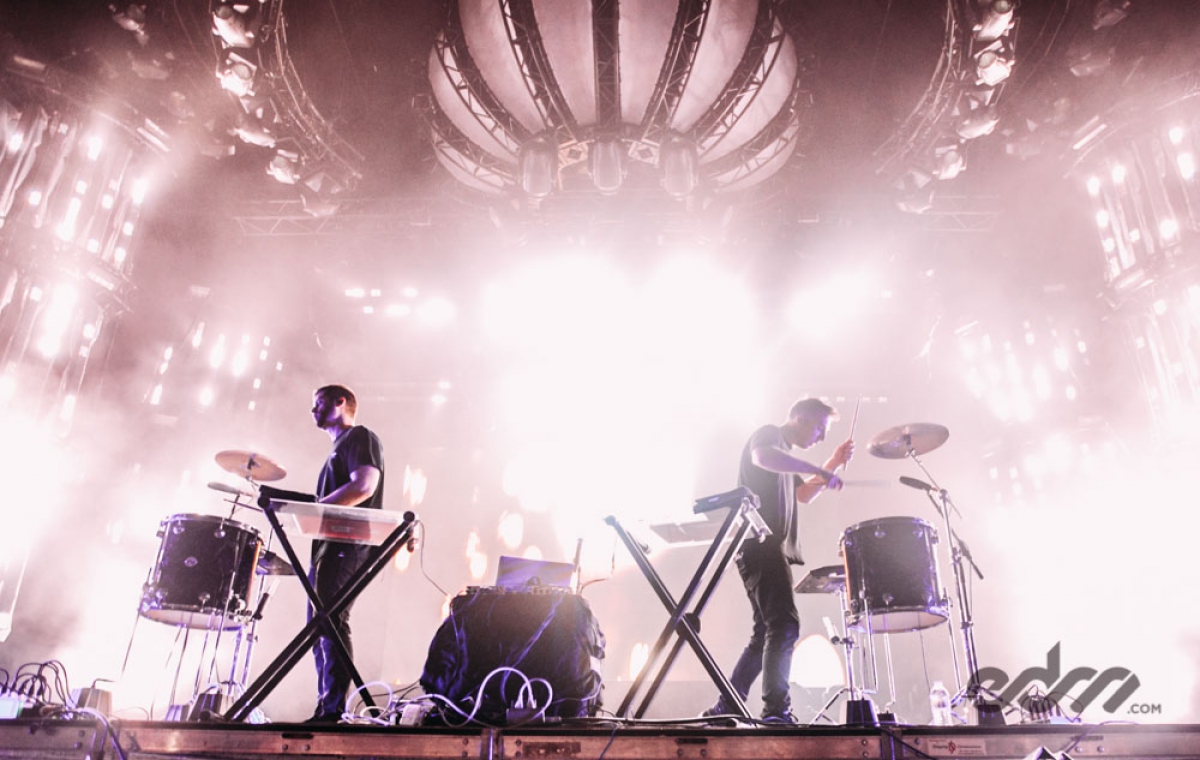 And the live sets, OH THE LIVE SETS. Break Science, Gramatik, Big Gigantic, Slow Magic, Goldfish and numerous others stepped outside of the boundaries often presented by traditional DJ sets for groovy dance breaks only made more delicious by the presence of saxophones, keyboards, guitars and full percussion sections. Plus, String Cheese Incident (who saw special guests throughout the weekend like Skrillex and Dominic Lalli from Big Gigantic) just further emphasized that this festival was for music lovers of all varieties. God bless.
2. Sherwood forest is a treasure trove of surprises.
Although dusty as fuck, Sherwood Forest was the number one place to get lost during Electric Forest. The trippy structures, cops on stilts, steampunk princesses and hidden stages like the Illuminarium and silent disco only scratched the surface of what was to be discovered inside Electric Forest's most prized central hangout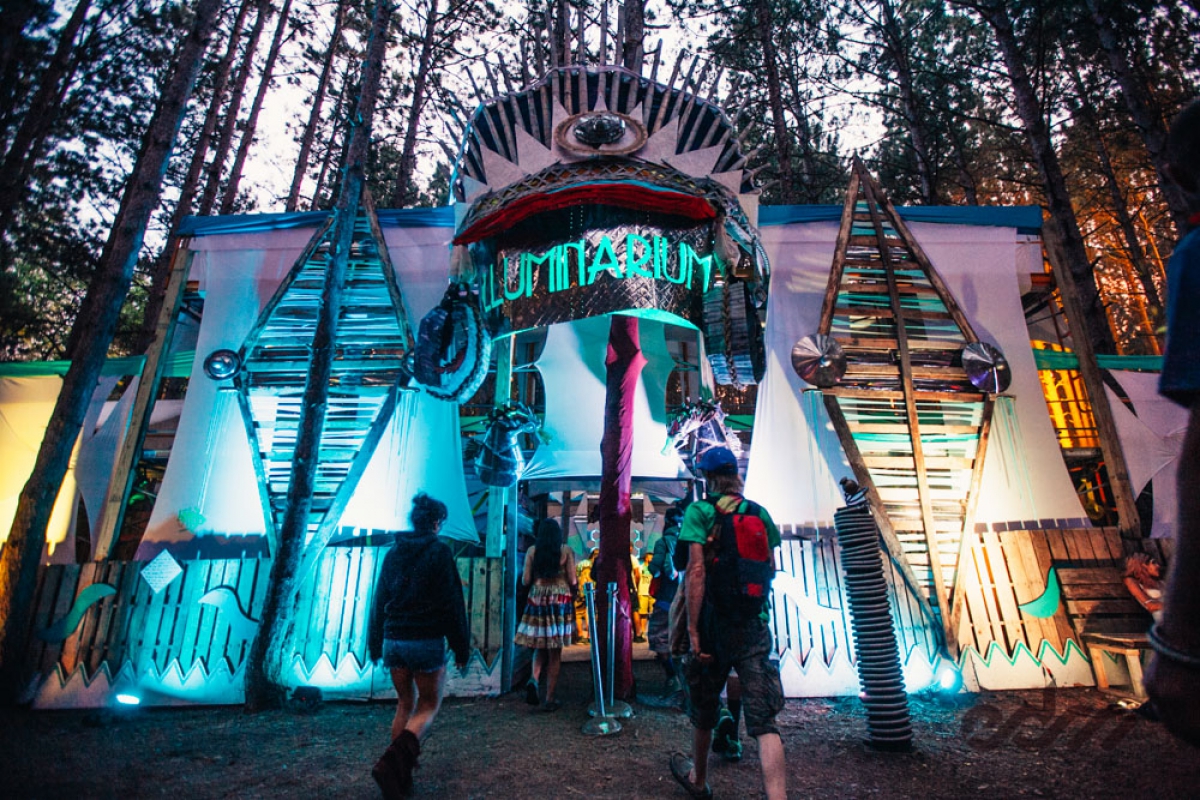 The Jive Joint's low brow comedy catered to an audience whose giggles were simply unable to be contained (if you saw the show with all the tiny dicks, you know what I'm talking about). We were baffled when we ordered a beer and were instead handed goblets of glitters and arts and crafts supplies and were told to create our own souvenirs instead of imbibing our favorite beverages.
Whether you found yourself making friends from the comfort of your own hammock or sharing stories at the summit of a treehouse, Sherwood Forest was the place to explore. The Giving Tree provided a place for festival goers to take and receive. (I donated a full pack of Starburst I managed to ground-score on Friday night en route to the Tripolee stage.) The Forest Stage, located near the observatory provided an alternate venue for artists like SNBRN, Vaski and numerous others to play chill sets in a shaded, woody atmosphere. Sherwood Forest was a constant reminder that if you weren't already following the fun, the fun would inevitably find you.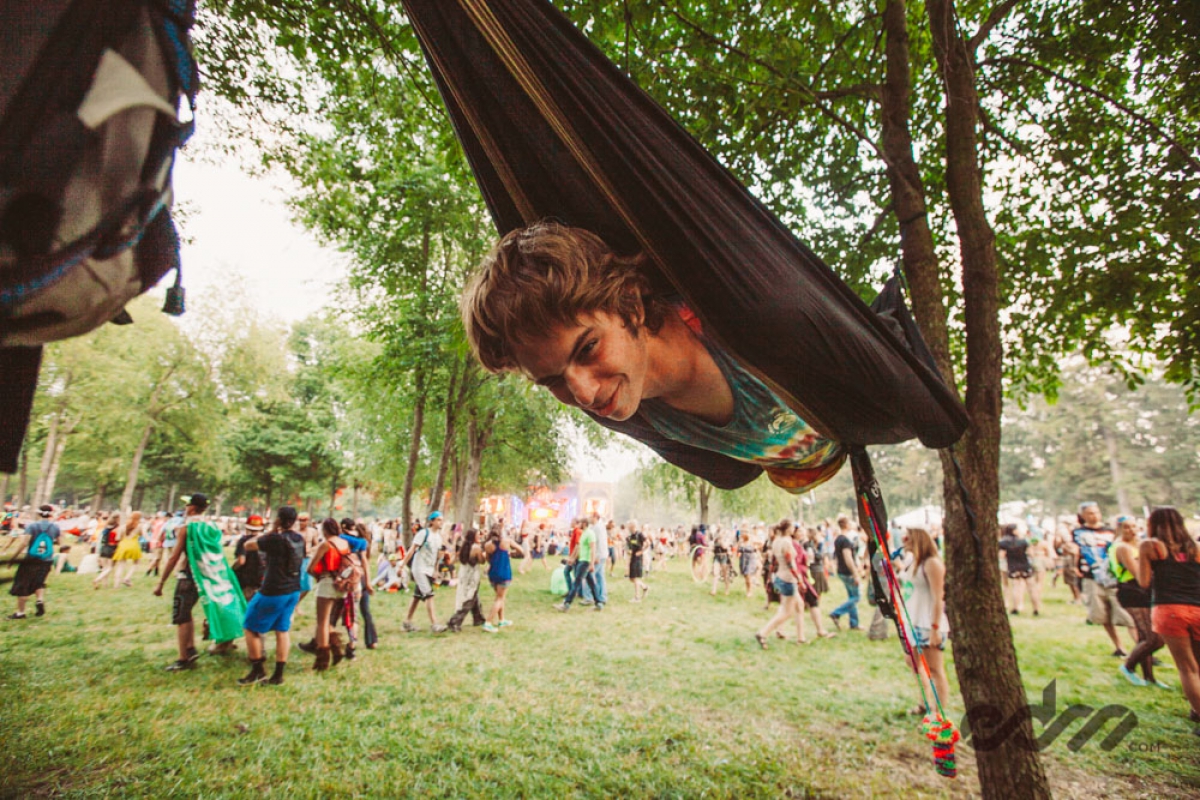 3. The Hanger provided a place to ball out.
When we stumbled into The Hanger on Saturday evening for a refreshing Ginger Paloma, we weren't quite sure what we were watching. In no time at all, The Gentleman Callers, a vest-sporting DJ duo that looked mostly like Vegas blackjack dealers, had us completely enamored with their commitment to a style of house that felt like it belonged in a montage scene from Moulin Rouge. They brought plenty of energy to the bar/activity space, which also featured free massages from Rockabilly types with body buffers in Rosie's Recharge Station, free cuts in the Barber Shop, body art in the Tattoo Parlor, and numerous other freebie's scattered throughout the tent space. This was our favorite place to grab a drink between sets, not only because their selection of craft cocktails was unmatched, but because that place was hella' weird and delightful.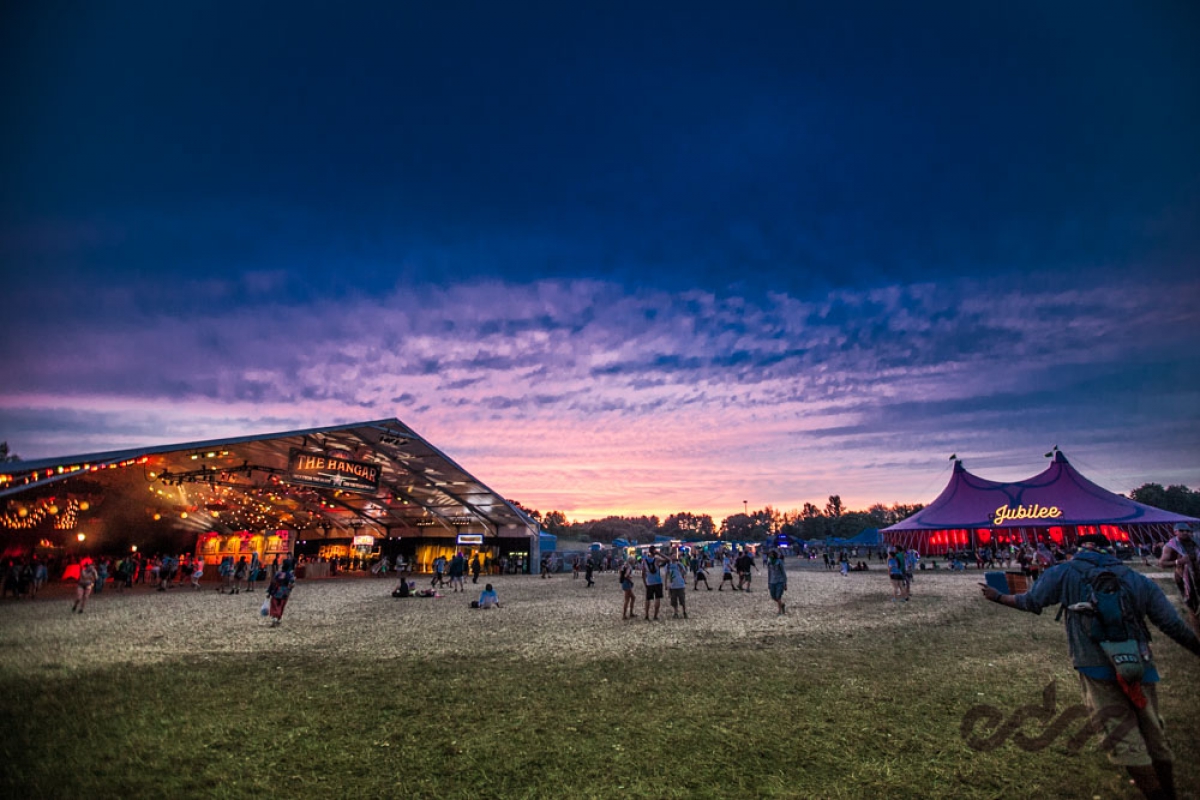 4. The party doesn't stop after the festival grounds close down.
Call me spoiled, but being a part of the #ShipFam RV camp had some serious perks. If you kept your ear to the ground (or in the case of the last night, the sky), you would have known that Jason Huber played a surprise sunrise set on Saturday morning, just in time for a glorious backdrop of hot air balloons to take over the new day's sky.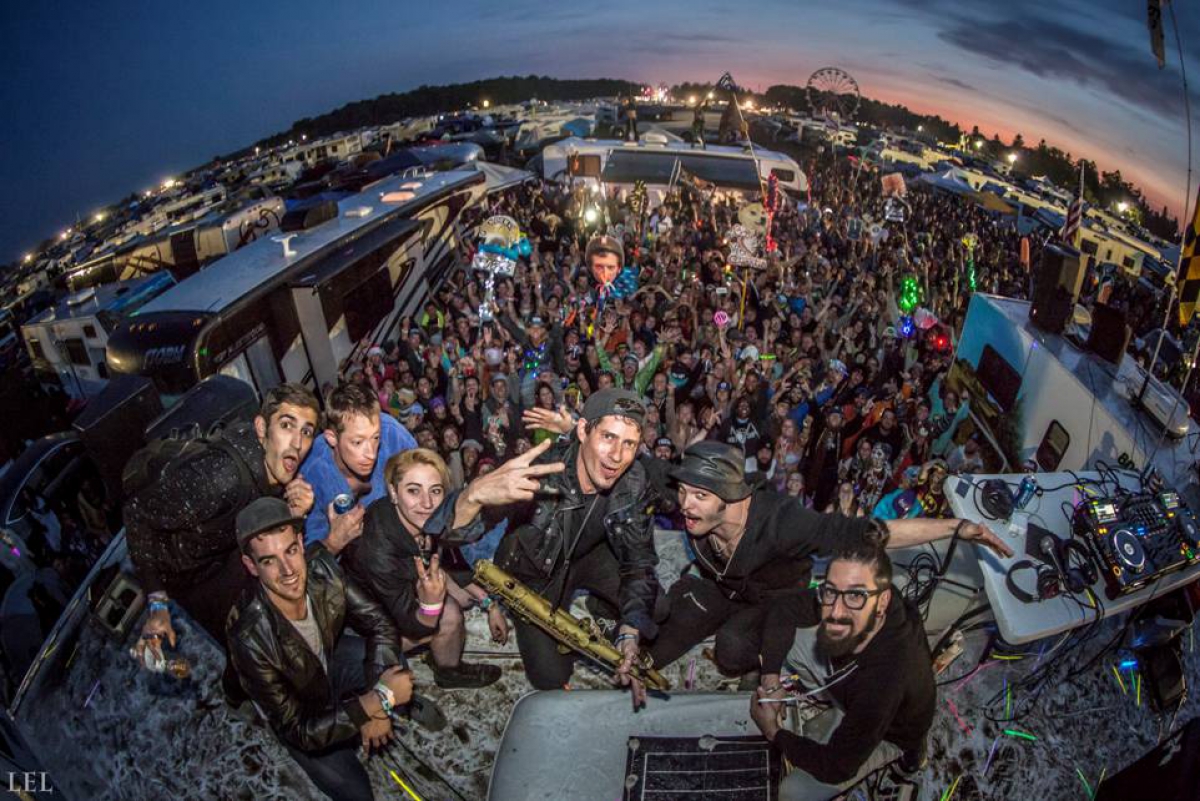 CREDIT: Collin Taylor
We upped our ante even more when Big Gigantic joined him for a B2B on Sunday night/Monday morning, culminating in the biggest campsite party of the weekend. It was only a matter of time after the drumset took shape on top of MY RV that Dominic Lalli's signature saxy sounds wailed into the night attracting Big G fans from all directions.
Never have I attended a festival where the sets played after hours in the campgrounds matched the caliber and quality seen on the mainstage. This was something to celebrate. This was also the reason that I was borderline delirious on Monday, left all of my clothes at the RV office, and then had them thrown away. Sad face. If you would like to donate new rave gear to my enterprise, please contact me via social media. Any and all donations will be accepted and worn with photographic evidence and good vibes offered in return.
5. People are weird as fuck (in a good way).
On Sunday afternoon when my camp was acting like a bunch of battered, old ladies with meat sweats, I decided to make my rounds in a french maid costume for cash. At what other festivals can I ask, "Hey can I clean your campsite for $1?" and have so many people play along without question? The answer is: none.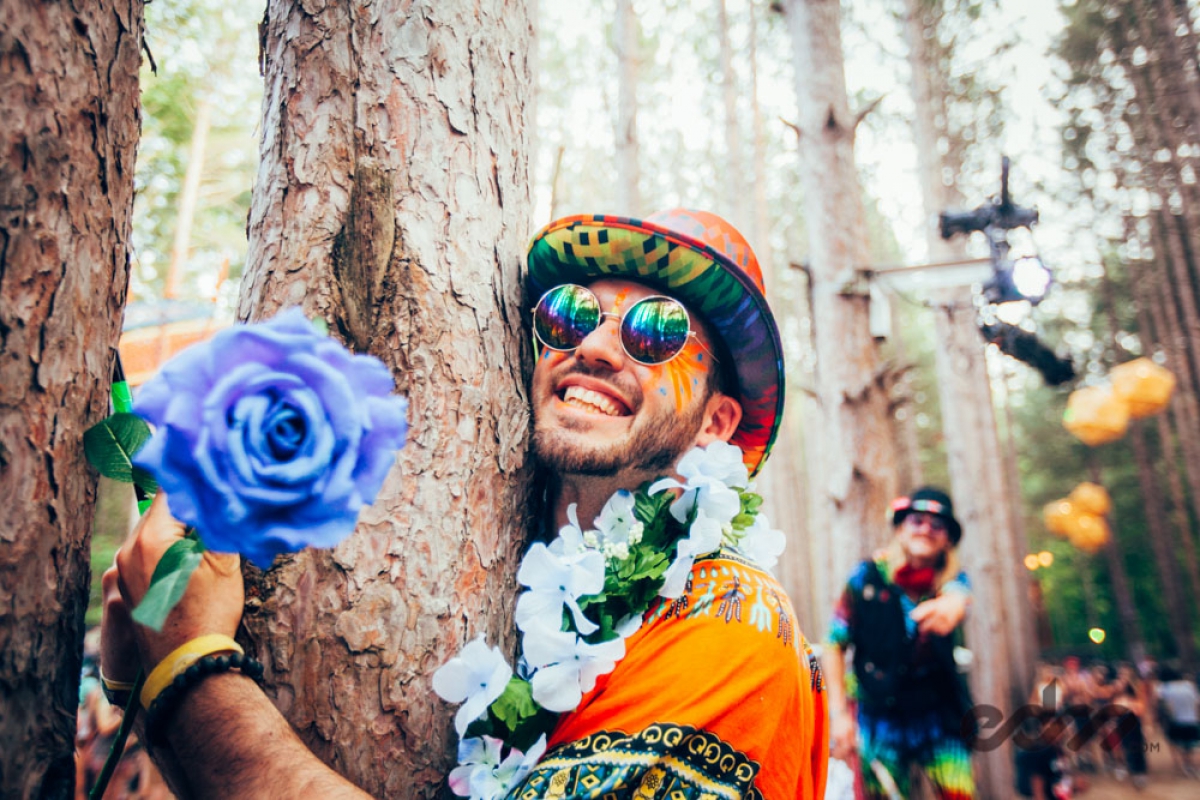 The creativity in the totems, the act of gifting, the constant looking out for one another, and the endless good vibes are exclusive to Electric Forest. This took what I've seen in other festival environments and elevated it ten fold. Shoutout to a dude named Lemon who found a cell phone on the ground and started quite possibly the most epic EF story I've ever seen before safely returning the lost item to its rightful owner. To the guy who left his phone unlocked, that insanely long collage of moments and all of the new followers you acquired as a result were gifts from the Forest. EF, you are the anything but basic.
6. People were always looking out for each other.
On Friday night, I gave a brand new 21-year-old a "McLovin" ID. This 21-year-old kid (who may or may not have been raging harder than 98% of the people at EF that night) managed to solve a critical health hazard more effectively than two security guards.
How, you ask? En route to Skrillex, my buddy completely eats shit after her foot was entrapped in a tight, 2-feet deep hole in the ground. I know, WTF? She somehow escapes unscathed, but we decide it is now our duty to resolve the potential dangers presented by said hole. After about 20 minutes of watching the hole, racing around for security officials (who I swear to god on that particular evening happened to be more fucked up than the majority of the attendees), electing other festivalgoers to watch the hole, and trying to explain our story to others in charge, McLovin suggests, "Why don't we just find a trash can and cover the hole?" Effing brilliant.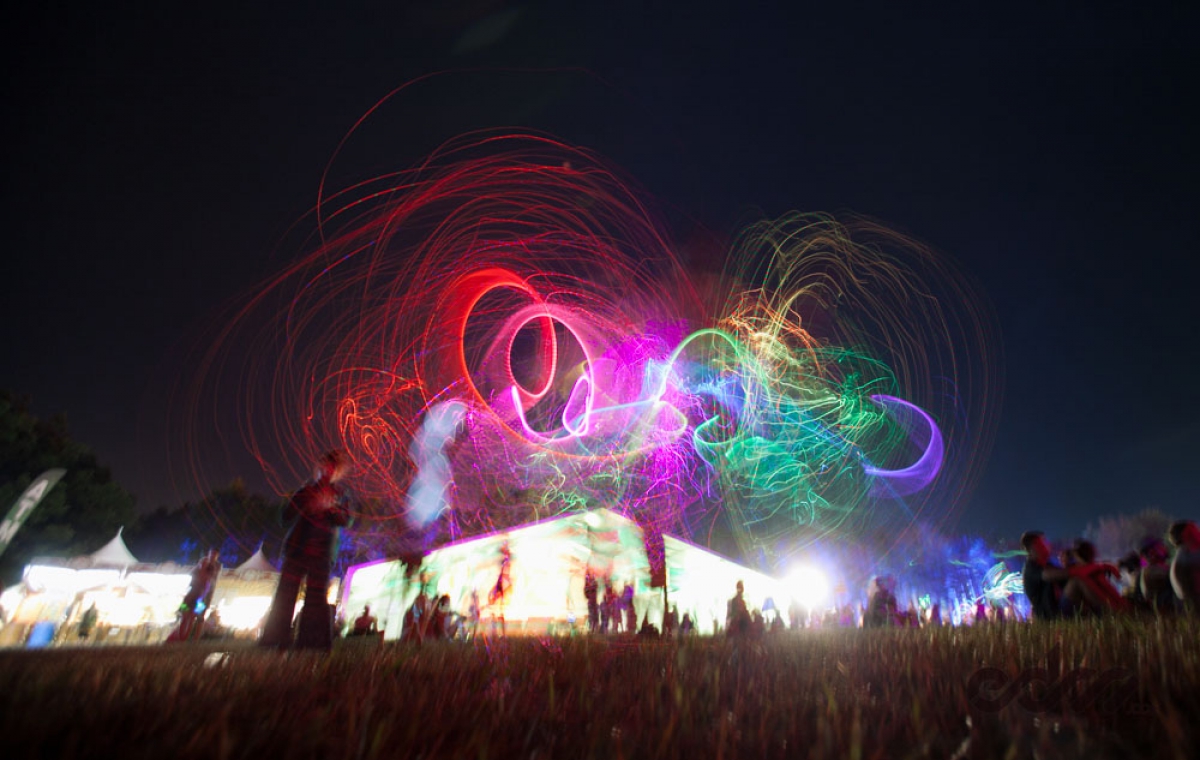 What I'm trying to say is, at what other festival can you snag folks from a crowd to protect a potential health hazard instead of getting a prime spot for one of the weekend's most anticipated headliners? That was a beautiful moment, and to everyone who assisted in "Operation: Plug the Hole", I salute you.
And to McLovin, I'm both thrilled and disappointed that you didn't go missing this weekend, because if all that was found was your wallet complete with a McLovin ID, you would have been a legend. But your cool vibes would have undoubtedly been missed. Thanks for being more helpful than you had planned on being that night. You are what EF is all about. Plus, big shout out to the strangers who drove me 14 hours to get to EF after my flight got cancelled on Wednesday. You fucking rock too.
7. Ferris Wheels and Hot Air Balloons got us lifted.
Electric Forest took the concept of "Getting High" to a new level with a light up ferris wheel and hot air balloon rides. For a small fee, festival goers could catch a glimpse of the entire festival from way, way up. Add the fact that both vehicles were next to slamming sound stages like Tripolee and Jubilee, participants were offered a multi-sensory experience.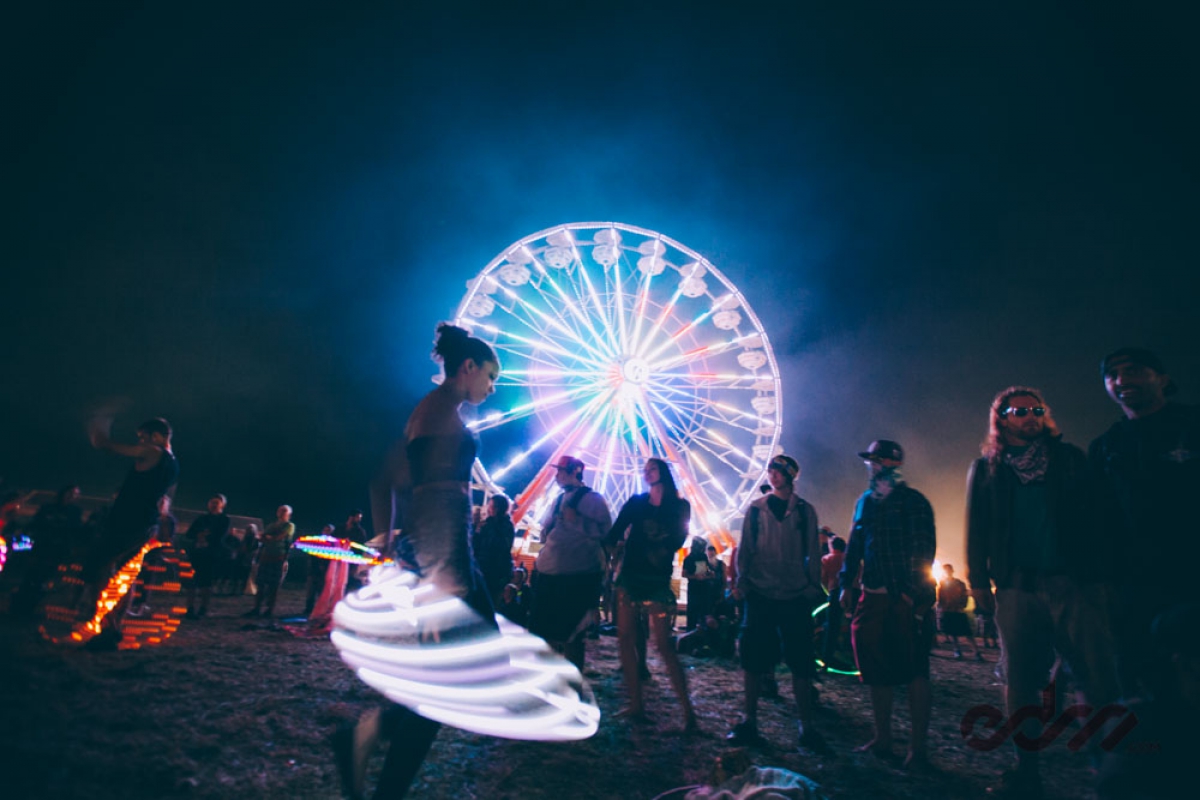 Upon exiting the Hot Air Balloon on Thursday evening, my friend and I decided to see Brodinski at Jubilee, only to find out, he was unable to make his set. This was hardly an issue, however, when dubstep DJ 12th Planet took his place for a set chock-full of so many bangers, our happy feels soared higher than the vehicle on which we'd just had a big ride.
8. Girl Power was so real this weekend.
And I'm not just talking about the mass quantities of bare titties all up and around EF (though that was a highlight for many festivalgoers and DJs who tallied the number of tits seen on a daily basis). I'm also talking about the amazing sets we saw from numerous female artists. Artists like Lindsey Stirling, Alison Wonderland (Watching the feels this girl had when sharing a new track she made in her hotel room this week was so touching!), Tokimonsta (or should we call you trap queen? That set was unreal!!) and Sarah Barthel of Phantogram (Proud of you for ditching the high heels) only scratch the surface of amazing female talent seen in and around the grounds.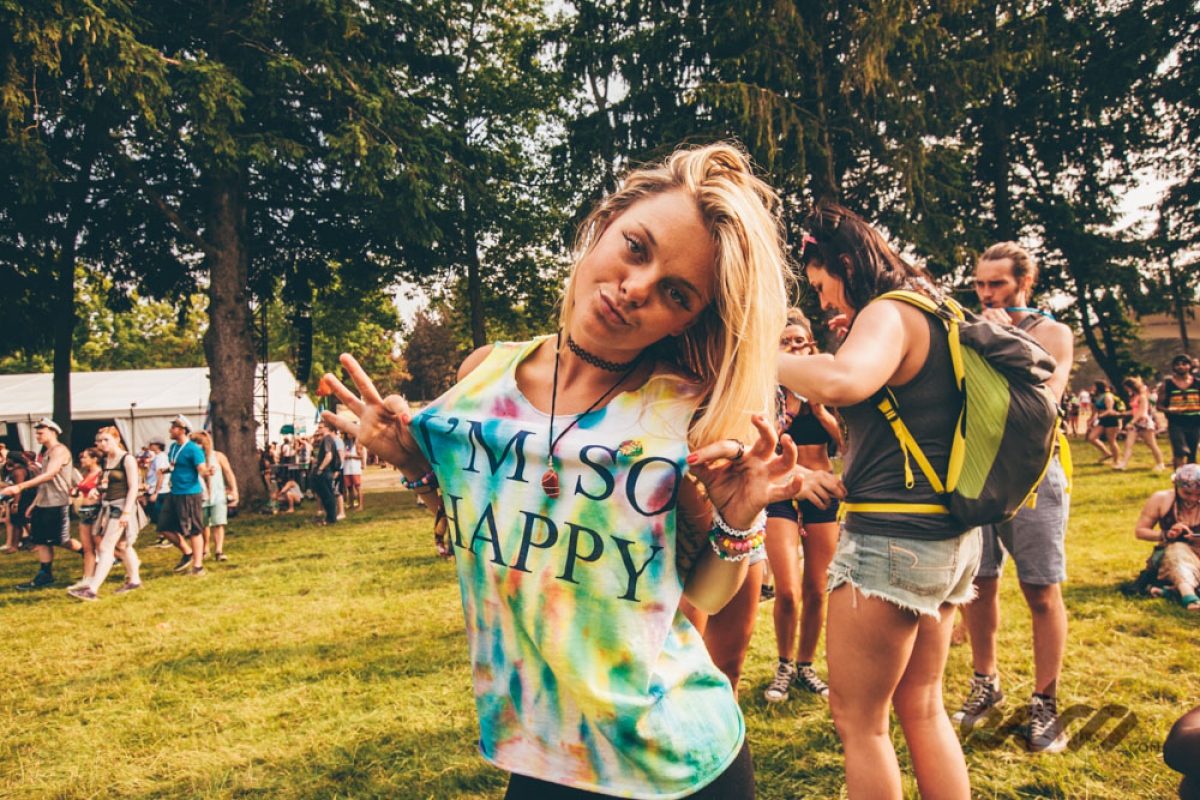 Another big thumbs up to all of the amazing women I met in the crowds. The love, support and compassion that you showed for each other was so real. We have the power to change the world, and I saw some true beginnings of that this weekend! Keep it up. We all need someone to lean on.
9. Our favorite DJs shared the love.
These artists love each other as much as they love their fans, and that touched our hearts. The bumping sounds of Dillon Francis (who wasn't even at the festival this weekend) still made appearances in sets like Flux Pavillion's, Claude Von Stroke's, Skrillex's, Peking Duck's and countless others. This was a solid reminder that friendship and respect in the EDM community didn't just exist in the audience but among mainstage players as well, and this gave us all the warm fuzzies.
10. The 'Good Life' took all of this and more to an unreal level of awesomeness.
So take everything that you've read here, and then add a 60,000 square foot waterpark, horseback riding, a celebrity chef managed restaurant and a poolside hangout. Electric Forest's Good Life option took the VIP experience to a whole new level, offering late night sets from headliners on its own stage every evening after the festival grounds closed (I heard Skrillex, Datsik and Snails put on a show to remember).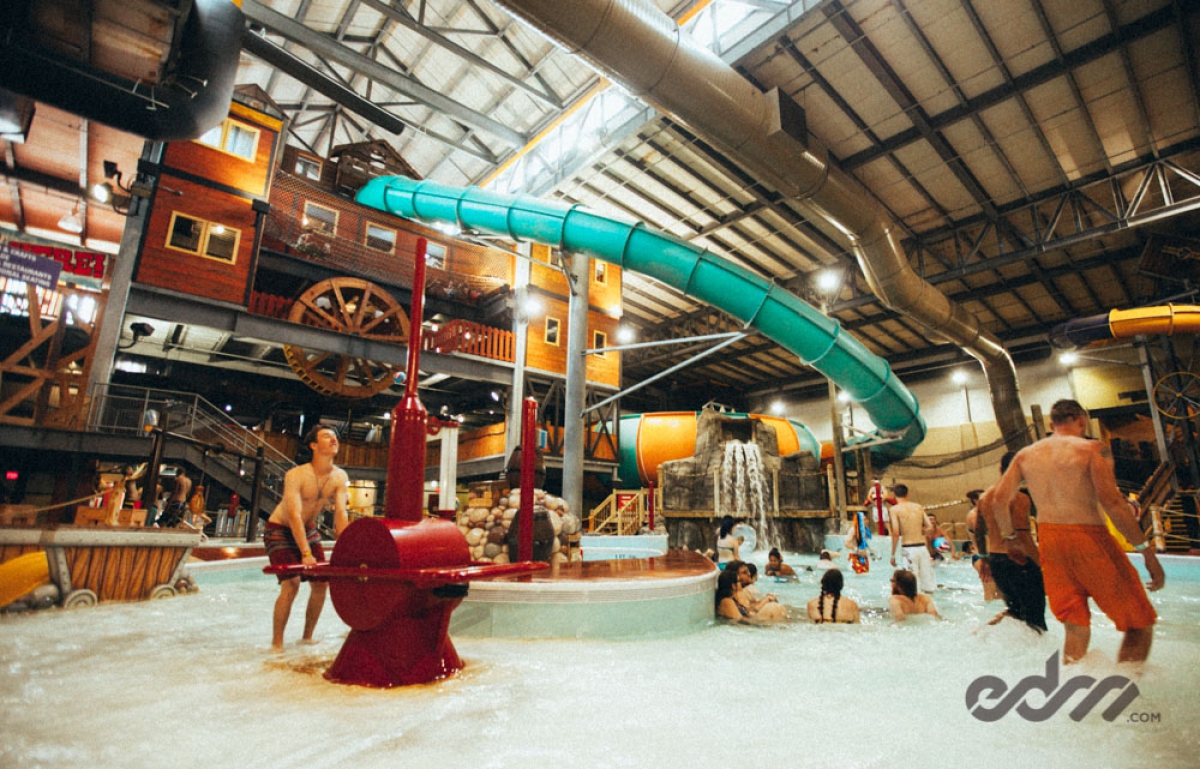 Where else can you find all of these perks and more in a VIP setting? Thanks for having an option that blows literally everything else I've seen on the festival circuit completely out of the water. EF ain't playin'. BOOM.
EDM.com Photos: Andre Velez
andrevelez.com
instagram.com/drebotz
facebook.com/AndreVelezPhoto
twitter.com/andre_velez
Follow EDM.com:
facebook.com/EDM
facebook.com/EDMcom
soundcloud.com/edm
twitter.com/theedmnetwork
plus.google.com/+EDM
instagram.com/edm