DJ Shadow Offers Advice To New Artists And Describes EDM's Influence On His Live Set
Josh Davis is coming back to center. In the past year, the turntable wizard with a kaleidoscope sound palette known as DJ Shadow has teamed with Cut Chemist for the wildly celebrated Renegades of Rhythm Tour, a vinyl-only tour honoring Afrika Bambaataa's influence on hip-hop's beginnings. He's also kicked off a revitalized sense of mystery in music with by teaming with Santa Cruz up-and-comer G Jones on a (formerly) secret project known as Nite School Klik, delivering some badass bass-heavy dynamic production work through the duo's debut EP. Along the way, he's seen the rise of his own imprint Liquid Amber.
His work has resonated with a wide spectrum of artists, influencing hip-hop beat designs and making spacebar DJs shit themselves with insecurity and hug their silly-ass cartoon bass buttons for dear life. But with his involvement in such a wide range of projects, it's been three-plus years since Davis has played any direct Shadow material live, and he knows his fans are antsy for the next stage of evolution from the man who's repeatedly redefined the true artistry standard over the past two decades.
The great news? DJ Shadow has begun work in earnest on a new album, and he's enthusiastically committed to the project. We caught up with the legend recently to touch base on the man behind the Shadow, how his perspective and influence has shifted in EDM culture, the next steps for Liquid Amber, the value of music in a distraction-driven culture of attention-deficit normality and more.
Congratulations on one hell of a year so far – the Liquid Amber label has taken off, and Nite School Klik has hit with a revitalized sense of mystery that's entirely absent in today's all-access world. Now that the momentum you've built for it has its own kinetic energy, what's your perspective on it all?
I've been a part of starting a label, with Solesides which became Quannum, which was a rap collective. That was a part of learning all about learning how to get records pressed up, and how to get lines of credit and all the things that came along with running a label at the time – twenty years ago. But this is the first time I've done it since then, and it's just a completely different world. It's nice to see that there's some momentum behind it now. G Jones is the man. I first found his music in the process of just looking for music to put into my sets, starting a few years ago. One of the pivotal points for me was discovering the music on this label called Saturate!, out of Germany.

How did Saturate! connect to a new inspiration for you?
The first thing that I started getting into was a Doshy remix of a Bleep Bloop song. And just from seeing what else they'd put out, I found some G Jones remixes – and when I finally met Aaron (Triggs) out at a festival, I came offstage and he was like 'Hey you just played my music,' and introduced himself.
I'd thought all the artists on Saturate! were German, because that's where the label's based, but they're located everywhere. And both of them actually live within a hundred miles of me, both G and Aaron (Bleep Bloop). So I started working on some music with Bleep Bloop, and he's really good friends with G, so I asked G to open up for me in 2013 in Seattle, and that was the first time I met him in person. All along we've been looking for ways to work on something, and finally last Christmas I just went over to his place in Santa Cruz and we just started vibing on some tracks.
We talked about doing it as an alias, because it might be interesting to people to do it on a left-field group name like Nite School Klik rather than "Shadow and G Jones" or whatever. And also we talked about how it would give us the opportunity to do things that would be slightly different. We didn't want to come together and make music that sounds only like me or only like G, but rather something different from what each of us would do.
I think unusual is savored and cherished these days. Do you have any space to take the Nite School Klik project on the road?
As of 2012, I thought I was gonna be off the road for quite a while (laughs). I was asked to do a set for the Low End Theory guys, and it was something like I never felt that I had bandwidth to deal with or do. I didn't want to do it as me as an artist… it occurred to me that I hadn't just done a regular DJ set with other people's music that's current that I like since the late '90s. Around that time, when I would go out and play, people were really expecting me to represent the music that I would put out on record. They were treating me almost like a band, where if you want to see your favorite band play, you're expecting to hear those favorite songs. So I tried to stay true to that, but I was having so much fun putting the Low End set together, and it went so well that on the basis of that offers just kept coming in.
I ended up doing a festival in Sacramento, and that led to other things, and other people wanting to book this kind of new look. I was playing contemporary bass stuff, post-dubstep stuff and pre-trap stuff. More headsy, beat-driven stuff. That ended up taking me out on the road for another two years. I was constantly changing the set every month, adding new stuff… because I wanted the set to be ultra up to the moment. A lot of unreleased stuff, a lot of stuff that was just emerging. That all kept me busy right up until the Renegades tour.
So you've been going nonstop, is what you're saying…
Yeah, it's been intense.
So you're looking to lay back a little bit?
From the road, yeah. From the rest of this year. In the blink of an eye, by the time I hit the road again it'll have been four years since I've done any Shadow material live. Time goes quickly, and four years is a long time.
Especially with family, going through their own transitions and your own personal experiences. As you move through life, outside the Shadow moniker, does it give you a different perspective on the identity of DJ Shadow, and how that factors into the rise of EDM culture? Especially the past 3-5 years.
It's kind of interesting, because I feel like I have both the curse and the benefit of not fitting comfortably into any one genre. I'm kind of a square peg. I grew up on rap music and hip-hop culture, and that's always at the forefront of my mind when I sit down to make music. But there's no doubt that a lot of the music I make… you can't say it sounds like hip-hop. To some people, there's a rock element that people latch on to – and as a result, that led me to open for Radiohead on their '97 tour. All these opportunities in various spaces, and as genres come and go, different people come out of the woodwork and cite me as an influence, which leads to a resurgence of interest in things that I've done.
Even here in the Bay area, people who know nothing else about me know about this hyphy track that I did with Geek the Sneak and Turftalk. So that's the good thing about having my musical tastes that broad and trying to constantly do new things – it gives you different contexts for people to discover your music. And in doing so, inevitably somebody will find a track that they just can't understand how I would've done that track. They don't understand it, they don't like it… and then inevitably there's also stuff that they're surprised to like. To me, it all makes sense but I don't expect everybody to pick up every thread.
You've had a unique viewing position for the rise of EDM culture in America.
As far as the EDM thing, that's been interesting as well because I threw myself into the fire doing this tour in 2011 called Identity. It was the absolute peak of dubstep and brostep. I was on the same stage as Datsik and Skrillex … that whole world, that was like the 'Summer of Dubstep' in the States. Just being around that energy and seeing how it works, and seeing what you need to do to make that crowd go – that was able to inform me when I was playing for Bassnectar at Red Rocks and stuff like that. By the time those events started happening, I felt like I knew what to play and what not to play in that kind of setting.
My feeling on music is that if you're not a student, if you're not constantly in class and realizing there's no such thing as being finished with that… you're constantly learning, you're constantly figuring out how to evolve and adapt. There's no "I've arrived, I've made it, I don't need to keep growing. I am who I am and people know, and that's how it's going to be." If you have that mentality, you're never going to stay at that level.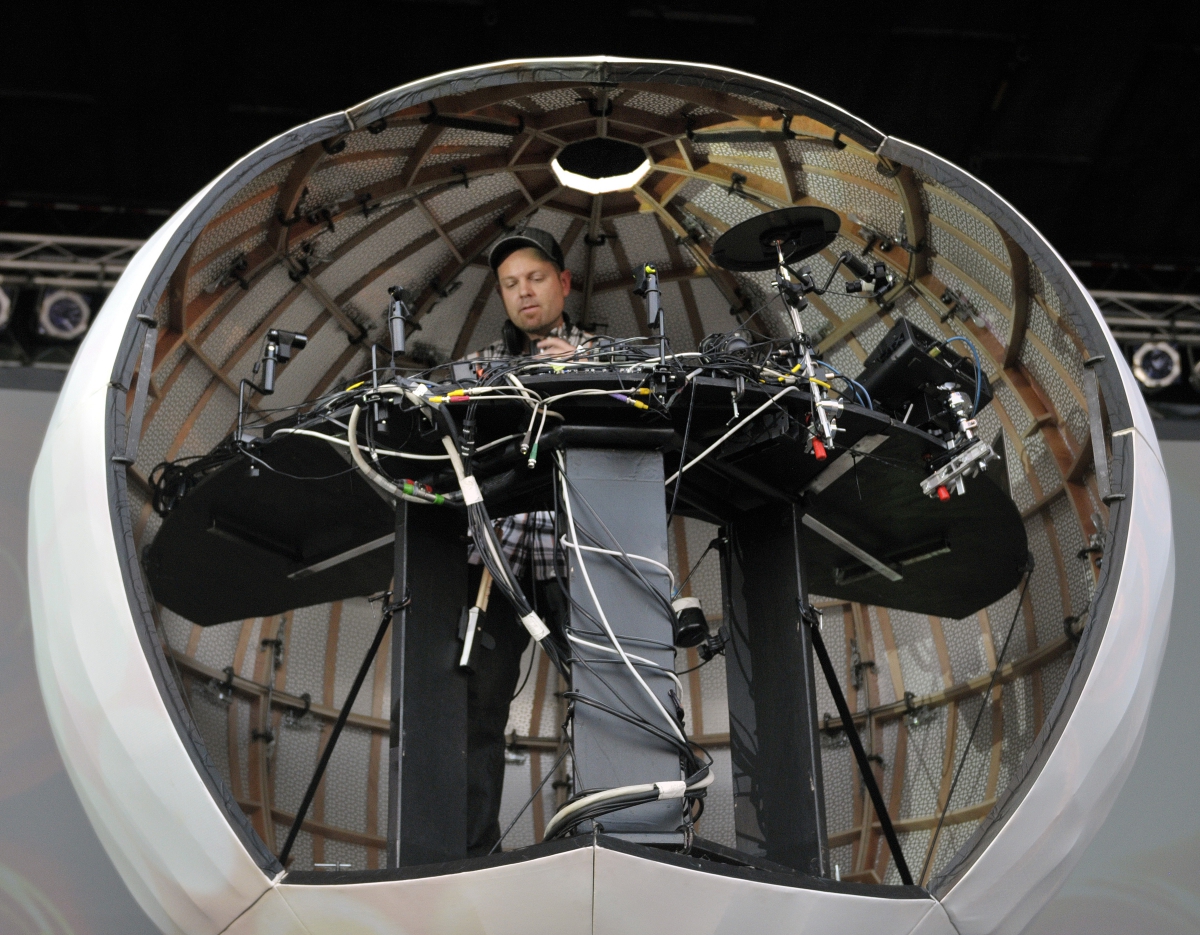 Photo: Suntimes.com
Seems that versatility is the primary necessity in success.
Right. Like we touched on earlier, four years to me at age 42 might not seem that long, but if you're 18 and you're out at a show and you're doing something that seems a year out of date, forget it. You're done. If you're not switching it up and staying ahead of things, it's not gonna work for you. I feel like the trick is… there's still a message I'm trying to send in my sets. I, as DJ Shadow, am not gonna go up there and try to rock the stage with Beatport number one hits. That's not who I am. I want them to move, but I want them to meet me halfway. I'm always, constantly curating sets that reflect my own identity, not someone else's.
How do you value music in our culture, given how different our value systems are now in society from when we were kids?
When I travel, I always bring a book to read about things happening, whether it be current or old things, to stay on point just for that. Whether you read about the genesis of punk rock, or a really good James Brown biography I read – I really didn't want to read that one, because I thought I knew everything about him, but it was really good. Love Goes to Buildings on Fire, which is basically New York between '73 and '77 or so. So the point is that I think without question there have been times where music has been the leading form of entertainment culture in this country. You could argue that today tech is the leading culture definer. So music and film have diminished in terms of their cultural weight. In the '60s and '70s kids used to run away from home based on their musical pursuits.
If you think about the passion involved with the early day of cultures like punk rock and hip-hop and stuff like that all over the world… I don't think that's the case anymore. There's a lot of people who still love music, but I think there's no question as one thing rises and something else falls, there's a tangential relationship between the two. People's disposable income is used on tech now. That's just the way it is now, so if someone had a $30 budget for music, now that $30 budget is for leveling up their apps or whatever.
I can't read any crystal ball, and my opinions on the subject swing wildly back and forth based on what's happening that year or that moment. I would say I was at my most downbeat on the subject around 2008 or 2009 because all the record stores were closing, but finding music on the internet wasn't as cut and dry as it is now. It wasn't easy. So without any kind of say on my part, I was losing the ability to pursue music that I love.
That's not the case anymore with the rise of Soundcloud and so many other great sites for discovering music. I'd say that things are better now than they've been in a long time. We still need to figure out ultimately how these artists can make a living. It's not a one-size-fits-all system. Not everyone wants to be on the road nine months a year to make a living on music. That needs to be addressed, but I feel like things are settling down a bit and all this stuff will be addressed. But for now it's just a matter of keeping the faith as an artist or musician, and keeping the faith. Keep being creative, keep pushing ahead. And control what you can control. There's a lot you just have to throw your hands up and say "it used to exist, but it doesn't exist anymore, so let's move on."
Pragmatism seems to be a mandate for survival, these days.
Totally.
Syndicated with permission from Craveonline.com
Follow DJ Shadow:
facebook.com/djshadow
twitter.com/djshadow
soundcloud.com/djshadow
DJShadow.com
Follow Crave Online:
facebook.com/CraveOnline
twitter.com/CraveOnline
craveonline.com