5 Acts To Not Miss At HARD Summer '15
HARD Summer is making its triumphant return to Southern California this August 1st and 2nd, and it's holding nothing back for its most impressive festival to date. Ever since Insomniac uprooted its flagship festival, EDC, from Los Angeles to Las Vegas in 2010, HARD Events has been working to capitalize on the mega-fest's absence and solidify itself as the premiere festival production company in Southern California. Considering this diverse lineup, all signs are pointing to this year being the year that Gary Richards and HARD Events rises to the top.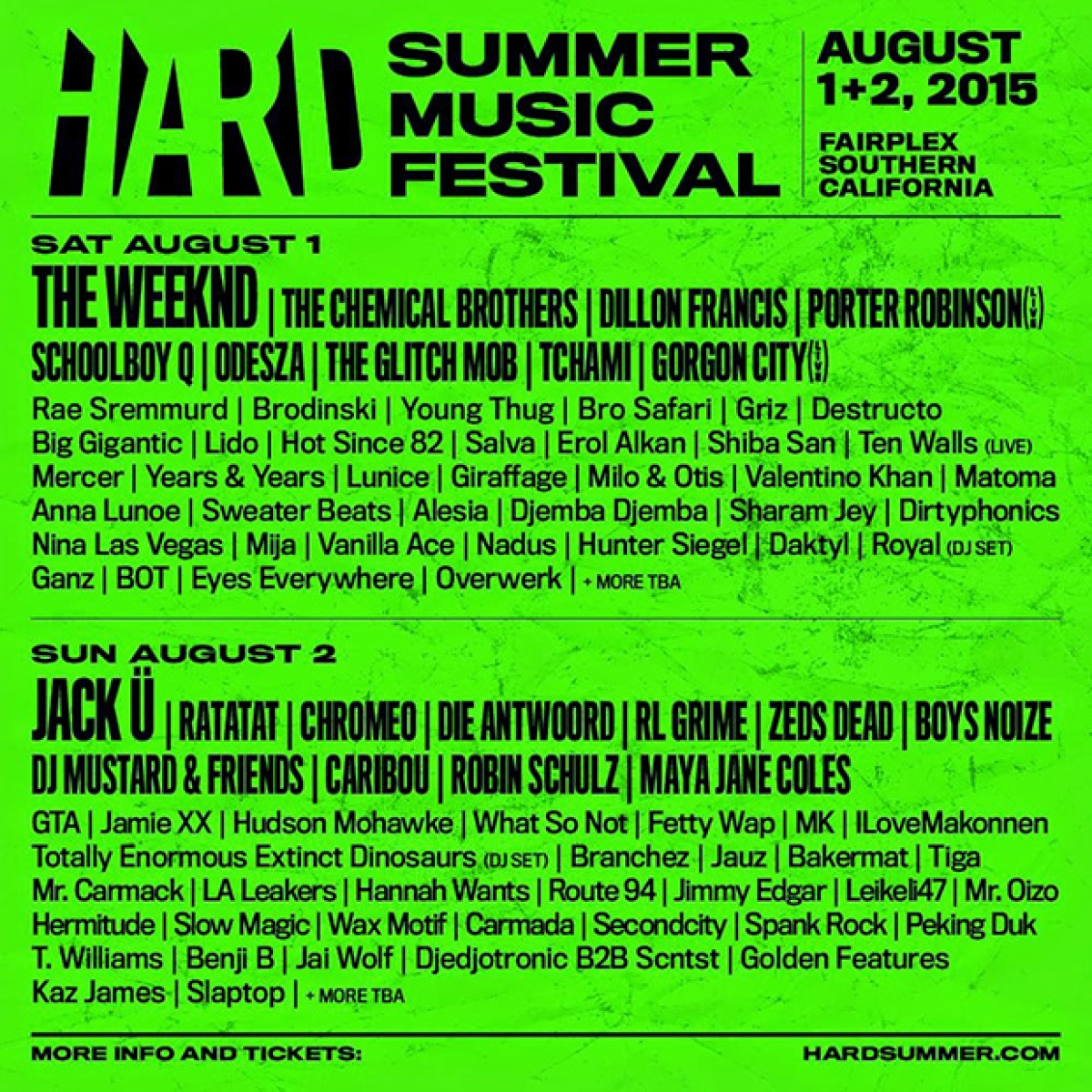 This year, HARD Summer boasts an impressive lineup featuring a wide array of talent across the entire spectrum of genres. Dance music headliners like Jack U and Dillon Francis are balanced with hip-hop acts like The Weeknd and Schoolboy Q, while the undercard features some of the hottest underground dance acts of the moment like Shiba San and Years & Years.
The only downside of HARD Summer's impressive lineup is the infinite choices and conflicts that it's left us, the festival-goers, but that's why we at EDM.com are here to help you determine who to see. It's nearly impossible to go wrong with such an amazing lineup, but here are 5 artists that you can't miss at HARD Summer:
1. Jamie XX
Jamie Smith, better known as Jamie XX, is the brilliant producer behind the indie-electronica project, The xx. After seeing tremendous success touring the world, Jamie has gone on to work with Drake on the title track of his album, Take Care, as well as with pop stars like Rihanna and Alicia Keys. Earlier in 2015, Jamie released two singles, "Loud Places," with his fellow The xx member, Romy Madley Croft, and "Gosh," which have gone on to become the cornerstones of his debut solo project, In Colour.
There's nothing in the world quite like Jamie xx's music, and his solo album is an eleven-track masterpiece that offers a glimpse into the talented musician's mind. His live show offers an unique blend of electronica with techno and tech house influences, and you don't want to miss his set at HARD Summer.
2. Anna Lunoe
Anna Lunoe is the queen of the land down under. The Australia-native has absolutely exploded within the last six months, and she's ready to make her mark on the American dance scene with her unique brand of booty-shaking, pop-influenced house music. Lunoe is coming off of a stellar appearance with Mija at the Mixmag Lab in Los Angeles, and her groove-driven, vocal-centric house jams are dance floor heaters that will have you dancing all night long without even realizing it.
HARD Summer will be Anna's second appearance at a HARD event, with Day of the Dead in 2014 being her debut. If the second time is anything like the first, her set will be one of the highlights of the weekend.
3. Dillon Francis
Dillon Francis is Los Angeles' hometown hero when it comes to dance music. His high-energy mix of moombahton, dubstep, and four-on-the-floor coupled with hilarious antics come together to form a one-of-a-kind brand for the producer. In October of 2014, Francis released his debut artist album, Money Sucks, Friends Rule, which allowed Francis to discover new soundscapes with his music and was met with an overwhelmingly positive response.
With a moombahton EP, titled This Mixtape Is Fire, featuring Skrillex, Calvin Harris, Chromeo, Bro Safari, and more on the way, 2015 is shaping up to be a monstrous year for the LA native, and he's looking to ride his momentum into HARD Summer.
4. Boys Noize
Boys Noize has been a HARD events fixture ever since 2008, where he made his debut at HARD Haunted Mansion. Since then, Alexander Ridha has gone on to star as one-half of the super duo Dog Blood with Skrillex, as well as start his own record label, Boys Noize Records.
Armed with his grimey acid house style, Boys Noize will be headlining and curating his very own stage at HARD Summer this year to celebrate the 10th Anniversary of Boys Noize Records. The acid house phenom will be taking the stage alongside TEED, Mr. Oizo, Tiga, and many more, on Sunday, for one of the best stages of the weekend.
5. Hot Since '82
If you're a fan of groove, then you don't want to miss Hot Since 82. Daley Padley has experienced a meteoric rise in popularity within the last few years as he offers a unique take on house with his dark, rhythmic style of music.
The last few months have witnessed Hot Since 82 turn his own event concept into fruition as he traveled around the world "kidnapping" fans for his TAKEN party concept. Lucky for you, you won't have to go anywhere to see Hot Since 82 at HARD Summer this summer, and this is a set you don't want to miss.
Follow HARD Presents...:
facebook.com/hardfest
twitter.com/HARDFEST
hardfest.com