Debut Chicago Festival Announces After-Parties, Transportation Options, And Official Mixtape
React Presents, the company responsible for Spring Awakening, North Coast, and Summer Set, has one more trick up its sleeve this summer. Next weekend they will be kicking off the inaugural year of Mamby on the Beach with headliners Empire of the Sun and Passion Pit, as well as the Midwest debut of ZHU!
Mamby is a new electronic music festival featuring a lineup filled with offbeat electronic music that mostly veers away from many of the mainstream names you see listed everywhere else. Set to take place on Oakwood Beach in Chicago, Mamby is expected to deliver great vibes and fun in the sun with the perfect soundtrack to your summer.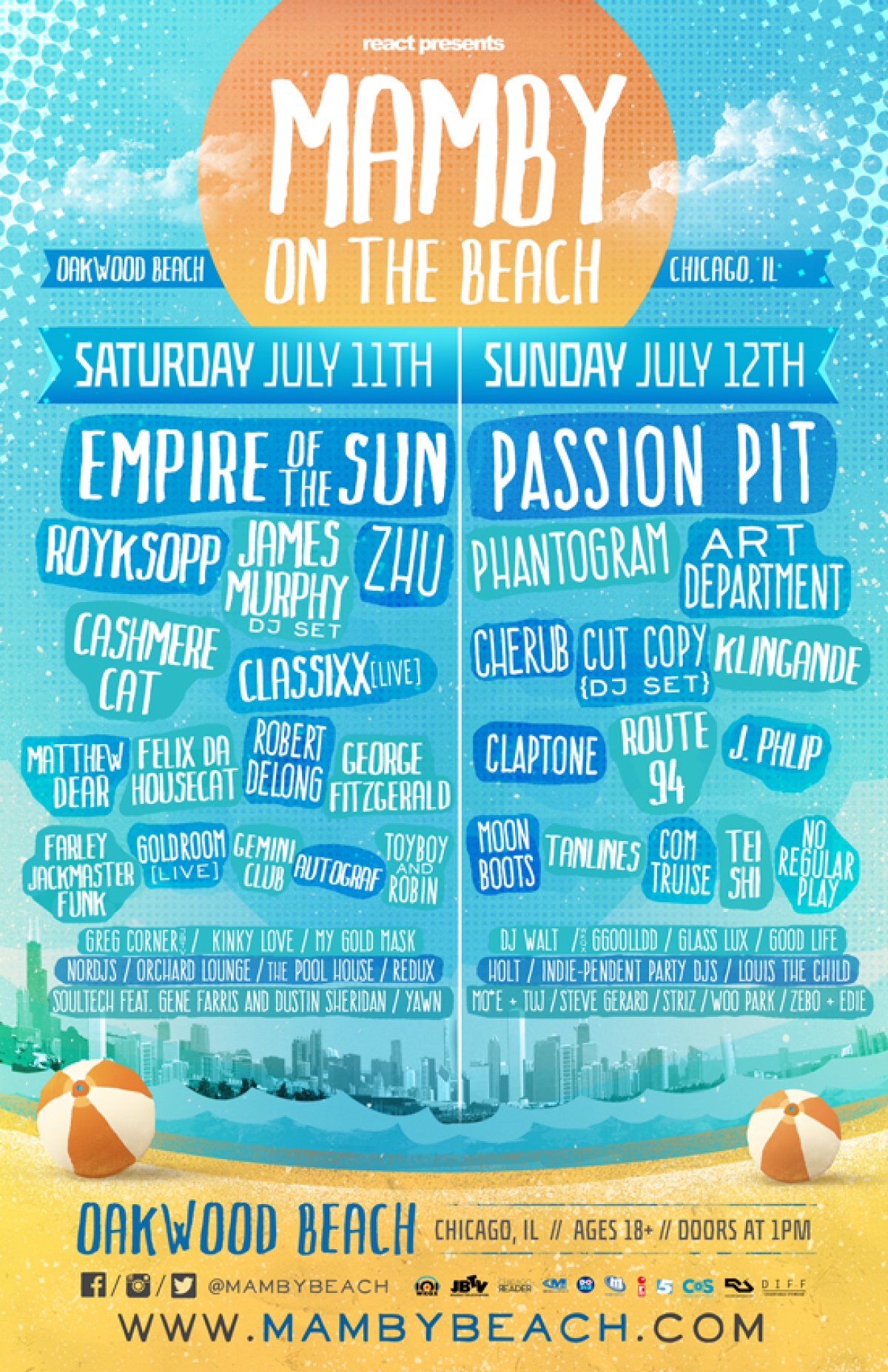 The festival is also set to feature a huge variety of after parties throughout Chicago on both Saturday and Sunday. These shows have limited availability, and will feature the likes of Goldroom, Felix Da Housecat, Art Department, and more! You can see the full list of after parties here.
Clear your schedules folks, because next weekend is going to be a party in Chicago. Whether you are driving, biking, or taking the train, Mamby on the Beach is ready for your arrival. Make sure to check out your transportation options to make getting to the festival a breeze and grab the official Mamby on the Beach mixtape to make your ride to the beach even more memorable.
TRACKLIST:
Phantogram - Fall In Love ( Bolivard Remix)
CHRVCHES - The Mother We Share (Moonboots Remix)
LCD Soundsystem - Dance Yrself Clean
Passion Pit - Little Secrets
Robert DeLong - Acid Rain
Empire of The Sun - Alive
Cherub - <3
Gemini Club - Fret And Regret
Tanlines - All Of Me
Cut Copy - Lights and Music
It's not often you get to witness the birth of a festival – will we see you there?
Follow Mamby on the Beach:
mambybeach.com
facebook.com/mambybeach
twitter.com/mambybeach
instagram.com/mambybeach