Has EDM Been Doing Festival Season All Wrong? [Opinion Poll]
Are EDM festival lineups growing to be monotonous? We compared the lineups of 26 popular North American festivals in 2015 and found that a similar cast continuously reappeared, although not always in the headliner slots.
The complete list of festivals analyzed:
1. Lollapalooza (CHI) 2. Camp Bisco 3. Moonrise 4. Electric Adventure (NJ) 5. CounterPoint 6. Coachella 7. Dancefestopia 8. Electric Forest 9. Firefly 10. Paradiso 11. EDC NY 12. EDC LV 13. Ultra 14. Summer Set 15. Nocturnal Wonderland 16. Mysteryland USA 17. HARD Summer 18. Ile Soniq 19. Spring Awakening 20. Sunset Music Festival 21. Electric Zoo 22. TomorrowWorld 23. Sun City Music Festival 24. North Coast 25. Global Dance (Red Rocks) 26. Shambhala
There is a three month period at the beginning of every year that EDM journalists love to loathe. For weeks on end, we experience an onslaught of festival lineup announcements, and writers churn out monotonous articles praising each festival as the mecca of musical mayhem.
Right about the time the Ultra lineup is released, EDM newsrooms (and basements) lose the ability to distinguish one announcement from the next and writers are stamping out the Zedd, Porter Robinson and Martin Garrix pattern like a DJ typewriter that only has 10 keys. It is true, many festival lineups are eerily similar, and the acknowledgement of this begs the question: Is there a more efficient way to experience festival season?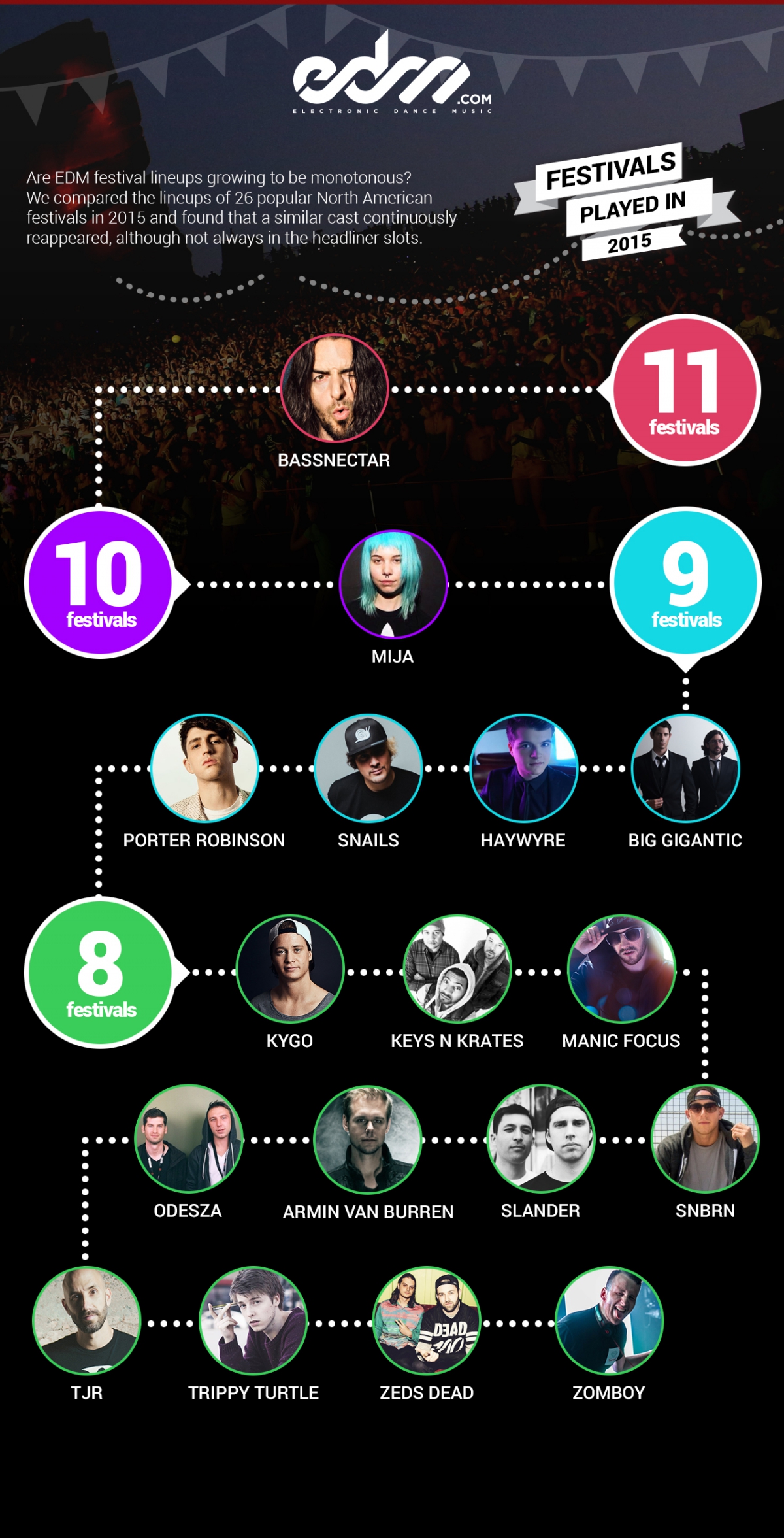 We took a look at 26 different festivals, cross referenced 451 artists and found that despite being very similar, the semblance comes from the undercard and not the headliners. If you go to a festival this summer, there is a 42% chance that you will see Bassnectar and a 38% chance you'll see OWSLA's rising star, Mija. The curious thing about these findings is neither of these artists relate to the mainstream EDM culture. In fact, Bassnectar has been quoted stating, "I know I'm a DJ, and I love the nineties rave scene in the nineties, but I do identify more with bands than EDM. I have no interest in EDM."
In the second tier of frequent festival-flyers, the 9 out of 26 festivals group, Big Gigantic, Haywyre and Snails stand tall. It isn't until the third tier (8 out of 26 festivals) do EDM mainstays such as Armin Van Buuren, Kygo and Porter Robinson show up.
Sure, there are many variables that go into festival bookings including the effectiveness of the booking agent, availability and music release conflicts, so this study was not conducted to incite competition, but as a cross section of the composition of lineups.
So what can we do with this information? Well, considering EDM fans travel great distances and spend hundreds, if not thousands, of hard-earned dollars attending such events only to end up seeing the same artists perform, there might be a localized solution. Electric Daisy Carnival (Las Vegas & New York), Mad Decent (Block Party) and OWSLA (Full Flex) have already planted the seeds of an evolutionary festival season by bringing one lineup (or at least a similiar lineup) to several cities. Out of the 71 artists that played EDC NY, only 20 of them didn't reappear on the EDC LV lineup, which makes it hardly worth attending both events.
As North America's longest-running touring music festival, Van's Warped Tour exemplifies this structure by bringing low ticket prices to over 40 different venues each year. The three-month tour hosts over 100 artists per date, which are spread across five or more stages. As a one day event, the production value is limited, however, this has not deterred Kevin Lyman, Warped Tour's Founder, from exceeding expectations in the rock community.
If a tour-style festival model were adopted, EDM fans might display disappointment at the loss of their beloved three-day festivals, but massive tours would actually spread out the festivals to three one-day events that would take place over several months. SFX (TomorrowWorld), Insomniac (Electric Daisy Carnival) and Ultra Music Festival are already competing against exorbitant DJ fees and we all foot the bill. What if, instead of traveling to Atlanta, Vegas or Miami each year, all three festivals came to your city over the course of three months?
The crowds would be drastically scaled down, ticket prices would decrease dramatically, and there would be less pressure for kids to risk their health by "supplementing" their experience in order to fight the exhaustion that comes with dancing for 72-hours straight. Consider this: Warped Tour sells tickets for $38.50 and hosts multi-member bands while EDM festivals fly in one-person acts with their USB sticks and cost hundreds of dollars per ticket.
Of course implementing three unique coast-to-coast touring EDM festivals is easier-said-than-done, especially when celebrity DJs are charging up to half a million dollars per show, but with so many festivals racing to the middle, it will only take one promoter to flip the script and forever change how we experience festival season.
Which would you prefer? Several localized one-day festivals with completely unique lineups or destination-based three-day festivals?