10 Of Deadmau5's Craziest Twitter Feuds With Other EDM Artists
There are few months in the year in which Joel Zimmerman aka deadmau5 is able to steer clear of a Twitter-based feud. The incredibly outspoken and sometimes scoff-ish DJ and producer has made a name for himself not only as a musician but also as "the king of the trolling," and there is literally no one who can escape his wrath.
The producer's biggest arguments have continuously been with other major artists throughout the scene. We've collected 10 instances in which he really took a jab at the industry's biggest acts. Check out 10 of deadmau5's biggest Twitter feuds...
1. Deadmau5 vs. Tiësto
Remember when deadmau5 closed out Ultra as a replacement for Avicii, who at the time was recovering from "health issues" in a hospital? Well after the performance, Tiësto came in to defend the Swedish artist, believing that deadmau5's "tribute" was purely sarcastic and ill-humored. What resulted was an onslaught of cyberslaps from the mau5 that swiftly ended the conversation:
2. Deadmau5 vs. Arcade Fire
Back at Coachella in 2014, Win Butler of Arcade Fire made an interesting shout-out to "all of the bands playing instruments this weekend," undoubtedly taking a stab at the computer-driven performances by DJs at the festival. Deadmau5 had more than a few things to say on the matter, and he delivered them with little mercy and even less remorse:
3. Deadmau5 vs. Afrojack
It's been apparent for years that these two famed DJs don't see eye-to-eye on a lot of matters, but when Zimmerman lashed out his car-related frustration directly at the Dutch producer, it seemed to be the final straw in their relationship: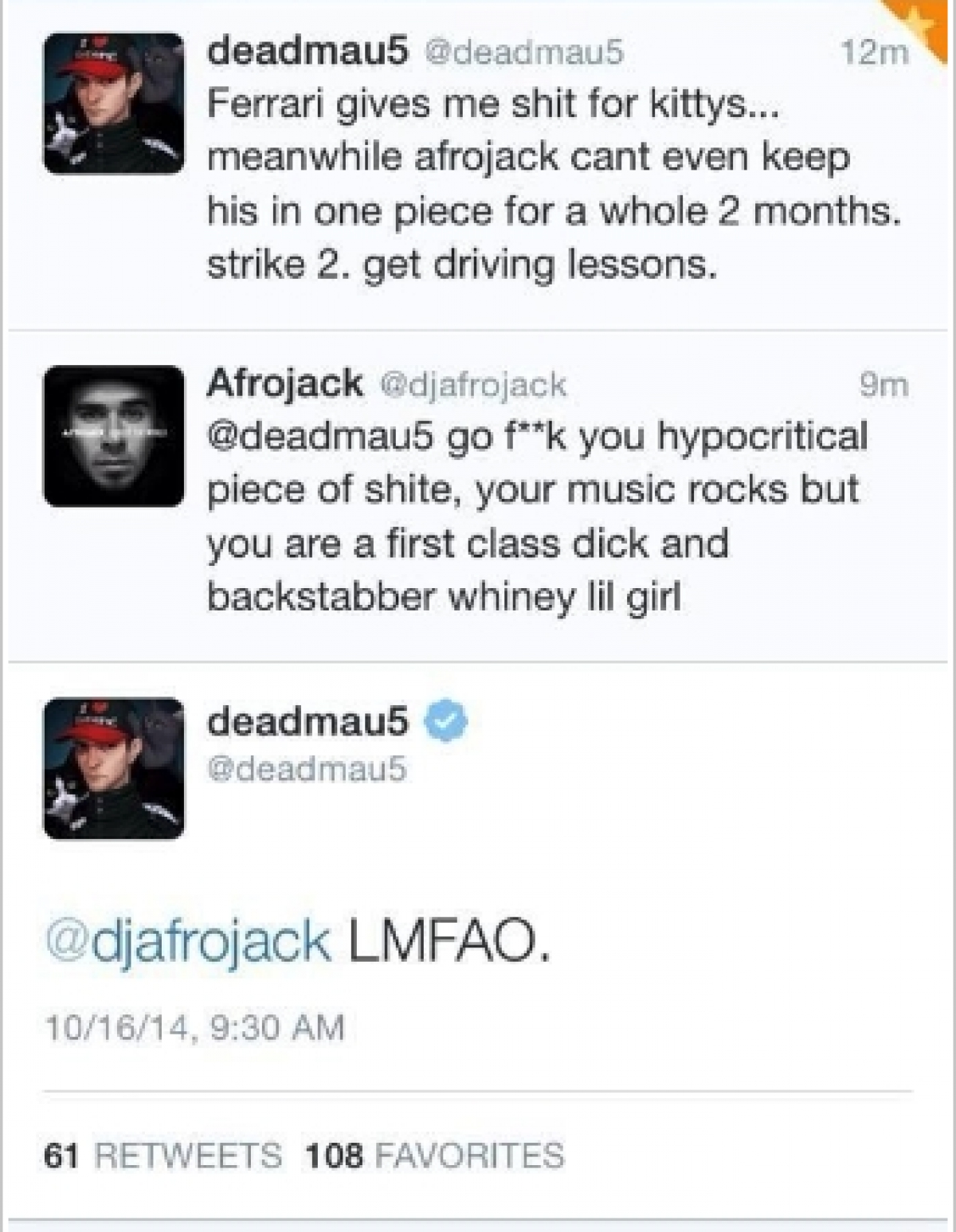 4. Deadmau5 vs. Armin van Buuren
Deadmau5 and Armin van Buuren got into a debacle last summer when Zimmerman delivered a low blow to the renowned A State of Trance event. Although Zimmerman had little-to-no authority in the trance community, his comments sparked enough controversy to merit a response from the trance icon, which also was not received favorably:
5. Deadmau5 vs. Avicii's Manager Ash Pournouri
Steve Angello is known for dropping inspirational quotes every once and a while, but none of them have received such a profound response from deadmau5 as his conversation involving Ash Pournouri, Avicii's manager. Ash brought up a valid point on the subject of integrity in one's career, but it also served as the perfect platform for the Canadian DJ to challenge his motives:
6. Deadmau5 vs. Porter Robinson
Story Nightclub is one of the most popular and renowned clubs in Miami, and they routinely pack the house with EDM megastars thanks to their world-class Infinite Hybrid sound system. Porter Robinson was particularly excited to perform there in January of 2014, although it wasn't long before the harbinger of bad vibes gave his two cents on the subject:
7. Deadmau5 vs. Ricardo Villalobos
The eternal feud between underground artists and mainstream artists was at an all-time high when deadmau5 was called out by Ricardo Villalobos on his set at Ultra 2014. Even despite closing out the festival, the renowned techno DJ felt some personal agnst towards the "problem-free set" the Canadian DJ delivered at the massive festival. Not sure who really won this argument, but Villalobos definitely had some harsh words to say: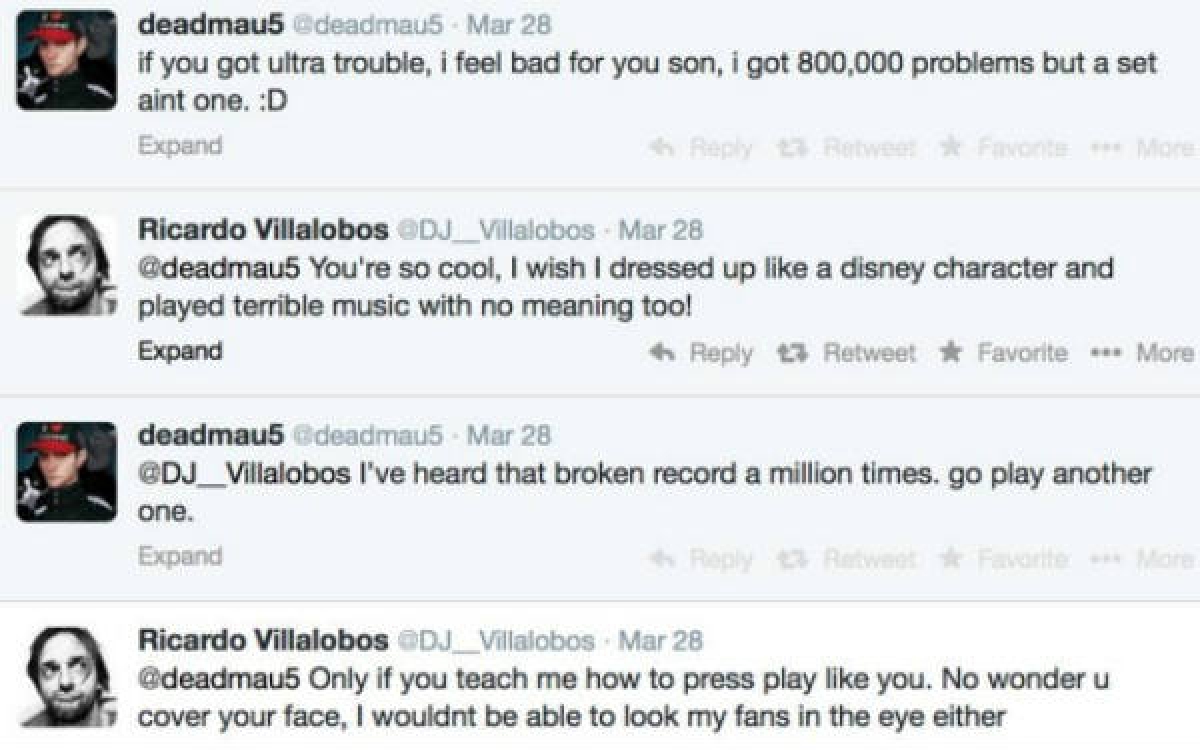 8. Deadmau5 vs. Wildstylez
If you rip a track, deadmau5 will call you out. No matter the circumstances, the king of the trolls has found a way to "expose" a handful of DJs and producers on their copy/paste styles. Whether Wildstylez truly ripped their "Straightforward" track off another producer is uncertain, but deadmau5 felt pretty inclined to put the spotlight on them for their actions:
9. Deadmau5 vs. Pauly D
Pauly D set himself up for quite a slaying after calling out the Canadian producer for seeing his album 4x4=12 in the clearance section at a record store. Deadmau5 came in guns blazing with his response, calling out not only the Jersey Shore character's production skill but his acting career as well:
10. Deadmau5 vs. Krewella
These two have gone back and forth more than a few times in the last few years, however their dispute on Krewella's "live" performance received the most attention in the blogosphere. After seeing a picture of the duo seemingly performing on cable-free CDJs, deadmau5 had more than a few things to say to the girls, both respectful and a bit over-the-line: