The Secrets To Building A Successful Music Career With Renman & EDM.com
Steve Rennie, aka Renman, is a legend. He's the talent manager most famous for taking on Incubus in its earliest days and turning the California rock band into a multi-platinum, global success, in addition to leaving prominent marks as a concert promoter and record executive. After 30 years in the music business, Renman continues to influence and impact the industry now also as an entrepreneur and founder of Renman Music and Business (RenmanMB) and RENmanagement.
Watching and listening to Renman speak is like hearing a passionate professor go off on an epiphany-filled rant crossed with your riled-up, dirty-mouthed friend. With unrivaled experience and perspective, this guy is insightful... but also just plain, fucking awesome and downright entertaining.
Our team here at EDM.com had the great honor of seeing our co-founder and CEO Ethan Baer appear as a guest on Renman Live on August 19. As the 114th Renman Live broadcast, Renman hosted Baer to talk about how he and his team took a little passion for music, specifically EDM, and turned it into a business and to discuss how EDM.com can help aspiring electronic artists.
During their discussion, Renman and Baer talk about everything from the building of EDM.com and how the company operates today to what makes a track successful and the shift of industry power from labels to artists due to the rise of digital music and the streaming era. Here's a look at some of the specific questions Renman and Baer tackle together during the show as well as how far in each one appears for those looking to skip around:

How did Ethan Baer, co-founder and CEO of EDM.com, get started? [6:20]
How long has it taken EDM.com to become the big site it is today? [9:50]
How did Baer and partner, co-founder and CFO Jason Muir, acquire the EDM.com domain? [10:25]
What are the thoughts on the current radio promotion tactics some labels use today? [Caller question 15:38]
Did EDM.com find financial backing early on? Did being in a niche market help? [21:00]
How does EDM.com determine what artists get featured and how are they found? [30:41]
How can someone apply to do A&R for EDM.com? [34:48]
What are the thoughts on the monetization of digital music? [37:12]
How artists can use the EDM.com platform to generate interest? [42:42]
With the rise of UKF and Monstercat, what are some ways EDM.com tries to be different from the competitive? [46:45]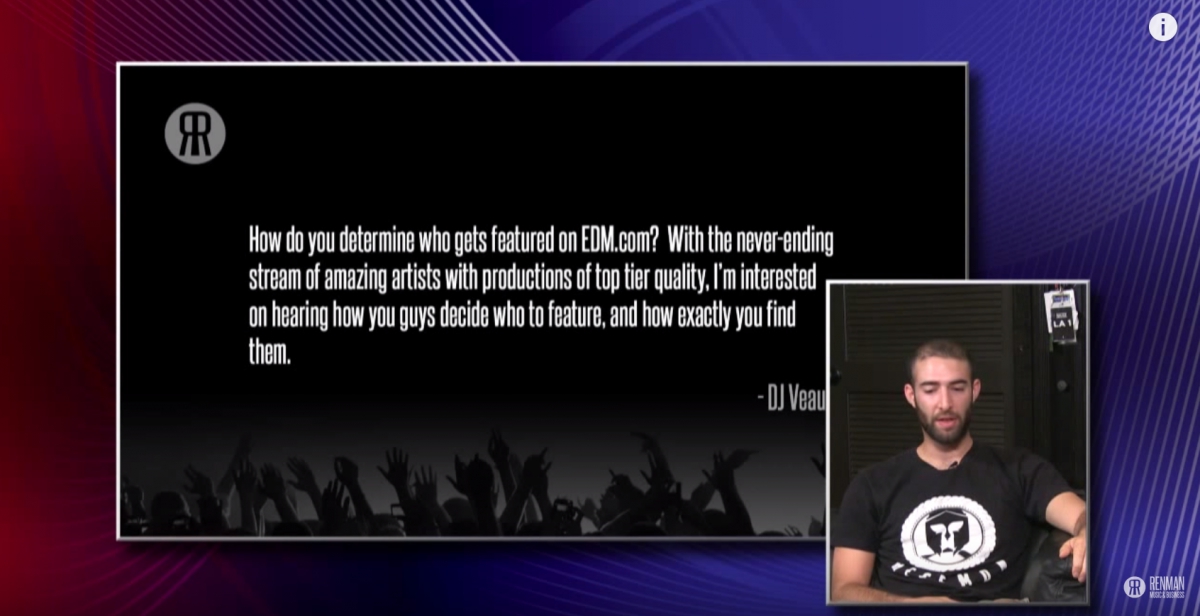 Renman and Baer's conversation leads them to address the popular artist question of "How do I know if my music's good enough?" to which Rennie takes the opportunity to play one of his lessons from his Renman U Insider's Guide To Today's Music Business, which offers over 600 videos and live shows overflowing with invaluable explanations, guidance, advice, case studies and more.
Below are the two versions of Renman U that are available to musicians and business persons as well as highly recommended if you are really serious about making moves in the music industry.