Imagine Music Festival Set A New Standard For Inner City Festivals
Maybe it was the great weather plus a little bit of southern hospitality, or maybe it was just a sign of the future for festival life, but one thing is certain: Glenn Goodhand and his Iris crew did Imagine Music Festival the right way. Timing it a week before Dragon Con was smart because it allowed Georgia to buzz with creative energy for two straight weekends, attracting even more people to Atlanta. The lineup looked inticing from the get go: a fine-tuned fusion of popular heavy hitters and rare gems from across the EDM spectrum. Separated into four environments, Oceana was at the center of the Masquerade Music Park, a grass-covered clearing where The Glitch Mob and Dada Life rocked out for a massive, claustrophobia-inducing crowd. Chromeo and GRiZ both stood out as the most innovative artists on the main stage, but Brillz, Terravita, and Morgan Paige drew the biggest audiences.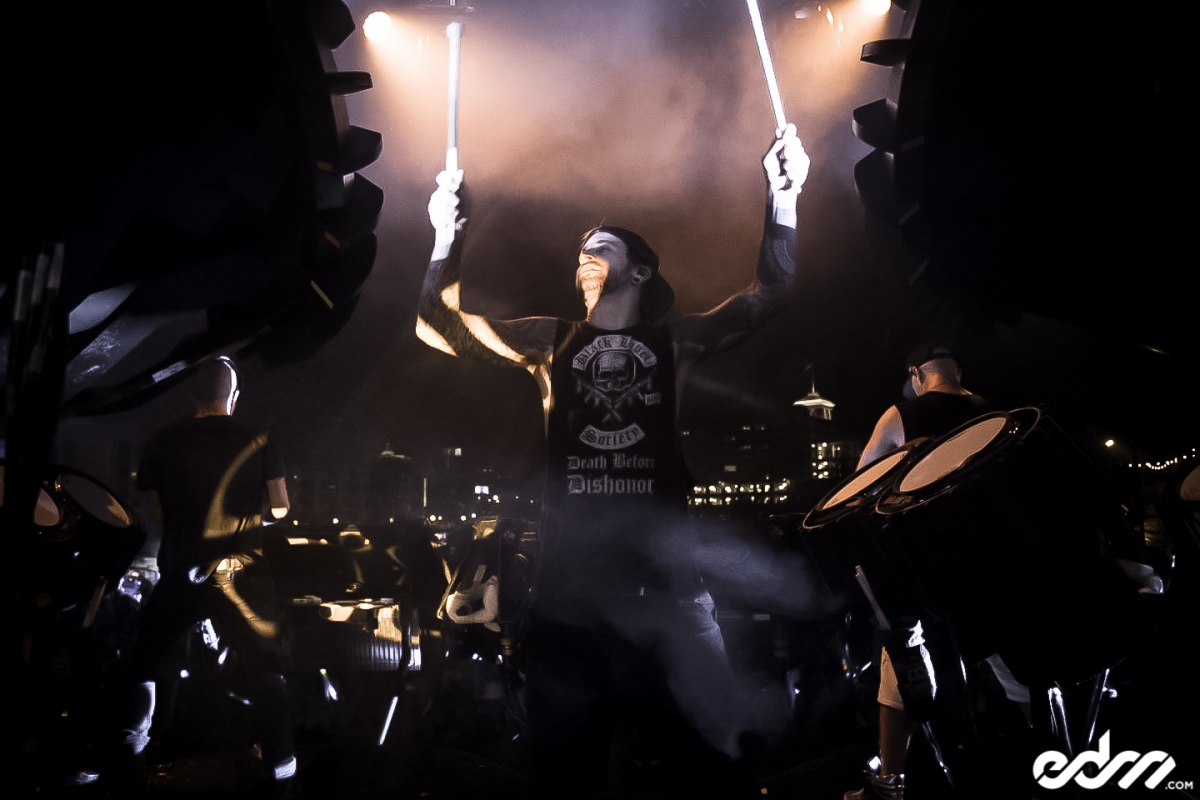 Amazonia, the second side stage, had an atmosphere similar to Wakarusa, and the bass had more impact in the sloped area behind the Masquerade. Deep dub and trap artists like G Jones, Shpongle, and BUKU all brought the heaviest aspects of their music library over the weekend. Tipper and Android Jones definitely had a vibe that set the tone for the rest of the festival, but nobody had a better performance than Ape Drums. His set was straight up sexy moombahton/trap, and the crowd got lit with every transition. Check out his Diplo & Friends mix if you're having trouble thinking about what to play when you want to get a party going:
Despite the chaos that was going on at the main stages, patrons could relax and enjoy Ember's yoga circle on top of the Imaginarium amphitheater. Local and touring acts like Exit 9 and Black Sun Empire played the rounded stage and inside the Masquerade's Purgatory stage. There were so many attractions at Imagine that it felt a bit overwhelming at times. Tents filled with vendors formed a street fair beside several live painters that spent the weekend creating 10'x10' masterpieces. As the dancers and acrobats entertained the crowd with their colorful clothing and painted faces, and as a transgender with the white braids and black stiletto heels strutted past a family dressed as 'Where's Waldo' characters, it became very clear to me that anything goes at a place like this as long as there is mutual respect.
Attending Imagine was a fantastic experience for a thousand and one reasons, but the most impressive aspect of the festival was the audience. Having three stages within walking distance of each other offered the perfect blend of hippie and bro culture. Everything from the contrasting lineup of Papadosio and Datsik to the format of the two main stages culminated in a fusion of worlds that felt comfortable and at home. Total immersion occurred from both sides, and that is what needs to happen at music festivals across America for EDM as a whole to succeed.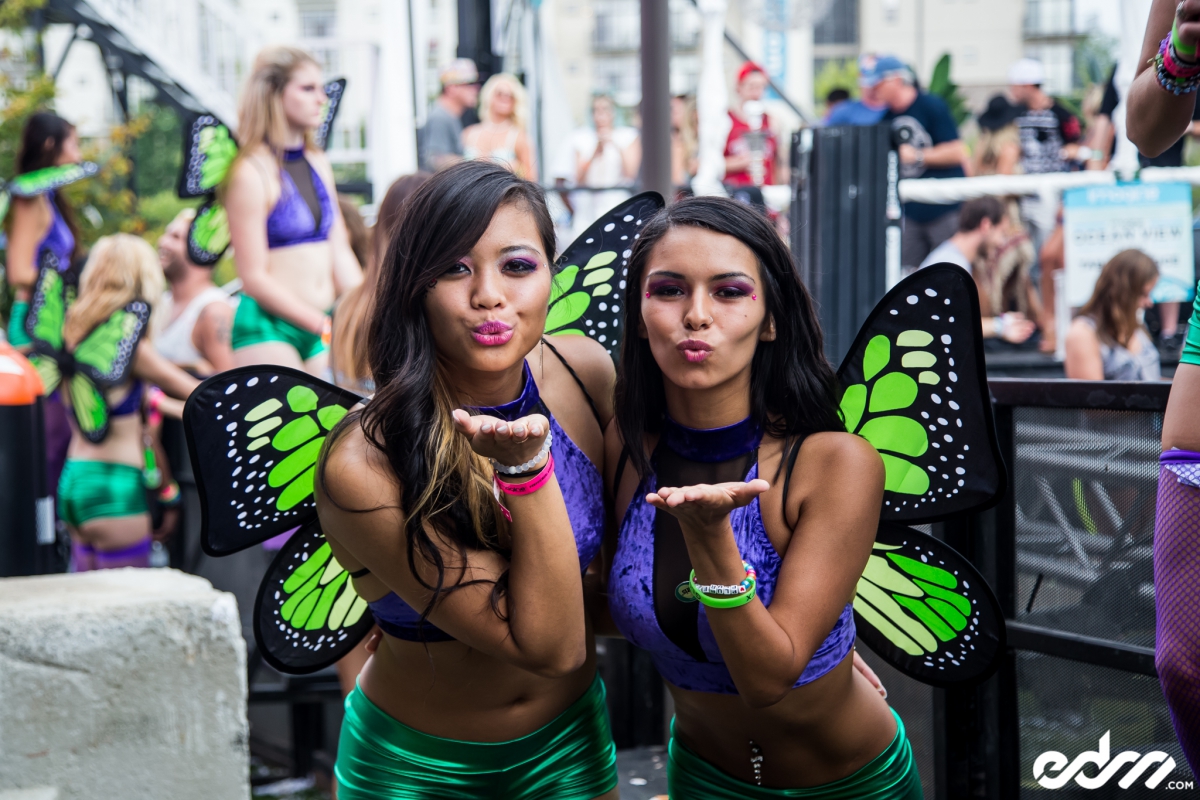 Now that electronic music is being recognized on the Grammy-level and popular television like MTV and VH1 are playing music that is heavily influenced by innovative electronic artists, the public eye is on our industry. You see, the Grammy's have only featured awards for electronic and dance music since 2005. EDM in the mainstream eye is only 10 years old. If people within EDM are representing good qualities and respecting each other, it will entice outsiders to take heed and follow suit. Not everyone who goes to a music festival will really "get it," but sifting through the masses to find the coolest, most influential individuals from multiple social spheres is what cultivating "the it" crowd is all about.
In a previous article that I wrote for EDM.com, I remarked on the immersion of bros into the festival scene and how the side effects of this integration spawned a rise in Facebook and Twitter beef. In the article, I accused this new wave of neon visor sporting, "Party with Sluts" shirt wearing, pseudo-ravers of being imposters. I practically told these people that they peaked in high school, so have fun at your fraternity party. A couple thousand people checked it out. Some of them even had it out in the comments section. Consider the pot stirred.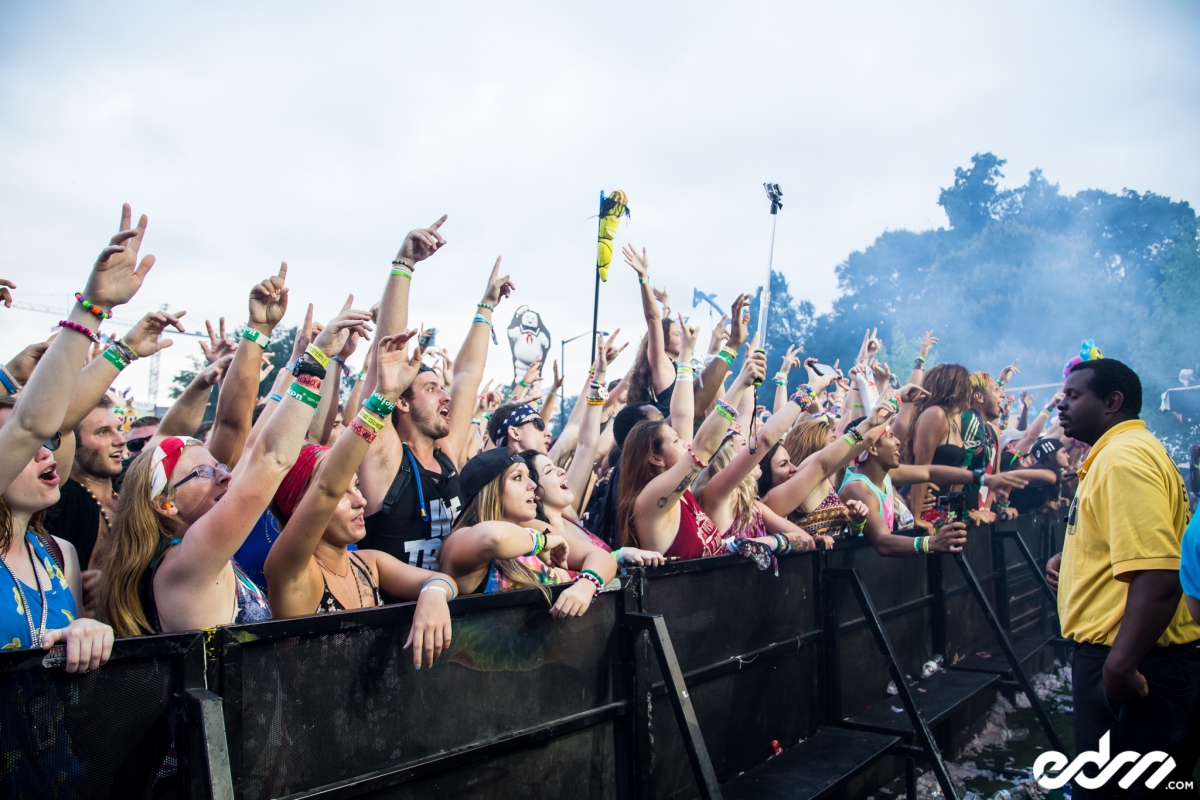 Now those of you who made it to the end of that article might have noticed that we bolded a couple of words in the second to last paragraph: The 10 Principles of Burning Man and Radical Inclusion. The first is a list of guidelines on how to conduct one's self at music and arts festivals, radical inclusion being one of the most important principles. No Exceptions. Part of the reason that Imagine festival was so delightful is because everybody was getting along. Cohabitation of conflicting social spheres is what Radical Inclusion is all about because within the center of that Venn Diagram exists the potential for an electronic music revolution.
Photos: Alex White Photography
facebook.com/PhotographyAlexWhite
twitter.com/tu_alexx
instagram.com/tu_alex
Follow: Imagine Music Festival
facebook.com/imaginemusicfestival
twitter.com/imaginemusicfes
imaginefestival.com