Brillz Is Teaming Up With Party Favor, Jackal & 10 More For HUGE Tour
Brillz has announced a massive upcoming tour with onefeaturing more than 40 stops and co-headliner Party Favor along with a total of 11 supporting acts including Jackal, DOTCOM, Ghastly, Party Thieves, Dr. Fresch and many more. Dubbed the Twonk Di Nation tour, Brillz will kick off the epic string of shows November 18 in New York.
You can check out the full lineup below...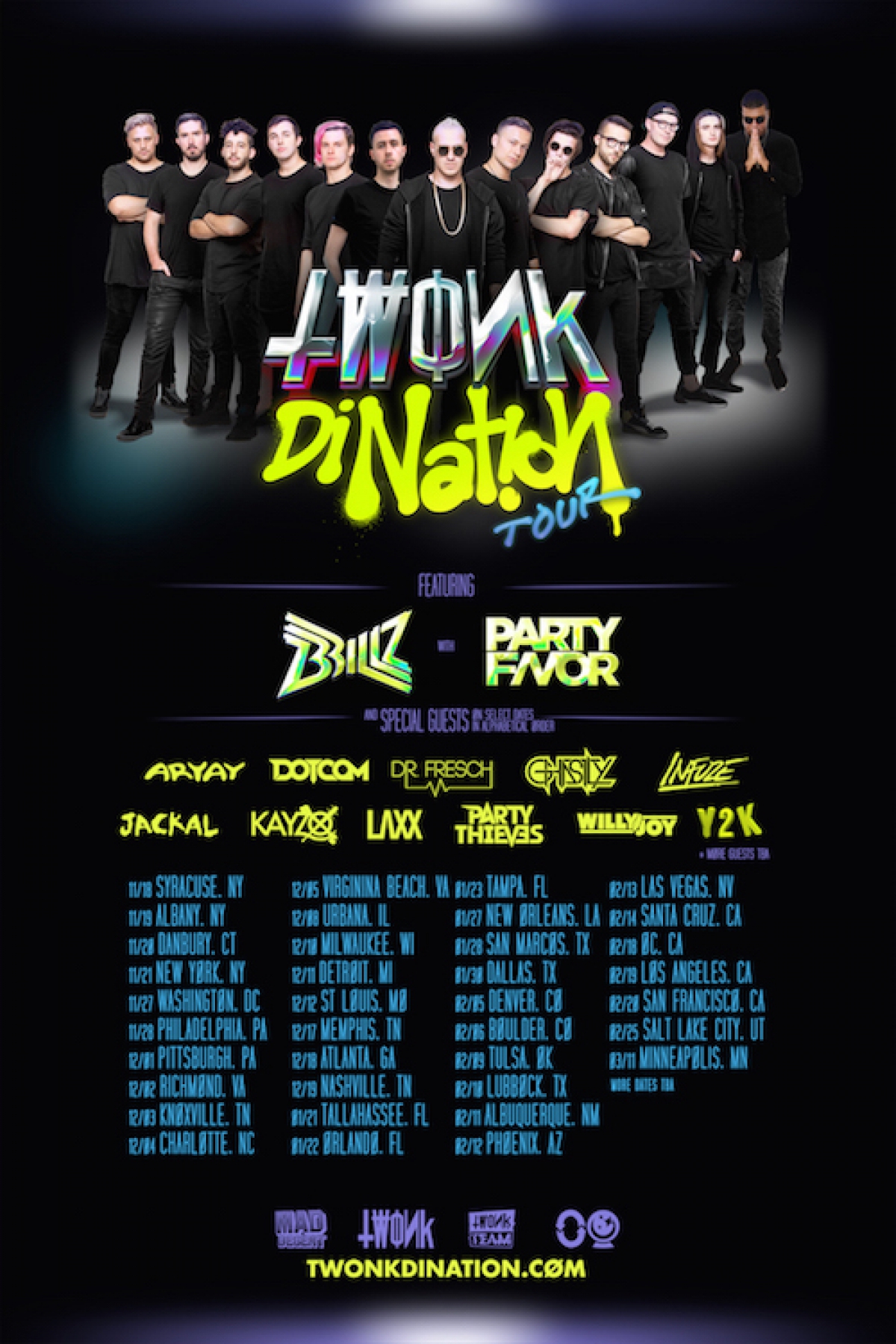 The tour will travel from coast to coast, showcasing Brillz' material for an upcoming release on Diplo's Mad Decent. Brillz will be unleasing his signature twonk brand of chopped up vocals and hard-hitting trap beats along the tour in stops like Las Vegas, Los Angeles and Boulder. Check out the full list of tour dates below:
TWONK Di NATION TOUR DATES
11/18 SYRACUSE, NY WESTCOTT THEATER
11/19 ALBANY, NY UPSTATE CONCERT HALL
11/20 DANBURY, CT TUXEDO JUNCTION
11/21 NEW YORK, NY WEBSTER HALL
11/27 WASHINGTON DC 930 CLUB
11/28 PHILADELPHIA, PA SOUNDGARDEN HALL
12/1 PITTSBURGH, PA REX THEATER
12/2 RICHMOND, VA THE BROADBERRY
12/3 KNOXVILLE, TN THE INTERNATIONAL
12/4 CHARLOTTE, NC FILLMORE
12/5 VIRGINIA BEACH, VA PEABODYS
12/8 URBANA, IL CANOPY CLUB
12/10 MILWAUKEE, WI MIRAMAR
12/11 DETROIT, MI ELEKTRICITY
12/12 ST. LOUIS, MO OLD ROCK HOUSE
12/17 MEMPHIS, TN NEW DAISY THEATER
12/18 ATLANTA, GA OPERA NIGHTCLUB
12/19 NASHVILLE, TN LIMELIGHT
1/21 TALLAHASSEE, FL COLISEUM
1/22 ORLANDO, FL FIRESTONE
1/23 TAMPA, FL AMPHITHEATRE
1/27 NEW ORLEANS, LA REPUBLIC
1/28 SAN MARCOS, TX THE MARC
1/30 DALLAS, TX LIZARD LOUNGE
2/5 DENVER, CO THE OGDEN
2/6 BOULDER, CO BOULDER THEATRE
2/9 TULSA, OK CAIN'S BALLROOM
2/10 LUBBOCK, TX HEAVEN
2/11 ALBUQUERQUE, NM EL REY
2/13 LAS VEGAS, NV HARD ROCK
2/14 SANTA CRUZ, CA THE CATALYST
2/18 SANTA ANA, CA YOST
2/19 LOS ANGELES, CA FONDA THEATRE
2/20 SAN FRANCISCO, CA REGENCY BALLROOM
2/25 SALT LAKE CITY, UT Sky SLC
3/11 MINNEAPOLIS, NM SKYWAY THEATRE

You can head here to purchase tickets for the Twonk Di Nation tour.