Point Blank Presents: Breaking Into EDM [Ep. 003 - Dirt Monkey]
EDM.com has once again teamed up with the award-winning Point Blank Music School to present Breaking Into EDM: where your favorite artists and industry-insiders share words of wisdom, tips of the trade, and personal stories of making it and breaking it.
In today's installment, we hear from Kairos Audio co-founder, Pantheon Collective member, and EDM.com favorite: Dirt Monkey. Fresh off the release of his most recent track "Lemme See" (a booty-bouncing collab with up-and-comer Filthy Disco), the Colorado-based producer talks priorities, inspiration, and his biggest influences.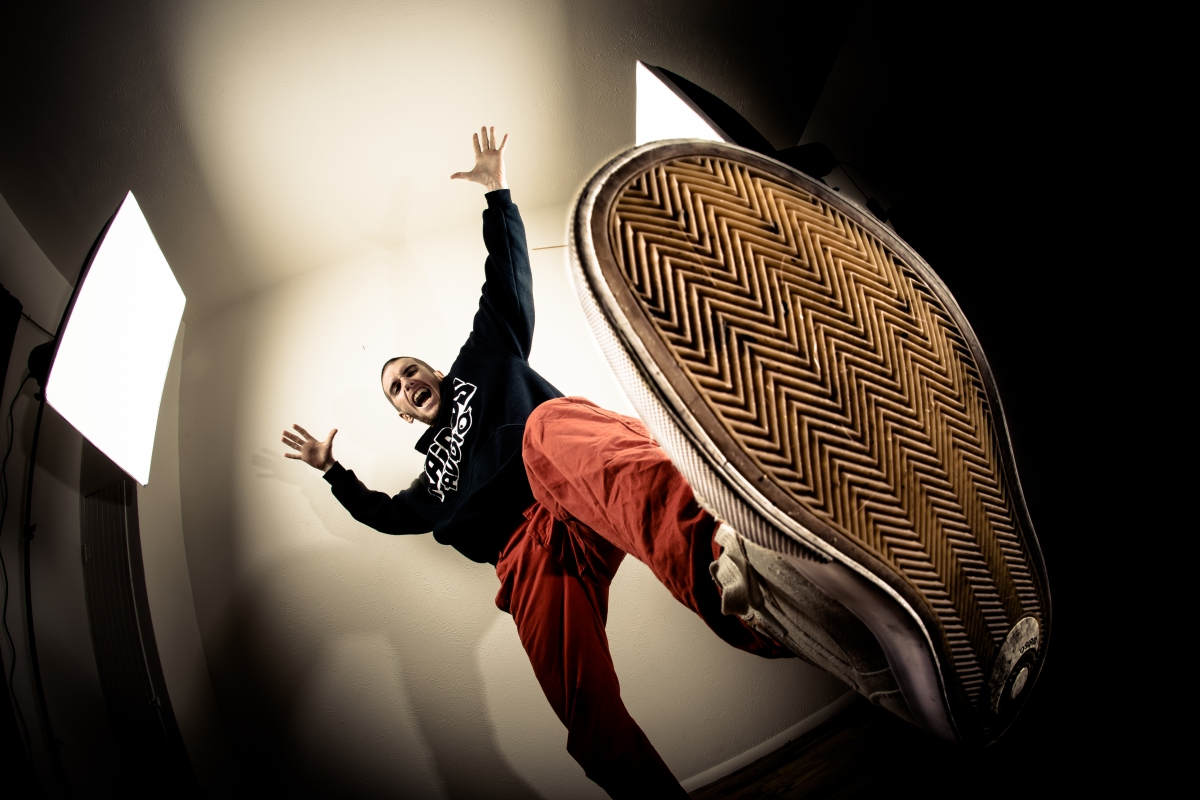 EDM.com & Point Blank - Who have been the most influential people in your music career thus far?
"There are tons to list here, but if I had to narrow it down to the two people that really helped propel my career to where it is now, those people would be Ishe and Reid Speed. Ishe was the first person to get my music into the hands of bigger DJs when I was still coming up as a local in the Boulder/Denver scene, which led to us releasing an EP and a full length album together on Reid's label, Play Me Records. That started my friendship with Reid and the Play Me crew, which then led to me releasing a bunch of stuff with them and coming out to LA to play shows, ride bikes, and eat tacos. If it weren't for that happening, I would definitely not be where I am now. It's super rare to meet people in the industry like Reid and the Play Me crew who are solid as fuck and care so much about furthering their artists' careers. In fact, that is a huge part of what gives me motivation to bring people up on Kairos Audio now."
EDM & PB - Speaking of Kairos, what was it like making the transition from artist to label-head?
"It wasn't really a transition as much as it was bringing on an additional job title. When Jantsen and I started Kairos Audio last year, I don't think we realized what it was going to turn into. What began as a means to release our own music on our own terms, along with music from up & coming producers that we wanted to push, turned into a crew & community kind of thing. We recently started forming our street team, which is basically a community/crew of all the people everywhere that are really into our vision of where we want music to go."
EDM & PB - What words of wisdom do you have for anyone interested in launching a record label?
"My advice to anyone launching their own label is to just do it. You have nothing to lose, and you will never find yourself waiting in line for months and months to maybe get your music released."

EDM & PB - Managing a 'normal job' and a rising music career can be difficult, before working as a full time producer/DJ, what were you doing?
"Before music I was working at rock climbing gyms, mostly doing route setting and occasionally working the front desk. I've been doing that since I was 13 and I'm 28 now, so I'm kinda about that life I guess. The transition from day job to music was really easy for me because my day job was/is (I still work 1 day a month route setting) really fun and very physical."
EDM & PB - What tips would you give an aspiring producer on balancing their music career with work, social lives and other responsibilities?
"Well, everyone has a different situation. In my case, I made sure to keep the day job for as long as possible, until there was so much music stuff going on that I absolutely had to push that out of my life. Because of that, I was never really desperate to pay rent or too broke, which I think helped my overall attitude towards life too. As far as the other aspects of one's life and balancing them, it all just depends on how crazy you're willing to let yourself go, and what's important to you. For me, music has the same amount of priority in life as eating healthy, being outside in nature, and exercising. Having a balance between all of those is what provides me with inspiration for my music, and vice versa. Whenever I'm way in the zone and writing something really sick it gets me all pumped up to go on a run or go climb."
EDM & PB - What do you think it means to 'make it' as an artist? Do you consider yourself as having made it?
"I definitely have not made it, and don't think I ever will by my standards. That's kinda what keeps me hungry and motivated to keep pushing things. I bet if you asked the top artists if they've 'made it' most of them would say that they haven't. Even if you're making millions, selling out arenas, and all that. To me, saying that you've made it is almost like throwing in the towel and giving up the push."
EDM & PB - As many producers can attest to, it's not uncommon to find yourself stuck in a creative rut. Where do you usually find inspiration? What inspired your latest track 'Lemme See'?

"Most of my inspiration comes from shows actually. If shows have been really fun, and especially if I know that I have good shows ones coming up, I get on fire writing stuff. I think it's because I get more in tune with what everyone is really feeling and how they react to certain elements of songs. 'Lemme See' actually came together really easily. We just wanted to make a banger twerk tune, so I guess we just set ourselves up for it."
EDM & PB - What tips would you give a producer who's suffering from writer's block?
"Take a break. Don't try and force it. Go do fun things that aren't involved with music at all."
EDM & PB - 'Lemme See' is a collaboration between yourself and Filthy Disco, what was that collaborative process like?
"For that one we came up with all the ideas together in the studio and then sent stems back and forth to mix the song and hone everything in. That's usually my preferred method of collaborating. Doing a mix down is a one person at a time job I think. Coming up with ideas is way more fun when both people are together though. The type of creativity that happens when two people are working in the same room is very unique, and much different than the two people working remotely."
EDM & PB - What is the best piece of career advice you've ever received?
"Not to be in a rush to get anywhere. That's the one thing that I keep looking back to throughout this journey, and it becomes more and more true the more that things fall into place. I've had opportunities to get on certain 'big' agencies (not going to name names), and I'm extremely glad that I followed my gut and landed where I am now."
EDM & PB - And the worst piece of advice?
"When Ishe told me never to do additive EQing. Ha!"
EDM & PB - What tips would you give an aspiring producer/DJ on breaking into the scene?
"As a producer, try and make music that you think sounds better than the hottest tunes out right now. It's easier than you might think if you actually put in the work and hustle really hard to make good music. Also, don't base the type of music you make on trying to stay relevant. Just make what you are truly all about. People will be much more receptive to it because it's authentic, and you will draw the right kind of crowd. As far as getting yourself out there, talk to as many people as you can. Get your songs into the hands of well known DJs so they start playing them out. Go out to clubs, talk to promoters, play at house parties.. Just get in everyones face so they are forced to know about you."
---
Dirt Monkey's latest single 'Lemme See' with Filthy Disco is available now from Pantheon and the Artist Intelligence Agency! Stream above and grab your own copy here!
For more inside tips and expert advice on everything music industry, check out Point Blank Music School, with courses in London, Los Angeles and online. The award-winning electronic music school boasts former students including Claude VonStroke, Nicole Moudaber, AlunaGeorge, Plastician, and many more. Catch this week's production 'Quick Tip' below and head to their site to sample a course for free.