Bassnectar Got Called Out, and His Response Shows True Integrity
Bassnectar has built a cult-like fanbase that is beginning to rival the dedicated legions of fans for bands like Phish and The Grateful Dead.
And with good reason – he's an artist with a strong set of ethics.
Recently we wrote an article regarding Bassnectar's decision to launch The Bassnectar Art Exchange, a platform for fans to create and sell Bassnectar inspired merchandise. The program was developed in an attempt to cut profits for large-scale bootleggers while continuing to stimulate the creative community of 'nectar fans.
Shortly after, film maker Max Hattler accused Bassnectar – aka Lorin Ashton – of profiting off of visual animation in the producer's live performances. Which is ironic after the vehement statements made by Bassnectar regarding copyright infrigement with the launch of the art exchange.
In 2013 Ashton's team approached Hattler to commission his psychedelic animations in the DJ's live show. Although the two parties conversed on the subject no agreement was reached. Yet, Bassnectar continued to use the visual artists films after a Chicago based company Radio Edit AV replicated one of Hattler's crucial pieces and provided it to Ashton's team in a visual package. The replicated visual animation was then sampled in Bassnectar's live shows from 2013 until just recently. However, according to the film maker, the original work 1923 aka Heaven was also used in Bassnectar's live shows without permission from 2011-2012.

Hattler's original film for reference:
Bassnectar replied personally to the post in a respectful manner: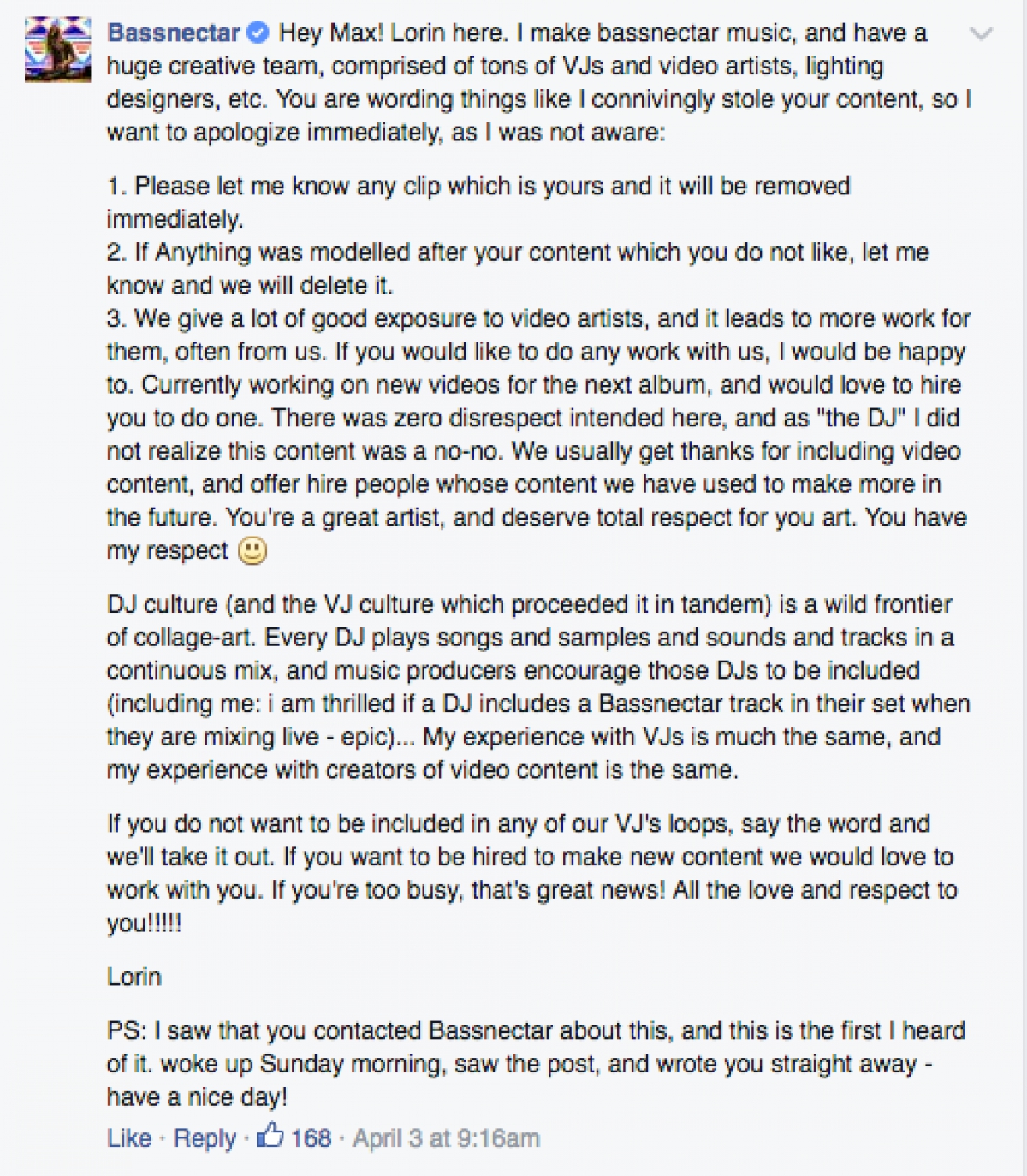 And in response:


Following the back and forth conversation between Ashton and Hattler, Bassnectar publicly took to Facebook to apologize for the unintended copyright infringement. His apology was directed to both Max Hattler personally as well as the bass king's dedicated fans.
After taking a hard-line stance on copyright infringement with the launch of The Bassnectar Art Exchange, it is expected that team members from the Bassnectar camp should publicly address the illegal use of Hattler's video. However, it is commendable for Ashton to take full accountability for his team's mistake without backpeddaling excuses. We salute Bassnectar for having the integrity to make things right for fans of both artists.