Point Blank Presents: Breaking Into EDM [Ep. 016 - Boombox Cartel]
EDM.com has once again teamed up with the award-winning Point Blank Music School to present Breaking Into EDM: where your favorite artists and industry-insiders share words of wisdom, tips of the trade, and personal stories of making it and breaking it.
This week we hear from rising LA-based act Boombox Cartel. With a brand new year ahead, the duo (real names Americo and Jorge) have already seen unrivaled success - from touring with trap stars Mayhem and Antiserum to releasing with Mad Decent and OWSLA, Boombox Cartel has been on fire. Read on to learn more about dance music's next power duo and make sure to keep an eye on them in the coming months, you definitely won't regret it.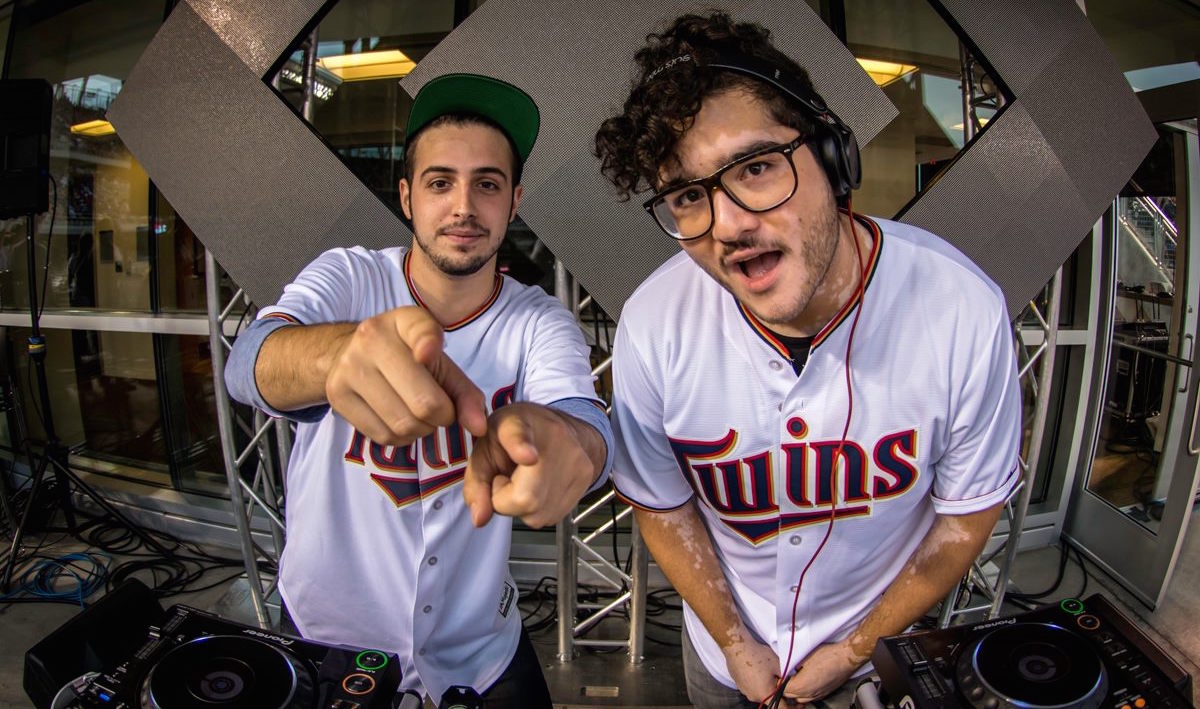 EDM.com & Point Blank: In three words how would you guys describe your sound/style?
"Energetic, Innovative, and I'd even throw Miscellaneous in there."

EDM & PB: What are each of your musical backgrounds like? How did you end up coming together to form Boombox Cartel?
Jorge: "My dad is an orchestra conductor so I was thrown into the whole classical world at a very early age. I started with piano classes at five-years-old and then changed over to guitar at 11 or 12. I did play the Tuba in band at 15, it was hilariously amazing (I actually killed it at tuba). I listened to everything growing up, from Tchaikovsky to As Blood Runs Black. From Backstreet Boys to Biggie. As a middle/high schooler I listened to a lot of post-hardcore stuff like Blessthefall, A Skylit Drive, Chiodos, Attack Attack! You get the idea. I'm not entirely sure when it was that I got into the electronic world but I started DJing when I was like 16, and at 17 I was playing at top '40s clubs down in Monterrey, MX. I started producing at 18 and then went to music school in Minnesota where Americo and I started Boombox Cartel. I was making Madeon-esque electro and somehow we clicked and started making music together and the rest is history!"
Americo: "I was very fortunate to get musical education at a young age, my mother would always sign me up to learn different instruments throughout the years as a child. I got to play in several rock bands as a drummer and synth programer in high school until the beginning of college where I decided to continue working on my production on Ableton Live. I went to school for computer technology and coding for two years then got to a point where I wanted to take my musical hobby to the next level. My father was really hard to convince about dropping out but I managed to cut a deal with him in exchange for good grades in music school. And that's when Jorge and I decided to follow the same dream in Minneapolis where we launched Boombox Cartel."

EDM & PB: So what is the Boombox Cartel dynamic like? Is one of you more of a 'frontman' than the other?
"We always try to balance it all out as far as the music production goes. Jorge does a lot of the writing and structure design and Americo takes care of the more technical stuff such as sound design, mixing and mastering. You might be asking about the frontman thing since Jorge hasn't been touring with Americo at all. Jorge is Mexican-born and as of the past few months the team has been in the process of getting his work visa - so until that's through he can't tour the US. Now, since he hasn't been able to travel, he has a lot more time to write music; practicing and learning a lot while Americo is flying out to shows."

EDM & PB: You guys have collabed with NGHTMRE, Bro Safari & more, is there anything in particular you look for when deciding what artists to work with? What's your collaboration workflow usually like?
"We're not very picky about who we work with, we're pretty much down to give it a shot with anybody. Finishing up the collaboration is what's tough! With NGHTMRE we sent him a WIP with the chords and stuff. He loved it and asked us to splice it over and we finished it in a few sessions. With Bro Safari we sent him a work in progress as well because we thought it sounded like something he would make and like. We spliced it over to him, bounced ideas back and forth and it was done in a matter of two to three weeks! Splice is beyond amazing!
EDM & PB: Who are your biggest inspirations? Why?
Jorge: "My biggest inspirations musically would be Skrillex, Diplo, and honestly pretty much anybody who makes good music. Everything is a learning opportunity and it's on you to decide whether you learn anything or not and apply it to your own craft. As a human, I gotta put Kanye up there, man. His mouth is always so full of truth. He recently gave a 40 minute talk at the Oxford Guild that had my mind blown."
Americo: "I get inspired by the people I hangout with and the places I travel to. You can find inspiration literally anywhere or with anyone. It's all about vibes!"
EDM & PB: At what point will you consider that you've 'made it' as an artist?
"Never. Getting too comfortable with the idea of achievement makes people feel conceited and that's where it all starts going downhill. We will always strive for bigger, better things. Always pushing forward."
EDM & PB: What tips would you give an aspiring artist on breaking into the scene?
"Be yourself and stop worrying. If you worry about what people think about you or your music you're gonna be stuck in a loophole of insecurities. Just do you. Don't take anything for granted, stop overthinking and please please for the love of Jesus Murphy do not pre-phase questions (Hey, can I ask you something?)."
EDM & PB: What is the best piece of career advice that you've ever received?
"Happiness is a choice you make. Everything else is a matter of perspective."
---
For more inside tips and expert advice on everything music industry, check out Point Blank Music School, with courses in London, Los Angeles and online. The award-winning electronic music school boasts former students including Claude VonStroke, Nicole Moudaber, AlunaGeorge, Plastician, and many more. Catch this week's production 'Quick Tip' below and head to their site to sample a course for free.