Point Blank Presents: Breaking Into EDM [Ep. 017 - Styles&Complete]
EDM.com has once again teamed up with the award-winning Point Blank Music School to present Breaking Into EDM: where your favorite artists and industry-insiders share words of wisdom, tips of the trade, and personal stories of making it and breaking it.
Up this week are Buygore favorites Styles&Complete. From co-producing the Borgore x G-Eazy hit 'Forbes', to releasing their smash single 'Starstruck' with EXSSV and Crichy Crich, it's safe to say that these guys had one hell of a 2015. Just ahead of the release of their official 2 Chainz remix, the LA-based duo sat down with us to talk inspiration, advice, and what it actually means to make it big.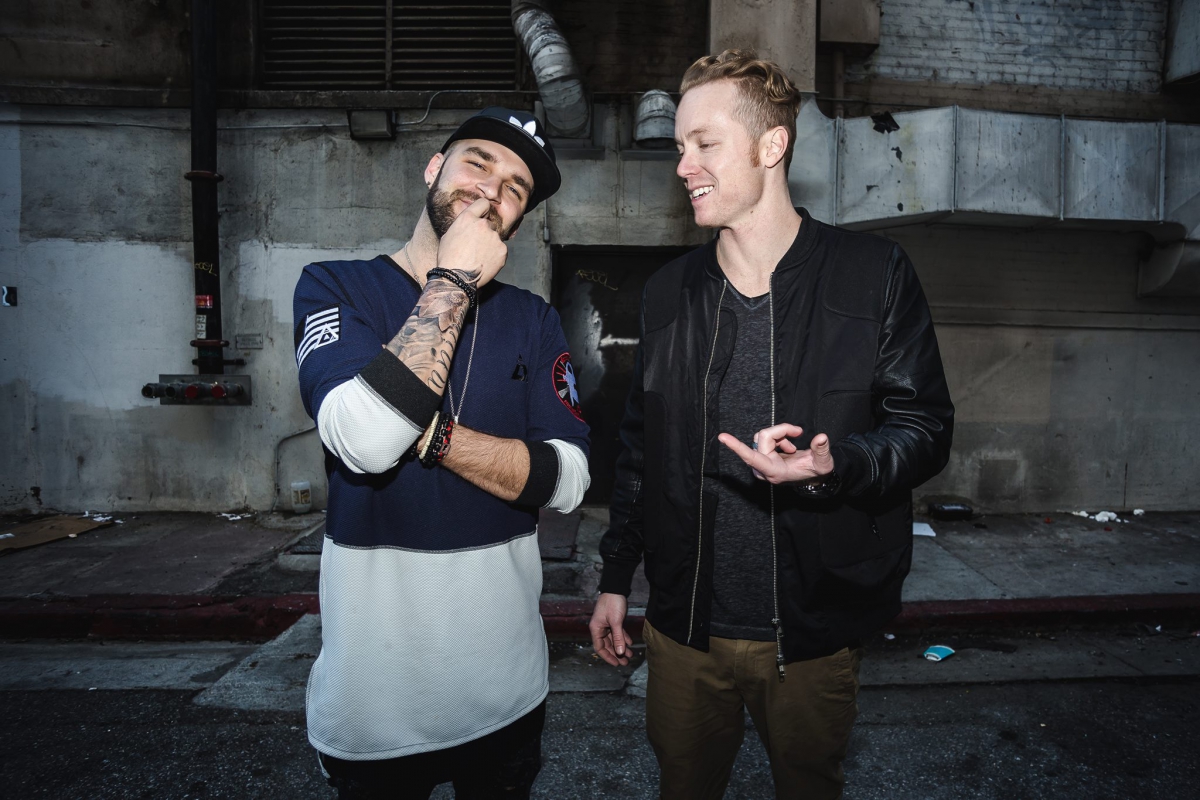 EDM.com & Point Blank: In three words how would you guys describe your sound/style?
Styles: "Well put together."
Complete: "Big. Diverse. Dope."
EDM & PB: What are each of your musical backgrounds like? How did you end up coming together to form Styles&Complete?
S: "In middle and high school, I was in a rock/punk band. We broke up like all middle school/high school bands do and then I started making my own beats and rapping over them. After I got better at making beats I linked up with the Ying Yang Twins and started working with them in-house driving back and forth from Charlotte to Atlanta on weekends. At a certain point I got tired of not making any money in the hip hop industry and started Styles&Complete with Complete. Austin 'DJ Complete' and I went to the same high school in North Charlotte, but we never actually met until I was working with the Ying Yang Twins and he was rapping, producing and DJing solo. We started out making rap beats together and that changed once we started getting inspired by electronic artists in 2010."
C: "I've been DJing since college and started messing around with production around that time. I met Alex 'Styles' in Charlotte after I had become one of the bigger DJs in the city and was rapping on some tracks as well. We were making rap beats together in 2010, but that started shifting towards producing electronic music when he texted me after we went to a Steve Aoki show together saying 'We can do this'."
EDM & PB: I'm sure there are ups and downs to working as a duo, what are some of the pros and cons? What is the Styles&Complete dynamic like?
S: "Pros are two heads are better then one. Also, two of us makes multitasking easy. Complete started as a DJ and I started as a producer. We try to do everything collectively as equally as possible since we are a team. But sometimes I'll be working on one beat for days, perfecting it. And Complete will be making a ton of ideas for new projects. Complete usually comes up with ideas, then we have a back-and-forth working on it, and I mix and master the tracks with his input to finish them up.
C: "To me, the pro is that every song is essentially a collab. Having two people who work well together and have a similar musical vision is a lot better than trying to figure it out solo. Only con is splitting $$ (haha), but it's worth it when you're able to make better records together, and faster. Dynamic-wise Alex came in as the main producer of the group and has taught me a lot. Often the work flow is him taking over a project or idea I started and making it great, but there have been times when he's finished a project almost entirely on his own and vice versa. Onstage we take turns DJing and also have an FX controller onstage. We're both heavily involved in the show so I wouldn't say one of us was the 'frontman'."
EDM & PB: You guys are about to drop a 2Chainz remix with Bad Royale, how did that collab come about? What was the collaboration workflow like?
S: "We started the track and showed Bad Royale while we were on the Buygore tour. We were having trouble coming up with something crazy enough for the drop and knew they could help. We got off tour and sent the tune back and forth until it was finished. The Bad Royale homies are a bunch of sick producers and great dudes."
C: "We toured with Bad Royale on the Buygore Show and really clicked with them. These guys are absolute beasts at production and we thought this would be a good record to collab on."

EDM & PB: You've been part of the Buygore family for a while now, how does it feel to be part of that team and to know that artists like Borgore and G-Eazy support you and your music?
S&C: "Working with Buygore has been huge for us. They've believed in us, supported and promoted our records, and brought us on tour. On top of that Asaf (Borgore), Steven Pahel, Christina Boemio, and the whole Buygore team are genuinely good people that are our good friends and very easy to work with."
EDM & PB: Who are your biggest inspirations? Why?
S&C: "Musical inspirations are a very long & wide-ranging list for us, but in our genre it's hard not to put Skrillex and Diplo at the top. Being from the South we grew up on Outkast and Three Six Mafia, so the soul of southern hip hop will always be in us and what we do."
EDM & PB: At what point will you consider that you've 'made it' as artists?
S&C: "Hopefully never, but winning a Grammy, owning a home and being able to take care of our familes in the long run off of music would be a great start."
EDM & PB: What tips would you give an aspiring artist on breaking into the scene?
S&C: "Work hard, learn from your peers, and compare your music to your favorite artists' music. You're not done working until the quality sounds as close as it can get to theirs."
EDM & PB: What is the best piece of career advice that you've ever received?
S&C: "'The most important thing to remember in the music business is don't get sent home, don't ever get sent home.' I actually saw that on a TV show lol but it's stuck with me this whole time, especially on tour."
EDM & P:B: And the worst piece of advice?
S&C: "People have told us to stick to what we are great at and continue to put out primarily trap music. We're looking forward to proving those people wrong in 2016 with what we have on deck."
---
For more inside tips and expert advice on everything music industry, check out Point Blank Music School, with courses in London, Los Angeles and online. The award-winning electronic music school boasts former students including Claude VonStroke, Nicole Moudaber, AlunaGeorge, Plastician, and many more. Catch this week's production 'Quick Tip' below and head to their site to sample a course for free.