Keep It Alive or Die: The Ongoing Evolution of Live Electronic Music
Summary/Commentary:

With technology being a massive component in electronic music, what does it mean to play 'live' anymore? Jonny Coleman explores this topic in a feature that discusses how technological advancements in music are changing the way we define live music.

This article originally appeared on Pitchfork
"EVERYTHING TONIGHT IS LIVE. THIS IS IMPORTANT. TOO MANY SEAMLESS ASS ELECTRONIC MUSIC SHOWS. FUCKING INHUMAN ASS SHOWS. WE KEEP THIS LIVE OR THE END RESULT IS DEAD."
This declaration blared on a screen behind heady experimentalist Holly Herndon during a Los Angeles performance earlier this year, as a bleeping helicopter loop whirled through the room. The message was Herndon's dislocated take on typical crowd banter, a sly disruption of what we have come to expect from a live show. This unruliness extended to the rest of her set, which incorporated hardware, software, vocals, dance, digital processing and manipulation of all sorts, and shapeshifting vaporware projections. It was anything but static. Sometimes it felt like pure video game sound design or ambient gallery music, other times it rippled with the intensity of a trap show. Neither a rock gig nor a typical live techno show or laptop DJ set, the performance inhabited an intriguing in-between space and showed why Herndon is one of the most now-thinking members of a rapidly growing group of dynamic live electronic artists.
For these vanguard acts, form and function don't just inform each other—they overlap almost entirely. New technology acts as both medium and message, though it can be hard to tell where hardware ends and human begins, which is likely the point. Mistakes are inevitable and intertwined—and prized. These artists seek to push our expectations past the idea of someone recreating their songs in front of a crowd and go deep into an experience that's both more memorable and more alive.
"The notion of what 'live' means is currently being challenged," Herndon tells me. "As machines may be easily programmed to perform musical tasks, we have to ask ourselves: What part of a performance should be live? What new opportunities do we have to play with liveness once we are somewhat freed from mechanical aspects of performance? Is cerebral performance as compelling as motor skill performance, and will that change?"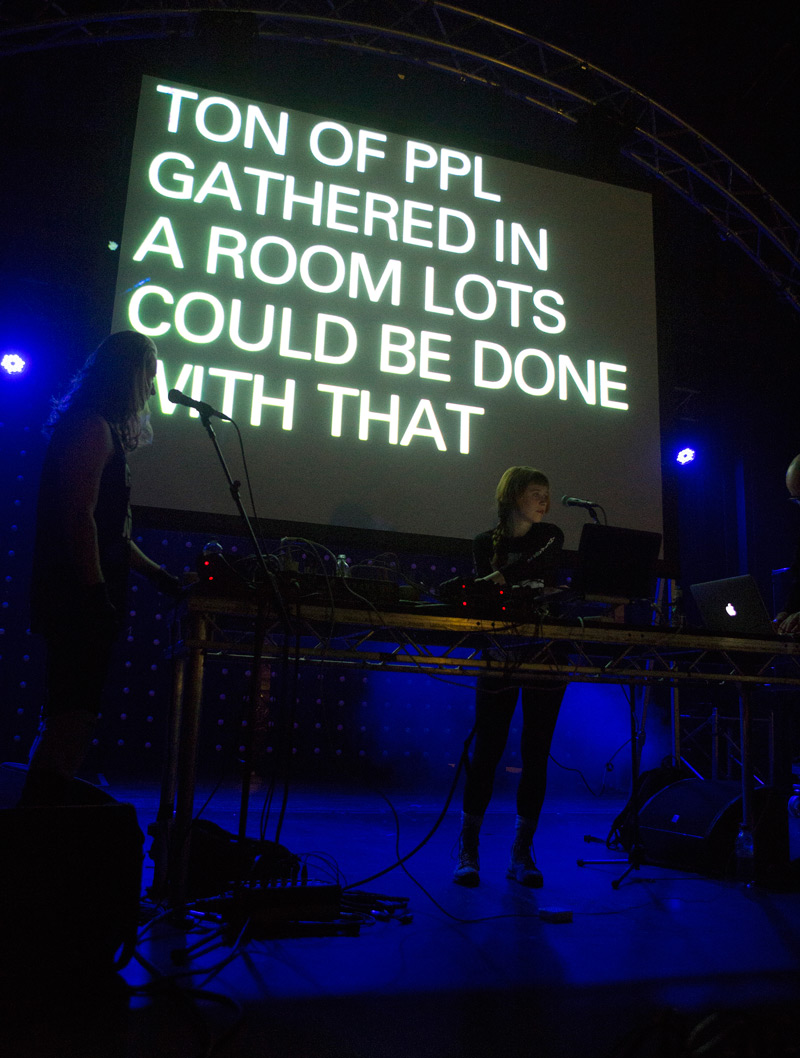 (Holly Henderson courtesy of Maria Jefferies/Red Ferns)
In one form or another, live electronic music has been around for as long as the tools have existed, cropping up in the popular consciousness in experimental, rock, and pop songs since the '60s. Groups like Kraftwerk and Tangerine Dream helped lay the groundwork for live electro, house, and techno, which in turn influenced rave and acid house, which was exported to America as electronica in the '90s, when acts like the Chemical Brothers headlined arena rock-type spectacles. Things got a little stale electronically for a spell until Daft Punk's 2006 Coachella performance and subsequent tour, which capitalized on the blog house crest, opening the door for the EDM and brostep explosion (and recent implosion).
But while EDM is fizzling out, the last few years have seen all manner of live electronic crossover successes—like Caribou, Darkside, and Simian Mobile Disco—as the equipment required for pulling off such innovative sets has gotten more nimble. Right now, it feels like we're in a critical phase of electronic music's live evolution, at the foothill of a cultural shift toward a more definable movement in tech and music culture where anything is fair game, and audiences are open to radical shifts.
...