Dutch duo Showtek have accepted the challenge or following up Major Lazer's hit single "Cold Water" featuring Justin Bieber.
The new single "Believe" is the first collaboration between Major Lazer and Showtek. Fusing Showtek's big room style with the dancehall-reggae vibes that made Major Lazer famous, "Believe" is catchy tune that will soon be added to your party-night playlist.
Check out the new track below, and tell us what you think of Major Lazer's new single in the comments!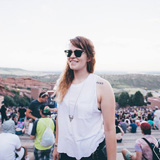 About the Author
Devin Culham
Staff Writer
I like electro. I like retro. I like ghetto. House and techno.