Marshmello Drops New Collab with Far East Movement on "Freal Luv" [LISTEN]
Teaming up with "Like a G6" stars Far East Movement, Marshmello drops a brand new track "Freal Luv".
Soon to be released on Far East Movement's new album Identity, "Freal Luv" is a radio friendly hit featuring the vocal work of Tinashe and Chanyeol. Marshmello's signature bounce and melodies are now reaching beyond electronic audiences to capture mainstream attention.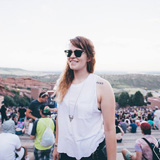 Devin Culham
Cut my teeth with the Detroit techno scene before moving to Denver to see what the mountains have to offer.