Party Thieves Is Changing Views on Gun Safety with #TheftArmy
Not many people attend the country's most prestigious military school, West Point. Even fewer cadets of the United States Military Academy choose to pursue a career producing trap music. But then again, there's not many people like Party Thieves.
Party Thieves, real name Jared McFarlin, is combining music with social-political activism to increase awareness about the issue of gun safety. While this election season has been extremely polarizing, Party Thieves felt that there wasn't a candidate that was strongly pursuing the issue of gun safety, so he launched #TheftParty.
Speaking on the the new campaign, Party Thieves' intention was clear:
This is a critical time in the world right now. This is the time where we need to come together the most to rally forward. I am so fortunate to be able to do what I love and I want to be able to do good where I can. #TheftArmy
The campaign is taking over Party Thieves' fall tour as a rally to music fans far and wide to support common-sense gun safety. In conjunction with Everytown for Gun Safety Support Fund, Party Thieves is selling Party Thieves for President tees to raise money for gun awareness. Party Thieves is also being vocal on social media and at his shows to further eliminate stigmas around the national issue.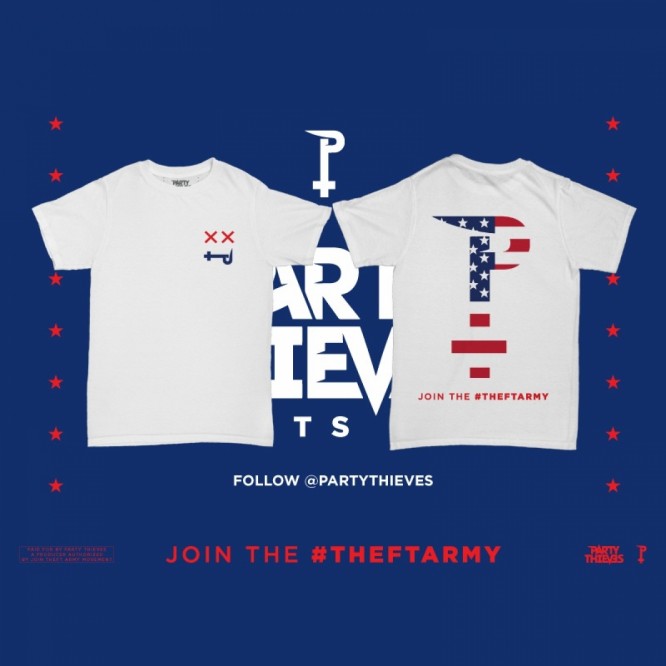 #TheftArmy is a campaign to remove stigma's and misinformation regarding the issue of gun control. We had an opportunity to chat with Party Thieves about the new campaign and why it's an important issue that voters should be conscious of.

What inspired you to launch this campaign?
Party Thieves: The idea started back in June. My manager had the idea to base all my fall shows around the 2016 election. Each show would act like a campaign rally. Since June, the campaign evolved into much more as this election started to unfold. Numerous horrific acts occurred since June and then sparked the notion to revolve the fall campaign around an important issue not only this country faces but the entire world, gun violence. I wanted to use my brand and platform to raise awareness and be a voice for our music community.
What kind of impact do you hope to have?

Party Thieves: I hope this can bring our community together during tough times. Stay strong and just continue to grow and move down the right path.
Do you share a personal experience that has helped to ignite your gun safety activism?

Party Thieves: I currently live only a mile or two away from the location of the most recent Dallas shooting which was very shocking for me because I also had a show the next day in Dallas. New York, where I primarily reside maintains very strict gun safety laws. However, at my current address in Dallas I have seen an increasingly larger amount of guns in my friend's homes.