5 Exotic Vacation Destinations for Electronic Music Fans [WATCH]
With the winter holidays just around the corner, it's time to start planning your post-holiday decompression.
Take a trip outside the United States to expose yourself to the diverse climate, culture, and musical curation of some of the most exciting and exotic events for fans of electronic music!
Want to start planning your next trip? Here's the deets:
The BPM Festival
When: January 6-15, 2017
Where: Playa del Carmen, Mexico
Tickets: Buy Now

Envision Festival
When: February 23-26, 2017
Where: Uvita, Costa Rica
Tickets: Buy now
Ibiza
When: March - October
Where: Ibiza, Spain
Tickets: Varies
Sunwaves Festival
When: August 2017 (TBC)
Where: Mamaia Sat, Romania
Tickets: TBA
Outlook Festival
When: August-September 2017 (TBC)
Where: Pula, Croatia
Tickets: TBA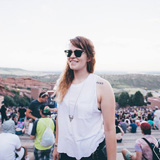 Devin Culham
Born and bred with the Detroit techno scene, I pledge my allegiance to the underground.