Armin van Buuren Discusses the Future of Hardstyle & Trance [EXCLUSIVE]
Hardstyle and trance have joined forces once again! The Dutch duo known as Bass Modulators have been responsible for some of the biggest Hardstyle tunes for the past year, including this years Defqon.1 anthem. Now, they've done their take on a powerful tune from Armin van Buuren and Human Resource, "Dominator"! We spoke with both Armin and the Bass Modulators about the remix, and what their views were on the hardstyle and trance scenes.
EDM.com: What was the inspiration behind the original track?
Armin: A lot of the old-school classics have actually inspired me to become a musician in the first place and "Dominator" was one of those tracks. By revamping the 1991 classic from Human Resource, I tried to bring the fun back into dance music. The fun that comes with experimenting and trying out different techniques and sounds. It is a dedication to my roots.
EDM.com: What is your relationship with hardstyle?
Armin: I like to think I have a good relationship with every genre, including hardstyle. I sometimes throw in a hardstyle track at the end of a live set for good measure and can actually get lost in a really well-produced hardstyle song. There's no reason for me to NOT like it. In some ways, it's actually pretty similar to trance music, and I can get inspired by hardstyle tracks just as much as tunes from any other genre.
EDM.com: How do you feel trance and hardstyle are similar?
Armin: In my humble opinion, I think trance and hardstyle are indeed similar on several aspects. Both are very melodic and are often driven by powerful synths. Hardstyle might be a bit rougher on the edges and all-around more "in-your-face" than trance music, but they do attract a fairly similar audience. There's magic happening in both of 'em.
EDM.com: Do you ever see yourself producing a hardstyle track?
Armin: So far, I've never actually created full-blown hardstyle music. However, that doesn't mean that it will never happen. To me, it's all about keeping an open mind. If you limit yourself to using sounds within the boundaries of a single genre, it will be really difficult for you to stand out because you've confined yourself in a square feet box. Once you break out of it, there's so much more you can do. So who knows, I might indulge in a few sounds that share a strong connection with the hardstyle scene. If it inspires me, why shouldn't I?

EDM.com: Do you see room for crossover between the hardstyle and trance scenes?
Armin: There's always room for crossovers between genres and one between hardstyle and trance is not unimaginable. As mentioned in one of my previous answers, hardstyle and trance share certain similarities and generally have the same kind of musical focus. I think a hardstyle-meets-trance crossover could be very inspiring, so I only encourage those interested to give it their best shot.

EDM.com: When you guys kicked off your careers, did you ever imagine yourselves doing an official remix for Armin?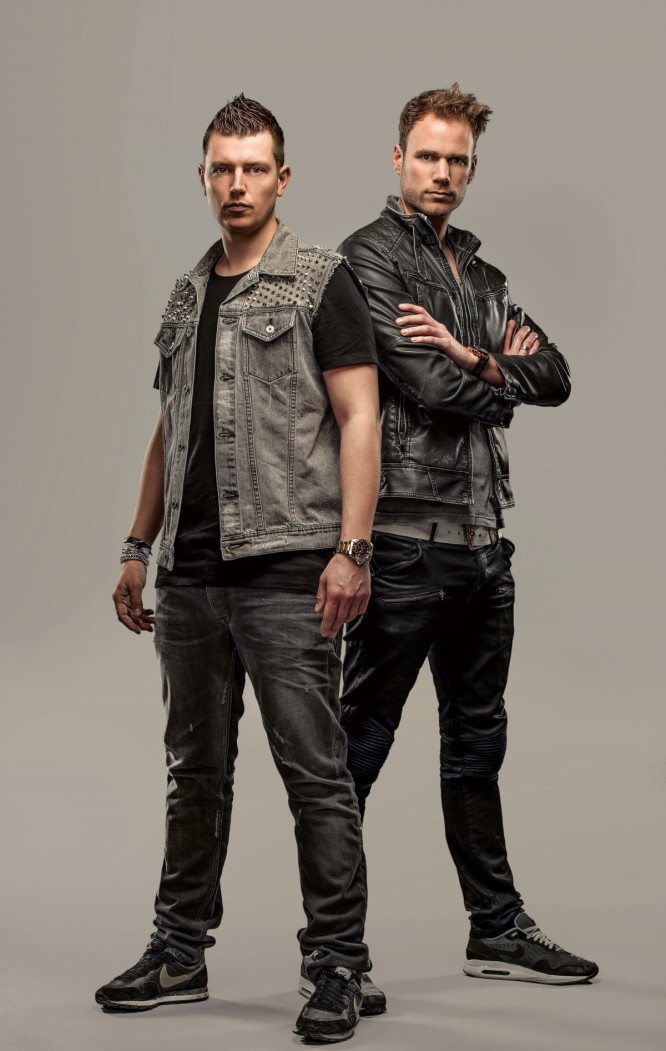 Bass Modulators: Well, actually this is our second remix for Armin. The first one was our remix of "Eiforya" about two years ago, but it's still a huge honor to do a remix like this, since Armin is still one of the biggest artists out there. Especially at the start of our career we didn't expect anything at all, let alone a remix for Armin. It's also really nice that he already played our remix many times during his sets. We respect him a lot.
EDM.com: What kind of a story are you guys telling with your remix?
Bass Modulators: We tried to keep true to the original, since that was already such a classic. We kept all the signature elements of the original and tried to add our own signature without losing the old school feeling. We both love guitar, so we added some real guitar in the break to give it a bit of an analog old school rock vibe. We tried to make it a real massive sounding 'Dominating' track. We think that worked out pretty well.

EDM.com: What elements of the original stood out to you, and what did you decide to add or change?
Bass Modulators: Of course, we kept the vocal. We only changed some parts of the arrangement. Besides we kept the real signature hoover sound. That must be one of the most famous sounds in the history of dance music. A lot of hardstyle sounds have been evolved out of that hoover, so that's why this track was perfect for a hardstyle remix. On top of all of this, we added a phat kick with a lot of drive and some real Bass Modulators signature sounds. In the main part we created a simple and catchy melody that gives an oldskool hardstyle vibe to it, so it would fit the theme perfectly.

EDM.com: Where do you see hardstyle going in the future?
Bass Modulators: Well, there are a lot of changes going on in the dance scene, but especially in hardstyle. You see that there's a big movement going on in two directions. On one hand, there's a rawstyle movement with a raw and hard sound. On the other hand there's the euphoric scene that also gets a lot of support from the big guys in the EDM like Hardwell, W&W and even Armin nowadays. We think this separation will continue for now but in the future everything will eventually blend more together. We hope there will be less boundaries and boxes because we love to experiment.

EDM.com: What's next for you guys?
Bass Modulators: We are working towards two important gigs at the moment. The first one is our set at Unlocked Indoor Festival where we are going to do a Timelab special. It will be a tribute to hardstyle from back in the days till now. Besides that, we are working on some new music for Qlimax in november, the most famous indoor hardstyle event there is. We've also planned some nice collabs. Really looking forward to all of this. Keep an eye out on our social media to stay updated!

Bass Modulators' remix of Armin's take on "Dominator" arrived today October 23, 2016, via Armada. Stream and purchase the new remix at armd1313.lnk.to/DR.