This New Group of Curators is Bringing Bad DJs/Producers to Justice
MEET THE MUSIC HIGH COURT:
The judgement day is coming, and justice is blind - not deaf.

Music High Court has come to save the EDM industry. This mysterious new group of curators and tastemakers are on a mission to denounce all the generic, inauthentic and unoriginal music that saturates the scene only to then highlight the significant and truly creative music that pushes the community forward.
It was first trailer video over a year ago that first caught our eye, and now... we're really intrigued. These guys have gone as far as creating news videos and articles that pull you into a fictional world where Music Hight Court reigns and its "Judge" has no mercy.
"You've forced my hand. It's easy to get lost in the crowd, follow the herd - overrun with template-based build-ups and drops - designed for the attention span of tweaking so-called ravers. But nothing great has ever been easy. That's why I'm here. Together, we are going to fix this. We are going to remind people why music sets us free in the first place. But first, we have to cut out the rot and bring down the walls of mediocrity.

The judgement day is coming.

The Judge"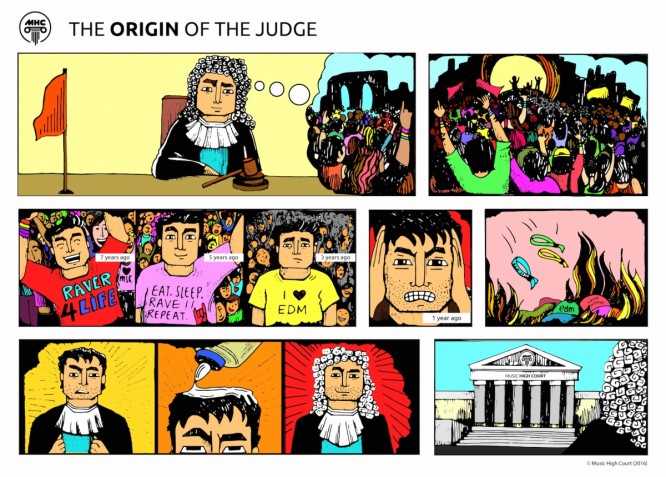 Of course, this world is created for analogical purposes, and it all started with one fan who found himself simply fed up a year ago. As Mile High Court "cut[s] out the rot and bring[s] down the walls of mediocrity," these vigilantes have gained a following of over 47k on Facebook and over 10k on SoundCloud with playlists that point out the real music that fans should be exposed to.
Check out their videos and images below to meet the Music High Court and see The Judge in action as he vandalizes Hardwell posters, kidnaps DJs and more.
You can even "Submit Evidence" for any music to be examined by The Judge of Music High Court on their website.