The infamous Roland brand, responsible for the pivotal TR-808 drum machine has just unveiled its first ever DJ controller.
The DJ-808 is a 4 channel DJ controller with a built in TR-808 drum machine that has advanced control over Serato. The DJ-808 is hitting the shelves at $1500, check out the review from DJ Tech Tools below!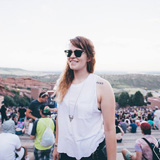 About the Author
Devin Culham
Staff Writer
Cut my teeth with the Detroit techno scene before moving to Denver to see what the mountains have to offer.