Andreas Gursky and Richie Hawtin: experiments in sound and vision
Summary/Commentary:

Richie Hawtin turned techno into high art by collaborating with German artist Andreas Gursky for New York's Gagosian gallery.
Andreas Gurksy's new exhibition, Not Abstract II, currently on display at the Gagosian gallery in New York, is influenced by two distinctly non-figurative schools of North American art.
One is abstract expressionism – and the other is techno. To take the first, the German photographer's preceding show, Not Abstract, was staged at the K20 state art museum in Gursky's hometown of Dusseldorf. There his large, masterfully produced photographs were hung alongside works from the permanent collection by such artists as Mark Rothko, Jackson Pollock and Barnett Newman.
While the show's name and many of Gurksy's photographs have crossed the Atlantic, this new exhibition does not feature any ab-ex paintings. However, it does have a work by another artist who also contributed to Gursky's Dusseldorf show. The Canadian DJ and techno producer Richie Hawtin, also known as Plastikman, composed a dedicated electronic, sound installation for Not Abstract, and has adapted and updated the piece for Not Abstract II.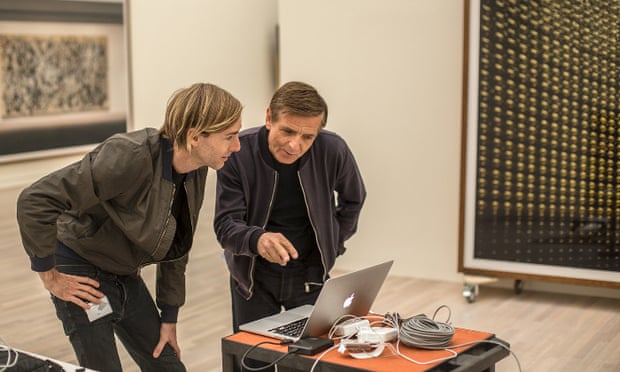 "Richie and I have been friends for a long time," says Gursky. "we have friends in common, and I'm interested in his music. I heard him in Tokyo and Ibiza, and at the Time Warp [dance music festival] in Mannheim."
The German DJ Sven Vath introduce the pair, explains Hawtin, and that over the past decade or so they have developed a mutual interest in one another's work. "We ran into each other quite often on Ibiza during the summer season of music events that both Sven and I were producing," explains the 46-year-old musician.
Music at those events was played for dancing. However, Hawtin's near-beatless, murmuring, buzzing abstract composition for Gursky's show is made more as a concentration aid.