Seven Lions Unleashes New Collab "Cold Skin" with Echos [LISTEN]
Seven Lions' newest production has arrived. Delivered today via Monstercat, "Cold Skin" sees the California native unexpectedly collaborating with live electronic duo Echos.
"I remember I was at dinner when Tal called me and told me that Seven Lions wanted to make a track with us," Lexi told Billboard in a recent interview. "I try to not let myself get excited over much, but imagine getting a phone call saying that one of your favorite artists wants to collaborate with you. That was probably the best feeling in the world."
The beautiful new single boasts mesmerizing synth melodies and stunning piano parts that are perfectly married with ethereal vocals provided by Lexi of Echos. "Cold Skin" is yet another production that proves Seven Lions versatility and determination to let emotion and melody define his music rather than genre.
"I want to do something different. Everything doesn't have to fit into just one genre. I want people to walk away loving different kinds of music and sounds." - Seven Lions
This new release comes to fans as Seven Lions continues The Journey Tour with Pegboard Nerds, Grum Xilent and Unlike Pluto, which kicked off early October in Vancouver. Check out the full tour schedule below and find tickets and info at sevenlions.com/tour.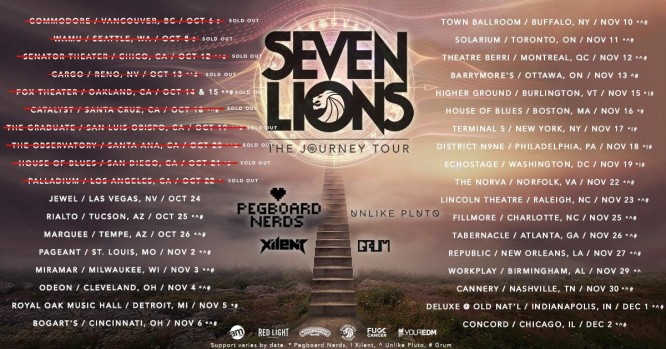 Seven Lions Tour Dates:
11/2 - Pageant - St Louis, MO
11/3 - Miramar - Milwaukee, WI
11/4 - The Odeon - Cleveland, OH
11/5 - Royal Oak Music Hall - Detroit, MI
11/6 - Bogart's - Cincinnati, OH
11/10 - Town Ballroom - Buffalo, NY
11/11 - Phoenix Theatre - Toronto, Canada
11/12 - Theatre Berri - Montreal, Canada
11/13 - Barrymore's - Ottawa, Canada
11/15 - Higher Ground - Burlington, VT
11/16 - House of Blues - Boston, MA
11/17 - Terminal 5 - New York, NY
11/18 - District N9ne - Philadelphia, PA
11/19 - Echostage - Washington, DC
11/22 - Norva - Norfolk, VA
11/23 - Lincoln Theatre - Raleigh, NC
11/25 - Fillmore - Charlotte, NC
11/26 - Tabernacle - Atlanta, GA
11/27 - Republic - New Orleans, LA11/29 - WorkPlay - Birmingham, AL
11/30 - Cannery - Nashville, TN
12/1 - Old National Centre - Indianapolis, IN
12/2 - Concord - Chicago, IL