The xx Excite Fans with New Music and Upcoming Album [LISTEN]
The xx have been keeping fans on pins and needles since the release of their last album Coexist in 2012.
The xx, made up of Romy Madly Croft, Oliver Sim, and beat maker Jamie xx have spent the last several years buried in side projects. Most notably Jamie xx embarked on a grueling tour schedule in support of his 2015 solo album In Colour.
Last month The xx announced that they were working on a new album, and today they release their lead single "On Hold" from the forthcoming album I See You.
The new album features 10 new tracks that will be released on January 13 via Young Turks.

Check out the new single and the full track list below!

1. Dangerous
2. Say Something Loving
3. Lips
4. A Violent Noise
5. Performance
6. Replica
7. Brave For You
8. On Hold
9. I Dare You
10. Test Me
H/T: NPR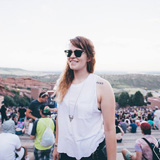 Devin Culham
Born and bred with the Detroit techno scene, I pledge my allegiance to the underground.