Euphoria Music Festival Announces Impressive Phase 1 Lineup
As one of the last remaining independent festivals, fan-favorite Euphoria Music Festival is returning with its most impressive and most eclectic lineup to date. Representing a wide-range of genres from electronic and hip hop to reggae, jam and rock, this lineup is already shaping up to be one of most remarkable festivals of 2017.
Last year, the festival celebrated their fifth anniversary with over 52,000 fans, the region's largest audience for an independent music festival. Euphoria organizers have since been working tirelessly to guarantee the 6th Annual Event would go down history.

Today, Euphoria Music Festival announced the first phase of its 2017 lineup, which includes headliners Alesso, Pretty Lights (Live Band!), Young Thug, The Knocks, Bob Moses, Chronixx & Zincfence Redemption and many more. With two more phases yet to be announced, fans can look forward to a staggering roster of artists from all over the globe.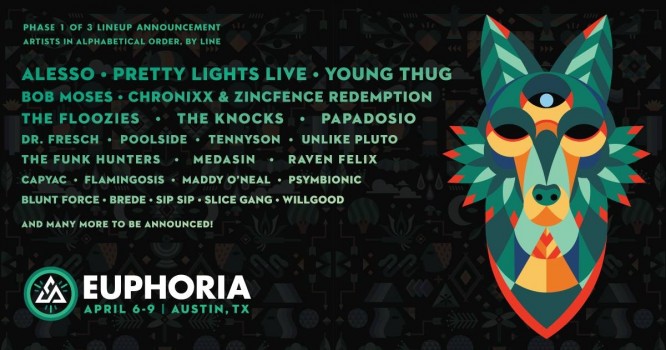 On top of an exceptional musical lineup, Euphorians will be able to look forward to imaginative stage designs, captivating world-class visuals, inspiring artist workshops, interactive experiential installations, enhanced camping options and much more. Direct shuttle service and green initiatives, dubbed Ecophoria, make the three-day festival even sweeter. Are you and your fiancée searching for the perfect place to tie the knot? Euphoria now offers a magical wedding ceremony space to celebrate your union and eternal love.
"Operating as an independent festival has allowed us to focus on building community and unique experiences," says festival producer Mitch Morales. "Our diverse roster of artists, new initiatives with Ecophoria, and commitment as Austin natives underscore that."
The 2017 Euphoria Music Festival will return home to the gorgeous Carson Creek Ranch on the banks of the Colorado River just minutes from Austin, Texas from April 6-9, 2017.
GA 3-day passes are now available for $129 plus fees or $219 with camping. Find more info on GA passes and "Fly Life" VIP packages at euphoriafest.com.