ASADI Makes Persian Trap Look Easy on New Single "Throne" [LISTEN]
ASADI, a quickly rising live trap artist, has taken the electronic music world by storm with his new cultural spin on a very familiar genre. He has created a new genre of electronic music called Persian Trap Music, and let me just say, it's unlike anything I've ever heard before.
By mixing samples from his parent's old Persian tapes with modern trap beats, ASADI has created an entirely new musical experience.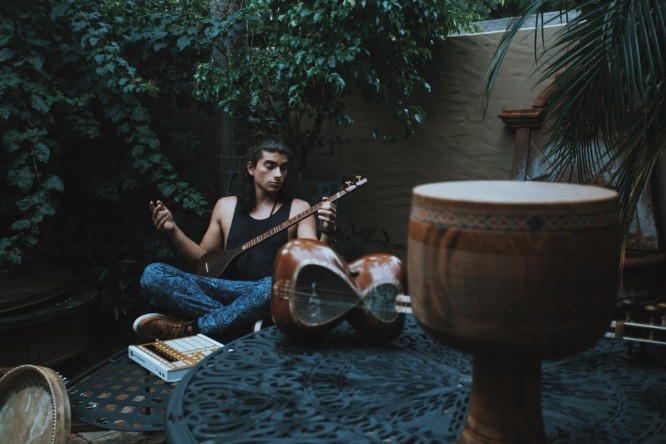 He has recently released a new song titled "Throne" that completely captures the essence of Persian Trap Music. The ethnic vocals and Persian instruments are mixed with heavy bass and an intense drop that completely redefines the trap genre. If you're looking for a modern way to explore different cultures through some great music.
ASADI had this to say about his new single:
Throne is the epitome of Persian Trap Music. It's simple. Sexy. If you understand my vision, you know why this song means everything
Check out "Throne" below:
ASADI, or Daniel Asadi, started off his career with remixes to popular songs from Future, Biggie Smalls, Michael Jackson, and even Spongebob Squarepants. But he hasn't stopped there. He has just released a remix to the highly popular theme song of HBO's Game of Thrones and fans are buzzing about it all over the Internet. Being a recent grad from Full Sail University, he has already gained tons of attention through his YouTube channel, already having almost thirty thousand subscribers.
His rising popularity doesn't stop at YouTube. ASADI has recently been announced on the line-up for Michigan-based festival behemoth, Electric Forest. This year, ASADI will perform weekend one at Electric Forest sharing the bill with massive headliners like Above and Beyond, Bassnectar, and Claude VonStroke. This is a huge step in the right direction for this young producer, and we here at EDM.com expect to see huge things from him in the future!
Photos courtesy of the artist.