Claptone Unveils New Album, Shares Thought-Provoking Insights in EDM.com Interview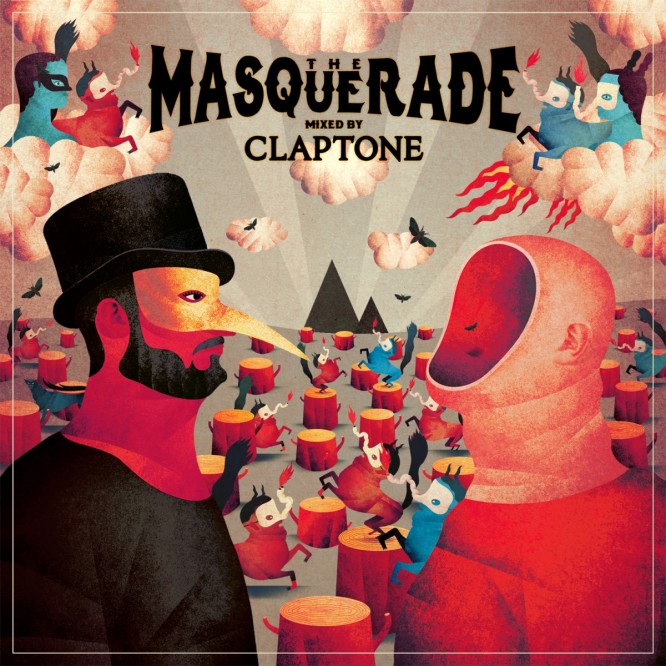 Right before Defected Records celebrated a milestone with their 500th release, the highly regarded UK label delivered a special two-CD album mixed by soulful house artist Claptone.
Hailing from Berlin, the Claptone project remains anonymous but has pierced the veil over the last three years with breakthrough songs like "No Eyes (feat. Jaw)" "Ghost (feat. Clap Your Hands Say Yeah)" and "Heartbeat (feat. Nathan Nicholson)."
After the release of Claptone's critically acclaimed debut album Charmer in 2016, the mysterious merrymaker is back with a special two-CD mix album called The Masquerade, which is divided into Day and Night mixes and features brand new edits, remixes and blends.
In honor of the mix album, Claptone lifted the mysterious shroud over the project ever so slightly to generously answer some questions for EDM.com as well as share some fascinating details and heartfelt sentiments.
After reading our interview with Claptone, be sure to stream the new album below. The Masquerade Mixed by Claptone is available for download on iTunes. Be sure to keep an eye on Claptone, as the project will be bringing its Masquerade all over the world during the winter months. Check out the full schedule of tour dates here.
The mask you wear and the masks all humans wear are a prominent theme throughout the Claptone project. Why are these masks so important? Is the Claptone mask meant to help revelers realize their own "masks"? Once they do realize their mask... then what?

The mask is such a powerful tool. I need people to listen to my music and judge on what they hear, on the sonic creations I forge. Look at Michael Jackson and you'll find that being able to choose your mask or at least be aware of the fact that you wear one, can protect you from confusing yourself with your image and trying to relive just that image, just what you think you need to be for other people, every day. There are countless contradicting roles you play as a human being and you should not limit yourself. I am not a missionary man, my intention is not to preach nor teach the people something. But when you realize that you are not only that one authentic person, when you stop denying the contradictions within you, all the lies and secrets that are part of you, you will be one step closer to free yourself.
You have said that the sonic universe is your muse, and that you are inspired by every sound around you. Can you tell us one of the most unlikely places you've found musical inspiration or one of your favorite places that you found inspiration?
My water boiler at home is so loud that anytime I switch it on I have to turn the music up in my kitchen, which made me listen to a lot of great vinyl records very loud recently. 'Metall auf Metall' by Kraftwerk at maximum volume is mindblowing and inspired me to remix my very own version of it or better 'Planet Rock' into The Masquerade mixed by Claptone 2CD.
You have named Depeche Mode as your all time favorite… what is it about them that has opened your eyes and heart?
First of all I have to clarify that I do not have one favourite band or artist, but many and amongst these is indeed Depeche Mode. Their trendsetting in the early 80s, their ability to constantly reinvent themselves without losing track of their own musical identity since 35 years, their attention to images as part of music, Martin Gores compositions - weird, beautiful, touching, always relevant but still simple pop music, the unique voice of Dave Gahan all this makes their music matter for me.
Can you name a few artists or sonic wizards that have touched your soul recently?
SIA, Bob Moses, The Black Madonna, Roosevelt, Alexandra Savior, Django Django, Andrea Oliva, Eliot Sumner, Foals and many more
We won't ask how many creators are involved in the Claptone project, as we know this is not meant to be analyzed and you have mentioned previously that it's the connection with the fans that fuels Claptone's vigorous touring schedule. Can you describe a particularly vivid moment with a fan or group of fans in detail?
I hope you did not get the wrong idea when I said the fans fuel my constant touring I was not talking about any one on one moment. I don't talk much with fans, nor do I make photos or sign stuff. I create my intimacy solely through music. When the crowd smiles cheers and dances that's when I know I reached them, I gave them something right in this moment with my music and performance and this makes me happy, warms my heart in return.
How do you personally keep a healthy mind, body and soul?
I drink green juices and water, I eat healthy, I sleep on planes and I love what I do.
Can you describe some of the emotions or experiences that were translated into this new album, The Masquerade? Why is it divided into day and night? What journey will this album take us on? How does it compare to the Claptone album debut Charmer?
The Masquerade represents me as a DJ and not as a songwriter like Charmer did. I did not work with singers on my own songs here, but chose, remixed and mixed the tracks on this 2CD. The Masquerade is a mix album with a lot of new and exclusive Claptone remixes, edits, blends and highlights from my gigs around the globe. The night mix filters the spirit and vibe of my DJ sets, gives you an idea of what a night with Claptone could sound like. And you can take it home, play it in your car or listen with your friends before you go out. The day mix is more chill, groovy, sunny for an afternoon at the beach or just anytime to lighten up your day.
Masquerades are a passion of yours... what is it about disguises that you love?
Indeed my very own event series that I launched this year is called The Masquerade. I love the freedom that a Masquerade can give you, the chance to be someone else for one night, to dive into a sea of strangers who all are what they wanna be for that moment. At my events I try to create the perfect surrounding for that: I choose the DJs, curate the night musically, I bring extraordinary decoration and performers who help lead the audience into our realm.
Music makes us feel again, as you have said. What role do you think music is playing right now with pressing global issues from climate change and the refugee crisis to social injustice and armed conflict and international terrorism?
Unfortunately what I referred to as 'feel' happens on an individual level. Music that touches us shows that we are still emotional beings. But something else got lost over the last decades: Music today does not - like in the 60s, 70s, 80s - address wars, social inequalities or any political issues anymore and it doesn't create political subcultures anymore. Neither radio stations nor dance floors wanna hear a full on protest song/track like for example Paul Hardcastle '19' from the 80s. So if you want to be political and reach people you need to do it from the right angle. 'Puppet Theatre' with Peter Bjorn and John from my 'Charmer' album proved that criticizing capitalism quite directly is possible though and can even be picked up by radio stations, in Australia at least where it was a huge hit record. This came as a complete surprise to me though and the song wasn't intended as a radio single at all. What you can do is speak to the individual which I did in 'Dear Life' with Jaw which is about one's personal struggle to stay open minded or in fact open hearted. 'Sometimes I wish I was blind to see the other's beauty', to overcome prejudice. Or you have the masses sing along 'I want everything' in a song like 'Anything' with Jaw which criticizes the consumer society we all are part of. In general your options are limited nowadays and it seems impossible to do a '19' remix and call it 'Jihad' in a time where the band 'Massive Attack' dropped their original name because of terrorism even if only temporarily. Maybe someone needs to come and break these taboos again like music did very often in the past, make us dance to the evils of the world again and laugh about them. But this might take some time as even to me it doesn't feel right at the moment.
If you could share a nugget of wisdom or give your fans one piece of advice, what would it be?
Thanks for taking the time and reading this. As mentioned before I am not a teacher. I'd rather encourage you to think for yourself.