Burning Man Reveals "Radical Ritual" Theme for 2017
Burning Man has officially revealed the theme for its 21st annual event in 2017. (Drum roll please?)
The transformative week-long experience has announced the theme "Radical Ritual", and is set to feature shrines and temples, visions, interactive rites, ritual processes, and much more. In the past, we have seen themes such as "Carnival of Mirrors", "Caravansary", and "Evolution". In a statement from the event, they say,
"Once a year, tens of thousands of people gather in Nevada's Black Rock Desert to create Black Rock City, a temporary metropolis dedicated to community, art, self-expression, and self-reliance. In this crucible of creativity, all are welcome."
Burning Man is a tradition that begun in 1986 as an intentional community to cultivate an atmosphere of free expression, creative arts, and self-sufficiency. Although Burning Man has ballooned from a small gathering in the desert to as many as 60,000 attendees in 2014, the no-trace event continues to grown and expand on its egalitarian concept.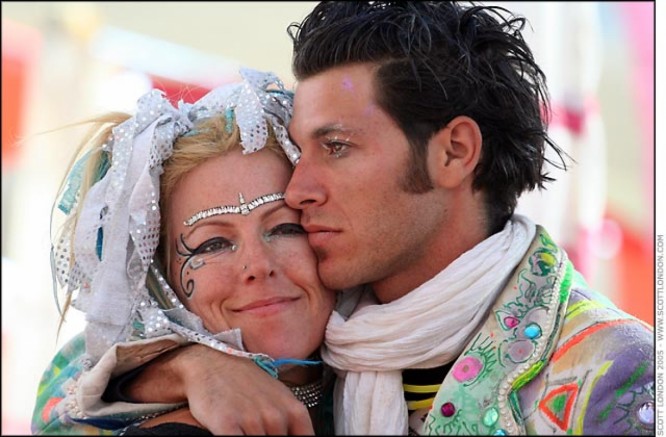 Burning Man attendees, 2005
Taking place in Nevada's Black Rock Desert, the hot wasteland transforms into Black Rock City each August. Since its humble roots, Burning Man has blossomed into a Mecca of self-expression for all of its annual visitors. From live music, to breathtaking art, to the "Department of Mutant Vehicles", Burning Man has become a getaway for thrill-seekers who are looking for a more transformative and community driven experience. Expect a lot of competition when purchasing tickets for the 21st annual event, as 2016's tickets ranged from $390-$1200. So save up your cash, head to Nevada, and get ready for an event that is truly the ultimate getaway from reality.