Carl Cox, Dixon, The Bellville Three & More for Movement 2017
Paxahau has announced the first phase lineup for its 11th edition of the celebrated Movement Electronic Music Festival.
The event returns to Hart Plaza in the heart of Detroit to celebrate the city's role in the creation of techno. In a rare performance from The Belleville Three, (made up of the godfathers of techno Kevin Saunderson, Derrick May, and Juan Atkins) Detroit will look back on its techno origins. The King of Ibiza, Carl Cox, is also returning to Detroit Techno City after his finishing his 20 year residency at Space Ibiza. Carl Cox will be taking over the main stage to close out the festival this Memorial Day.
In a statement, Carl Cox shared his enthusiasm for Movement:
"I am really looking forward to coming back to the home of Techno, it's been a few years now since I was there last, but I can finally say, I am coming back."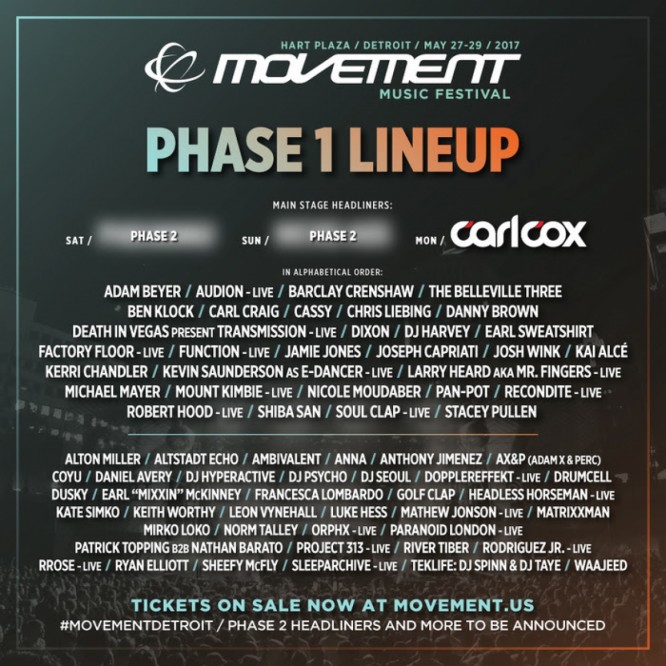 Movement also announced big performances from Dixon, Adam Beyer, Jamie Jones, and Joseph Capriati, in edition to unique sets from hip-hop stars Danny Brown and Earl Sweatshirt. Barclay Crenshaw is also ditching his Claude VonStroke moniker for an exclusive performance of his hip-hop influenced side project, who just released his first Transmission Mixtape.
With Phase 2 to come, including two main stage headliners, enthusiasm for Movement is at an all time high.
Grab your 3-Day GA and VIP tickets at movement.us!