Grime Group Forced to Postpone Tour After Single & Video Banned
In preparation of their new album coming out this year, British grime collective Virus Syndicate recently released the first single, "Psychopath," which came with a music video. The single and video were banned in France, however, due to the content. This was a major blow to the band; France is their biggest market, and they were forced to postpone their tour.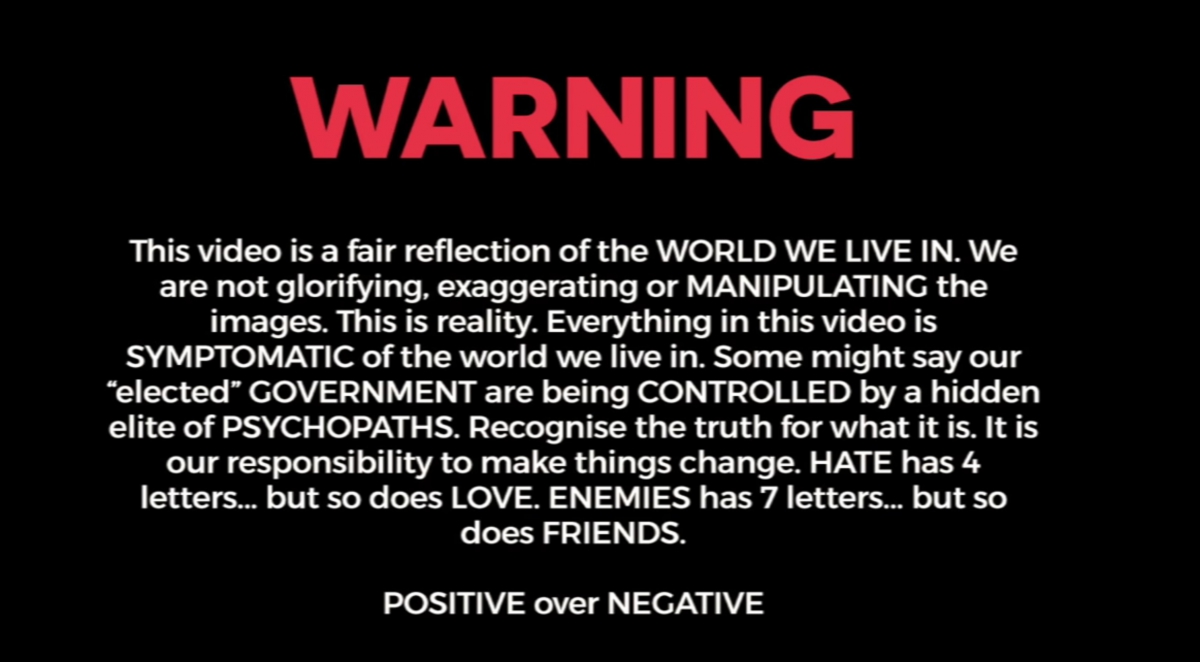 In "Psychopath," the MCs of Virus Syndicate take on roles as mentally disturbed characters for what's been described as a "dark lyrical lashing." And while the narrative of the song is hypothetical, the footage in the video directed by KC Locke is all real. The inclusion of this found footage - from images of ISIS to serial killings and bombings - was meant to be a statement on our socio and political state of affairs. They had no way of knowing what was to come.
On November, 13, 2015, a series of terrorist attacks were carried out in Paris and Saint-Denis. Although the band conceived and created the video months beforehand, a week after the horrific events, they received the notification of restriction from the French Ministry of Culture and Communication. The "Psychopath" single and video were banned from releasing in France because of the depictions of war, propaganda and terrorism.
"We don't make music or videos to offend people or to condone any kind of violence or abuse, in fact, quite the opposite. It is our job as artists to interpret the world we see around us. We use music to create pictures of reality - The 'Psychopath' video is exactly that 'pictures of reality.'"

The band feels their freedom of speech has been stifled, and while France may not be on the list of the most censored countries, the restriction brings up the issue of media censorship. Freedom of press is guaranteed by the French Constitution, but after a nationwide state of emergency was declared, concerns grew over the threat it could be posing on freedom of press.
Journalist Thomas Guénolé's radio segment, for instance, was cancelled after issuing a report about the attacks and how the security sector failed to protect its people. The Interior Ministry demanded corrections be recited on air. Although the corrections were written by the Interior, they were to be delivered as a retraction from the radio program.
Even scarier than individual cases like Guénolé's is the fact that in the wake of the terrible events, anti-terror legislation to literally control the press was actually proposed. Thankfully, it was later dismissed, receiving opposition from Hollande himself.
Fear should never take over in a way that actually impedes on the rights of journalists, artists and other citizens. Sure, maybe Virus Syndicate's message could have been presented in a more positive light, but they have a right to express it in whatever way their artistic lens espouses.
"Yes, we appreciate that some of the images in the video are hard to swallow as is some of the lyrical content, but they are reflections of the real world and we won't apologize for using music to create a piece of work that reflects the darker side to the world we live in. The terror attacks in Paris on November 13th were beyond disgusting and we offer our love, condolences, and respect to the families and friends of the victims. We understand why the French ministry would not want a video like 'Psychopath' circulating at such a sensitive time. However, we dont believe in mass censorship. We believe in freedom of speech and free society where people have the right to express themselves however they want to. We postponed our album tour of France for the time being which we are cool with that, but will still be doing one show in Lille on March 4th and will still be promoting the album in France."
Virus Syndicate's tour in France was originally slated for April. The band is hoping to reschedule the tour during the summer.
"Psychopath" Lyrics:
verse 1
Adrenalin filling my right leg blood rush through my body and feeling just like head
lust it can turn to disgust in just a second
when you buss wanna crush with a caliber weapon
I'm in love with that mother fucker up in the mirror
give me some drugs and I flip into some killer gorilla
you fucking mugs! Clearing out ya villa for scrilla
I'm going nuts putting slugs up in ya figure
verse 2
I did a couple of tours and made scrilla,
Jayzilla, I'm a guerrilla I stay illa,
Jays in a league of his own I came with the eyes of a hawk, knife and a fork coz your dinner,
Type the report, write with the chalk I'm your killa,
You tried to abort mission,
Then had to report missing,
I'm back to the war listen
It's back to the raw spitting,
You act like its your kitchen,
I cook em like raw chicken,
Verse 3
My girlfriends a prostitue and loves it
I'm riddled with diseases just from everytime she sucks it
luckily I buss quick
Cannon fire up! now I'm tryna cut a deal with the Dallas buyers club
sharing needles with a lepor liking I'm living forever
head spotted like a leopard looking redder than pepper
stomach gutted on the checkered floor bloody machete
my body parts overboard throwing up on the jetty
chorus
Psychopath x 8
verse 4
I terror any riddim,
Clinical terrorism
Physical hedonism,
Lyrical separatism
Spiritual exorcism
I'm Hannibal lectorin em
Fuck all the pessimism
I kill all the Scepticism
Rhymes are on another level above,
An you'll never measure with em,
Raised in the city guns, cotton and hella women,
Raining on the game while they're staining to bring the weather with them, step into the war with a sword and them man are never winning
chorus
Psychopath x 8

Jamie Lamberski
I'm a storyteller at heart, and music makes my world go round.